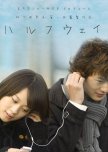 Halfway
3 people found this review helpful
Halfway, for me was disappointing. Story had a lot of potential but they somehow made it very slow-paced, I dunno what happened. This was supposed to portray the shyness of a teenager in love?
Hiro finds out her new love Shu will be going away to college in Tokyo. She asks him not to go. And you don't need to know the rest because it's so boring. I really wouldn't recommend this movie...Unless you're bored to death so you wanna watch something.
I'm usually a fan of these simple Japanese films, where nothing extraordinary happens and it's all about the emotions but the lead female character was extremely annoying.
Cinematography was bad (the hand held camera), but I don't wanna waste my time on that. I wanna talk about cast.Cast was superb: Okada Masaki and Narimiya Hiroki kinda saved this movie. Their acting was great.
Music was okay too.
But, for me, there's no rewatch value. Yes, I wouldn't watch it again because I think it's a waste of time. There are a lot of better movies with a lot of emotions and good screenplay. About innocent love...Cheesy relationship. Let's go~
Was this review helpful to you?