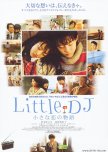 This review may contain spoilers
Since I am a Kamiki's fan and since there are no reviews for this beautiful movie, I really wanted to help others to know one of the viewers' opinion about it.
So briefly, the story is about a 12-year-old boy named Taro, who loves baseball and radio, especially "Music Express"(a song request show).The actions take place in 1977 in a small seaside town, however Taro gets into a SERIOUS illness that leads him to be hospitalized for months. Throughout his stay, Taro becomes the DJ at the hospital and he gradually changes the depressing mood there to a graceful one. Taro starts to make friends and finds his love "Tamaki", a girl who is a year older...No spoilers...just discover the ending yourself...
This movie is a tear-jerker, with so many amounts of feelings. Just imagine a young boy facing his illness and trying to recover from it and make others smile despite everything, a mixture of cute romance and heartwarming bonds with parents.
With great music from the 70's...you will definitely get in the mood of that innocent and pure times.
The cast: I started the movie simply for the brilliant actor, Kamiki and I ended up liking all the cast, they did a great job. Everyone strengthens the movie with his/her existence enough that you cannot help but worry about each character.
I honestly have no negative points to say about the movie, but I am sure that some of you might find it a little bit slow (but it was fine for me!)
If you like tear-jerkers or you are one of those hospital genre fans, "Little Dj "will definitely touch your heart...
Was this review helpful to you?