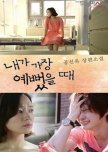 Really, I only watched this because of Lee Jong Suk, but the other actors really impressed me. This is the perfect example of love at first sight and when a guy falls in love with a girl who was sick. This is a sad yet lovely story. The fact that they guy fell in love with a woman not only older than him but was also married and had a child shows the power of love. What I liked about this special was that they so clearly showed the possibilities of happiness even when on the verge of death. What I didn't like about it was the ending. I felt it was incomplete.
But I would definitely not mind watching this again. :)
Was this review helpful to you?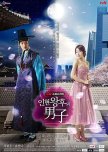 I give this drama full marks. This drama will make you fall in love with it to the point that you want to start watching it all over again before you even finish the first time watching it. I know I did.
Story: The story is amazing!! They presented each scene with great emotion and they merged the genres of comedy, romance and history so well that it became a masterpiece. There is a reason why this drama is ranked in the top 10.
Acting/Cast: I need not say anything for the cast. As most drama addicts will know, the main cast here is actually going out in real life, so that just adds to the chemistry. You'll know from the conversations and interactions they have with each other that they already had feelings for each other. Their acting will make you so emotionally attached that you'll find yourself feeling the exact same emotions they wanted you to feel.
Music: The OST for this drama was absolutely amazing. The lyrics fit exactly with the story. It will let you feel the emotions of the characters as if you were them. They let you feel the emotions of having to go through the hardships of loving someone who doesn't belong in your world. I may not know all the lyrics to the song, but you don't need to, to know the feelings behind it. Music is after all an international language.
Rewatch Value: Like I said, before you even finish watching it the first time, you will have an urge to watch it again and again. When the series finish, you will wish that the episodes were longer and that there were more episodes to follow. I just finished watching it yesterday after holding it for so long, I regret not watching it sooner. So will you if you keep it on hold.
So overall, this has become one of my top 10 dramas of all time. You will not regret watching it!!! So watch it!!!
Was this review helpful to you?