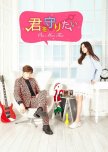 People can argue whether or not this drama is a cliche love story. In my opinion, it is. HOWEVER, I will have to say that watching this very touching story, was like a fresh breath to the face.
So, what do I mean by that?
I mean you skip the whole shebang of the two main leads meeting, possibly hating each other before falling in the end. It has none of that. It skips the dull part and jumps into the important part. Also, of all the romance dramas I've watched, I think this is the most un-cheesy in my collection. The romantic moments where they do say cheesy stuff didn't feel cheesy to me at all.
It was highly enjoyable to watch. Normally, this genre can be easy-to-watch and lighthearted, and some may disagree when I say it wasn't lighthearted at all. The drama had very dark themes ranging from a tough time in high school, battling for your own survival while dealing with the thought of death and learning to appreciate even the dullest/most common moments in life. It had multiple deep meanings and it portrayed them beautifully.
So, should you watch this? Normally when reviewing I leave a few pointers at the end for you to see whether or not this drama is worth your time, this is no exception.
You'll like this if:
- You like a touching romance with a realistic view on love (doesn't sugar-coat it).
- You don't mind the musical themes. (It's was a plus in my book)
- A mature relationship that doesn't need "small accidents" like falling/tripping into your significant other's arms or cheesiness to work.
- You want to see a drama that skips the falling-in-love part.
- Likes to see a good, well worked-out character development in both leads.
- Want to watch something short --> Only has 8 x 30 minutes episodes.
- Great acting.
Was this review helpful to you?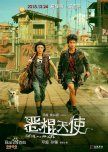 This review may contains spoilers
This Review is spoiler free and judged by the mentioned criteria by my own opinion.
What to expect from this movie:
Two words for this movie: Random and creative. You'll spend the first 5 minutes of the movie, thinking about what you're watching and what's happening. Then you'll proceed to have the same confused feeling throughout the movie until you just learn to deal with the movies randomness - and that's hilarious.The humor in this movie is strong, which explains why the only genre mentioned above is comedy. The story is fun, entertaining and leaves you waiting for the next funny moment. However, I must say that there's a sparkle of romance and action put in the mix as well.
The story is fun. It's about two polar opposites who heals their individual pains through each other, and they do it in a creative way. In my opinion, the director, Yu Baimei, is a genius in this movie. This is going to sound funny, but he makes a good movie look amazingly bad and overwhelming good at the same time, in just the movie's lifespan of 2 hours. You'll be left pondering about how such a director can make something so awesome and something so bad at the same time - it's hard to explain, but you'll understand what I mean when you see the movie for yourself.
The acting/cast gets a 6.5 score, which is above average. The acting shares the same confusing answer as the story. It's so poorly done that it's good. It just works in this movie - and it's amazing and refreshing to see. I absolutely loved every character in this movie - even those who were supposed to be bad guys received my heartfelt warm feelings. The characters were portrayed well by the actors, which made the movie even better.
The music wasn't spectacular nor the focus of this movie. I admit, a good movie has a good soundtrack, but in this case, everything just works, even if it's bad.
Although I rarely rewatch dramas and movies, this is a movie I'm sure I'll return to at some point in time. It's simply too hilarious to keep your paws away from.
Hence, with everything taken into consideration, I give this movie an overall score of 6.0. I really don't have much negative to say about this movie. I was positively surprised by this movie. I went in, thinking something completely different than what I received - which ended up even better.
I hope I helped shed a light on whether or not to watch this movie. I highly recommend watching it as I'm certain you'll have a great time - it certainly didn't let me down. If you're still hesitant, go on reading my 6 pointers on whether you'll like it or not.
You'll like this if:
- You're okay with fast changing moods (goes from "funny --> serious --> funny" in a heartbeat)
- You want something new, unique and fresh.
- You want a good laugh.
- You like it when opposites attract.
- You like watching a story with surprisingly complex characters that go through a good-old character development.
- You fancy unique characters that stay true to themselves,
Was this review helpful to you?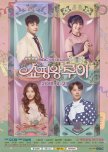 This review may contains spoilers
I've just finished watching Shopping King Louis. This review is my personal opinion, judged by the divided mentioned factors.
What to expect from this drama:
This Drama has a few cliches I won't disclose in this review, however, none of them did I find harming to the show. You'll also be surprised by the fact that the good guy wins the girl, not the one who treats her poorly - is that a spoiler? Ugh, I guess you could guess it from the summary. The drama is lighthearted, simple, and easy to watch. Comedy and romance are the core genres and portrayed well. The romance is especially cute and unique.
My overall score of this show is 7, which is, in my opinion, an above mediocre score. Here's why...
My first area that I'll cover is the story. The plot is very simple, lighthearted and easy to watch. Of course, there are some cliches placed in some episodes but overall I think the plot handles it quite well. My personal opinion of the story is positive. Whenever I see something that has to do with amnesia I hesitate but this drama uses this element in a non-cliche/annoying way. The characters stay true to themselves throughout the drama and undergo individual character development. The characters, as well as the story, is well thought out without any major, story-destroying plot holes. In fact, I didn't find any plot holes at all.
The acting in this drama is good, but not the best I've witnessed out there. However, I must say Seo In Guk portrays his character adequately and stays consistent in his acting throughout the drama. The characters are fun and each actor does a great job to stay constant, hence my rating falls on 6.0.
In regards to the music in this drama, I'm fairly surprised. Whether it's the magic touch of Monsta X or something else, I don't know. What I do know is that I love the music in this show - and not only the main ost. I'm sure you'll enjoy it as well.
My rewatch value is 5.5, which is based on the fact that I rarely fully rewatch dramas. If I'm rewatching something I only watch few certain episodes. So, I've set it to 5.5 as an "Maybe I'll return but I'm not sure" kind of score. Vague but true.
You'll like this if...
- You want something unique/fresh in the romcom (romance/comedy) genre.
- You enjoy a simple lighthearted story that comes in a complete package.
- Seo In Guk acting like the cutest kid ever.
- You enjoy a unique story from time to time.
Was this review helpful to you?