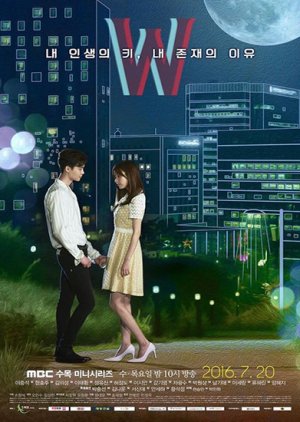 When I was little, I wished I was born a cartoon character or that I'll magically find myself inside my favorite story under the influence of an uncanny occurrence. Along came W with the scenario of my dreams and mostly ruined it.


But I learned my lesson: "Entering a cartoon is no child play!" It's not a messy writer's mission either.


Here's the problem: W aspired to be a lot of things: a mind-blowing, thought-provoking fantasy, a boundary-breaking love story, a thriller and a creeper, and perhaps a journey of finding oneself...


Unfortunately, it failed on most fronts, but I'm not surprised. First and foremost, we have to accredit the writer for tackling such fresh premise and attempting to explore the themes of creator/creation and free-will/predestination in such a creative way. However, unlike her previous works the writer failed to create clear and sound rules governing the travel between these two worlds. You might scream: "But, it's a FANTASY!" Then, I'll scream back: "Even fantasy has to have solid rules; otherwise, it's magical realism or Deus ex Machina conveniently controlling events."


It's hard to highlight this part without giving up the story. One might claim that the rules of entering/leaving the world were clear from the beginning. It's not true, though! We were never told why and how Yoon Joo was going in when the tablet wasn't involved. Then, there's the fact that the rules changed over and over again! They worked only when it was appropriate for the narrative. Many times, major dangers could've been avoided by simply using the rules. In all honesty, I have attempted to rationalize the show's plot more than once; I always ended up with a severe headache. It's either the plot is a collection of holes bridged by Deus ex Machina or I'm too stupid to get it.


But I could've still enjoyed the show, lapses of logic and all, had the writer tried to make her characters realistic. Isn't it ironic that the writer who criticized other drama writers for resorting to cliches to move their stories, didn't bother to give her own characters identities of their own?!


Take Yoon Joo for example. What is she other than the love interest? What do we know about her other than she'll do anything to be with Chul? For the love of God, the girl had cotton candy for brains and I was supposed to believe that she's a surgical intern. Yoon Joo was willing to desert her ENTIRE universe so she can play romance of the day with her fictional crush. How am I supposed to respect her? I'm a fangirl, mind you! But I still can tell the difference between fangirling and falling in love. The writer and Yoon Joo obviously couldn't. If I were to believe that Yoon Joo fell for Chul because he's her forever crush, why did he fall for her (over and over again)? There was a painful lack of buildup for that romance. The show ended and I was still wondering: Why were those two a couple? Why the hell I'm supposed to root for them?


They might've been cute together. But that was all they ever were!


Then, there was Chul. His life, his whole existence was a tragedy but he was a protagonist who had free-will in a predestined world. In his journey of finding himself, Kang Chul was supposed to prove his humanity. Curiously enough, I found his reactions to the world and to everything to be human in the first half of the story. However, the more he approaches the real world, the more he becomes robotic. Ultimately, he became so bland it was dull to watch him, much less to care for him. (again it's hard to explain without spoiling).


The most interesting and the only well-acted character was Oh Song Moon. I want to take a moment to applaud the acting. The levels of darkness and petty he fell into were very well acted. Unfortunately, the depth of this character was never fathomed. He was shoved away in favor of the stupid never-was-romance. His relationship with his daughter, his fears, his failures, his love were all thrown down the drain. He became a walking plot-device himself.


The acting in the show was uneven. Kim Eui Seong did wonders with his characters where Han Hyo Joo moves around with 3 annoying facial expressions (maybe four if you count her sleeping face :P). W certainly uncovered Lee Jong Suk's acting limitations. He fairs well in cute and playboy, but other than some particular scenes, his acting grew cumbersome to watch, even cringe-worthy at the end. Those crying scenes anyone?!


A shout out to Crazy Dog and Soo Bong: those two were my rays of the sunshine in the dark! Crazy Dog spoke my mind and Soo Bong was the only one who played bewilderment and every other shocked emotion well.



In short, visually captivating, definitely mind-boggling and occasionally a bit creepy, W might have started with a promise but ended with a letdown. Watch it if you're a fan of the actors or of twisty-twisted plots that leave you with more questions than answers, but don't expect any character to come off as human.
Was this review helpful to you?