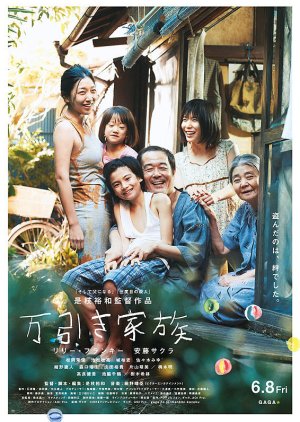 This review may contain spoilers
'Shoplifters' is not a loud, over the top, or pretentious film. There are no absolutes, right or wrong, cruel or kind. The actors don't yell, brawl or pull odd or dramatic facial expressions. There are no intense and pulse-pounding fights, chases, or confrontations. However, this film hits hard, with purity, sincerity, and unabashed truth. The film's sheer realism, shown in moments of cruelty and intimacy, speaks volumes about those who've been marginalised within society, and struggle to make it through each day, far more so than any melodrama or sob story. And this is because we are able to see the characters as fellow people, fellow family members, thanks to the spectacular performances delivered by the entire cast. When the mother and daughter take a bath together, when the father and son gleefully chase each other around, the only word and feeling that comes to mind is love. Even in moments of silence, where they just sit and stare, feelings such as sorrow and hopelessness resound intensely. Love, transcending social and familial norms, is what this movie is about.
Was this review helpful to you?