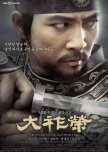 This is sageuk of epic proportions! Don't be intimidated by the 134 episodes (it's not 100 as it's described on some websites). It starts slowly, but only because it sets the stage for what's going to happen in the future. The drama is about Dae Jo Yeong's life and the establishment of Balhae State that led to him being the first King of the Balhae Kingdom.
Even if you don't like historical dramas, this is definitely a drama to watch! It has all of the key elements that make sageuk great: a prophecy that needs to be kept secret, intense battle scenes, two love interests for the main character, and an impressive cast of really good actors. You get involved in the drama: you cheer for the good guys, can't wait for the bad guys to get what they deserve and there's even a reason to cry.
It stars Choi Soo-Jong as Dae Jo Yeong. His portrayal of Jo Yeong was very well done (he prepared for his role by reading history books to learn about the story and won an award for his acting). If you've watched any other dramas written by Jan Yeong-Cheol (Salaryman, Giant), then many of the actors will be familiar to you.
The OST enhances the drama and features music by Brown Eyed Girls and Park Hyo-Shin. This drama pulled in really good numbers during its run. The last episode had over 30% viewership. I enjoyed all 134 episodes!
Was this review helpful to you?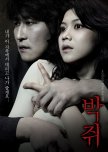 Thirst
20 people found this review helpful
Not Perfect, But Still Good
I came to this film because it's a Park Chan-Wook work and because of Song Kang-Ho. I wasn't disappointed in either. The supporting cast, especially Kim Ok-Bin, did a great job. This was a dark, comic, vampire love story and I enjoyed the many levels of the film. This movie is not for everyone: it's long, it lulls at points, and it's brutal and sexy. THIRST is definitely original and worth watching to the end.
Was this review helpful to you?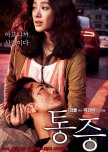 Pain
12 people found this review helpful
I looked forward to watching PAIN because it paired Jung Ryeo-Won & Kwon Sang-Woo & neither actor disappointed me. Their performances were both powerful & believable. I've already recommended this film to my friends.
The story, acting & music were all solid 9s for me. I didn't give it a 10, but only for its rewatch value. Rewatching this movie would be like rewatching AUTUMN TALE: too emotionally draining and so sad.
Was this review helpful to you?
This was a terrific film. It's a well-written romance about a woman who returns from the grave to visit her husband and young son. And since I enjoy the sci-fi angle in movies and dramas, the whole idea of 'returning from the grave' didn't bother me at all (especially since it's not a horror-type situation).
As I watched the movie, I began to care for the three main characters. This was due to the top-notch acting of the cast: Takeuchi Yuko's Mio was a strong, graceful and warm character. Nakamura Shido & Takei Akashi were both fine in their roles.
The photography and the music added to the overall success of the movie. The only downside that some viewers might have with the movie is its sentimentality. But for me, it was an enjoyable movie experience. I still have my 'teru teru bozu' doll I made after watching this emotional film.
Was this review helpful to you?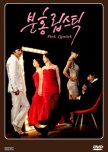 I needed a jolt of makjang after watching a couple of satisfying and heart-warming dramas (PRICELESS, for example). PINK LIPSTICK delivered: it was 149 (150?) episodes of pure 'makjanginess' - deceit, screaming, scheming, hair pulling, and one very vindictive mother-in-law. The length of the drama will definitely put many viewers off (each ep is only 30 minutes though). I started watching this as filler to my currently airing dramas. I was very quickly caught up in the plot and was soon watching just this drama. It was so over the top that I enjoyed it.
The romantic betrayal that formed the basis for revenge happened in episode 1. Once the betrayal was revealed, there was a very long flashback that lasted for quite a few episodes. I made sure I watched each flashback episode so that I could enjoy Ga-Eun's revenge. When the flashbacks ended, Ga-Eun was in revenge mode for basically the remainder of the drama.
Park Eun-Hye was well cast as Ga-Eun. Lee Joo-Hyeon's Jung Woo & Seo Yo-Jeong's Mi-Ran were the perfect villains. My favorite character was Park Kwang-Hyun's Ha Jae-Bum who was consistently a sensitive, caring and romantic person. Unfortunately, I didn't feel a real spark between Jae-Bum & Ga-Eun as they were portrayed by the two leads.
PINK LIPSTICK wasn't perfect: it dragged in spots, the revenge element fizzled (I say this because the intensity of the revenge wasn't there towards the end), and everything was resolved just a little too easily. However, PL worked for me despite its shortcomings. It stayed true to the "love-betrayal-revenge-love" theme. The music was well chosen for the scenes. A musical plus was Chopin's 'Tristesse'that was played (after watching AUTUMN TALE, I love this piece whenever it's included in a drama).
This was good as revenge dramas go. Even so, I wouldn't spend this much time to rewatch it.
Was this review helpful to you?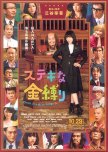 EXCELLENT! I enjoyed this courtroom comedy that also dealt with family, life & death.
I couldn't have wished for a better cast for the quirky characters in this wonderfully written Mitani Koki film. Nishida Toshiyuki was perfect as the 421-year old samurai. Abe Hiroshi was in top form whether he was tap-dancing or lying in a hospital bed. Other standouts for me were the peppy Eri, Nakai Kiichi, Asano Tadanobu & Kohinata Fumiyo.
I felt that the movie was incomplete when it ended. Luckily for me, I continued watching through the credits & the dangling/unfinished feel was set right. Even at 142 min runtime, I'd definitely rewatch this!
Was this review helpful to you?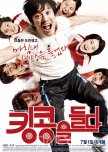 Weightlifting. Female underdog weightlifters. This isn't what leads to the kind of mega hit people enjoy. Thanks to a strong script and a very good cast, this based-on-a-true-story film worked for me.
Lee Bum-Soo did another fantastic job as injured former bronze medalist Lee Ji-Bom who lands a coaching job at a girls' school. We're introduced to Lee's team after we watch how the vice-principal gets the girls to take part in the sport. Each of the girls is an 'outcast' in some way, and as the story progresses, the viewer is shown how each girl comes to support her teammates & develops as an athlete.
I cheered for the team and each girl's personal journey. I cried and then I felt good for watching.
Was this review helpful to you?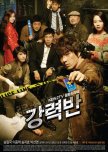 I came to this crime drama because it paired my favorite couple from JUMONG: Song Il-Gook & Song Ji-Hyo. I stayed because I enjoyed how the drama developed & how the detectives solved their cases. The supporting cast (especially Min-Joo's over the top office mates) all handled their roles well.
One of the pluses for me was seeing a softer side (& a smile) to my favorite perennial bad guy: Kim Gyu-Chul. The other plus was Insooni's contribution to the OST: loved her Farewell/Goodbye!
Overall, this was a very enjoyable drama & by the end, when the story's main issues were resolved, I was glad I watched it.
Was this review helpful to you?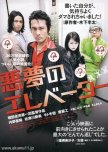 There were lots of twists and turns in this well written, well acted film. It'd be easy to dismiss this as predictable (which it isn't), but it's just quirky and suspenseful enough to keep you watching.
It's not your usual suspense film: there's gore, comedy, and several plot twists, so it will probably not appeal to a large group of people (plus most of the action takes place within the confining space of an elevator). Even so, the unusualness of it appealed to me; I've already rewatched the last 10 minutes of it (and it's one of those films that you need to watch through the end of credits).
Give it an open-minded watch!
Was this review helpful to you?