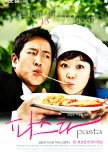 Pasta
7 people found this review helpful
Must watch i would say :) 10/10 *
I loved Lee Sun Gyun so much in this more than that in Coffee Prince. His character was simply superb though he was portrayed as an angry young chef, he has performed so well where i really did not feel irritated but loved the character more. His walking style - filled with attitude has no words to describe WOW !!!!! made me go crazy for him. especially when he punishes the cooks including his pair, was hilarious.
Before watching this series i thought that the lead pair may not get along with each other as Gong Hyo Jin gives me more of a calm and subtle feel - more like a noona/unnie. But she proved me wrong - the chemistry between the leads is simply superb and gives a feeling of a very young and matured love relationship. they have both made fall in for them as a couple too :). Besides his arrogant attitude towards others, his soft love towards Hyo Jin is adorable. Their love bond was quite different from the usual misunderstanding that happens with every other love story.
And also the Owner of La Safera - Alex is simply admirable. he's such a gentle man both in competing with Sun Gyun (Chef) to win Huo Jin's heart and as a supportive friend of Lee Ha Nui (F. Chef).
Choi Jae Hwan or no one else. he's the best for this kitchen assistant role. the scene where chef and him eat lollipops together was cute and pleasant. even guys eat lollipops ??? :) cute !
Last but never the least - No Min Woo (i love this guy). His hairstyle is WOW...!!! have no words to describe but jus to keep admiring it in all his scenes. he so handsome and watta complexion he's got... ;) so glowy... OMG !!!! don't take me wrong, but would definitely say that he was like an eye capturing element/MODEL in the kitchen; no wonder tat Alex's elder sis has a crush on him.
Talking about the plot, make me think how can a kitchen story have so many interesting episodes which were never boring. I really learn't lots of tips in cooking the dishes that they showed. Ain't the quantity of food/pasta served on the plates too less ????
Such a nice ROMEDY :) worth watching it more than once. i'm watching each episode 3 times a week - never got bored ans would never get tired in future too :) though i have watched only 17 episodes, the climax is quite predictable i'm eagerly looking forward to watch it till the end. but i don want this series to get over :(
In short, its worth watching more than once. i would recommend this to everyone who wants to have fun and enjoy the pleasant and strong love bond between lead couple.
Was this review helpful to you?