If you're still experiencing technical difficulties, please report it
here
.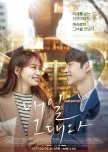 When I first heard about this I was really excited. I love time traveling movies or dramas so this really piqued my interest.
Yes, it doesn't have a lot of action that some people are looking for that's why they say it's boring. For me it's not. This drama is talking about the characters' fates; that alone made me excited for new episodes all the time. It's fresh. It tells you about how much you should treasure the present, but it also makes you wonder — would it be better to know the future? Or should I be satisfied with the present? This drama will give you the answer.
There are so many emotions that can be felt when you watch this. You'll get annoyed and resent some characters. You will feel their depression, their longing, and their love. The chemistry between Shin Min Ah and Lee Je Hoon is REALLY great.
I think for me, this drama isn't all about the wow factor. It's there to give you lessons and make you realize things. It was somehow comforting for me.
There were immaturity at times which is the only thing that made me suffer while watching.
We are talking about life here. The characters timelines. I'm so sorry to those who found this drama boring.
I actually, truly enjoyed this.
Was this review helpful to you?