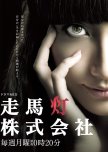 The summary seemed insane, and yes! that's what attracted me!
In a word, I liked this drama. Or maybe more, the concept of this drama. The intriguing plot was very unique. There are a lot of twists, you really need to watch each episode until the end!
Above all, watching those people watching their life was really disturbing. That corporation gives you to watch the dark side of humankind. Throughout the episode, your point of view about the protagonists changes, sometimes in a radical way. and makes you wonder : what if I knew everything about my life ?
The episodes are short, but each scene gives you one piece of the truth. there are also very touching episodes.
The music was nothing really special imo (i hardly noticed it) but suits the atmosphere and conveys the feelings this drama brings to you.
Finally, the cast was good. Not a lot of famous actors (or at least I hardly now them) but in some kind of ways that's a good point. You can focus on the story, and all the actors are doing a great job!
What I disliked :
- the episodes are not connected (positive aspect of this bad point : you can miss some episodes without being lost in the next ones).
- the episodes have mixed value. Imo, the two first episodes were great (the first one really amazing), but the good point of the drama (the twists) also makes you reflect a lot on what will happen, and there are less surprises. re-watch value is bad for the same reason.
- I didn't understand the final episode.
Nevertheless, I would recommend it. At least make the experience of the first episode! And ask yourself: do you want to re-watch your life on your TV screen?
Was this review helpful to you?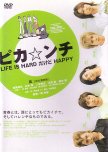 You want to see Arashi members at their debut, so you will.
You want to have fun and laugh with the five of them. So you will.
You want to listen to their music, so you will (just a bit though)
You want to know what it was, to live in Tokyo suburbs in the beginning of the 2000's (i'm pretty sure everyone is eagering to know such a thing). So you will.
You can watch this movie just because you are a fan of Arashi, or because you want to spend a funny evening after a hard day at school/college/work or whatever you want. It will work, undoubtedly, and there is no need to read more.
But this movie is not what you are expecting.
Pikanchi is for sure on the Plan to Watch list of every Arashi fan. If it isn't, then you should add it right now.
Don't be misled by the scores, i'm not the kind to give a 10 easily, even if I really enjoyed a drama/movie. And I enjoyed a lot this one.
It's just that sometimes the story is not as deep as such a subject may suppose. And that we can see that the five leads have not yet developp all their acting skills. They have showed better interpretations since that movie, but do not forget that they are still young.
Nevertheless, not only the five Arashi members, but the entire cast is great and is able to convey this strange atmosphere of warmth and confinement in this area. So close, yet so far from the Tokyo megalopole. Aiba, Matsumoto, Ninomiya, Ohno and Sakurai portrays five friends which different values and ambitions, at a decisive time of their life. How to become an adult, how to deal with reality and move forward when everything around stick you to the ground, or at least, to that area. How Japanese are able to deal with emotions and with such a complex subject through so much weird and funny scenes is still surprising. That's what attract me the most in this movie. Moreover, through many details, from emulation to jealousy, the friendship stays the main subject, and it's always a great pleasure to see how those five guys manage to convey such a wonderfull bond.
Was this review helpful to you?