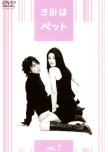 This is a very endearing and cute drama. It's funny and not too dramatic - there are no massive and overwhelming problems/obstacles, but enough plot twists to keep you interested. The main characters are portrayed very convincingly by Kato Koyuki (Sumire) and Matsumoto Jun (Momo). Supporting characters are good as well. The plot flows nicely and I found the ending was satisfying enough, although not perfect. The instrumental soundtrack suits the drama very well, and the theme song, V6's "Darling", is sure to stick in your head for a long time.
Despite the weirdish pet/owner relationship between the main characters, this drama is somehow very realistic. In the end, it is about people searching for someone with whom they can be themselves and that is a something everyone can relate to. Even if you don't like Matsumoto Jun - who, by the way, does a superb job in this drama, very adorable - you should give this drama a try. It might well be that at the end of this drama you too hope to have an adorable Momo as your pet! ;)
If you have read the manga, I think that this drama adaptation isn't a bad one at all. It's different, of course, and it doesn't follow the manga faithfully: there are quite a few changes and some characters omitted, some added/having bigger roles. However, I do think that the drama has the same spirit as the manga, and the main characters are quite the same. Anyways, I read the manga after watching this, so my opinion might be a bit biased since I was charmed by Matsumoto Jun's Momo first. :)
Was this review helpful to you?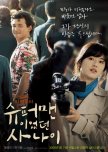 Cynics beware! This movie might touch even your hearts and make you feel uneasy. So, what it did to a rather naïve wannabe world saver like me? I don't know where to start - I guess I'm still in some kind of emotional shock. I liked this movie. A lot. But I won't watch it again anytime soon because I cried a bucketful of tears while watching it. What's even worse than that is the fact that this movie made me feel ashamed and it made me think. This is not your light piece of mindless entertainment. Still I think everyone should watch it once. It does you good.
There aren't too many movies like this. It has a good message that should come across to everyone. Maybe the world would really be a better place then. This movie's message isn't that everyone should be real-life Superman or next Mother Teresa. However, it does remind us that the little things and decisions we make ARE important. If some little thing you do makes at least one person happier, isn't it good enough? Everyone does have that little piece of kryptonite in their brains that makes us blind and indifferent towards other people. "We can't save everyone so why should we even try?" That is a thought that so easily creeps into our heads when we are overwhelmed by all the bad things happening in this world. This movie challenges that thought and I'm happy it does so.
I give best scores to this movie and I think it deserves good ratings even if it's viewed from a more objective standpoint. However, I'll let that to someone else. As for the rewatch value: I think everyone should watch this movie at least once a year since we forget the things we learn so easily. Oh, and I'm also an official fan of Hwang Jeong Min now. Such great acting.
After watching this movie, I'll wake up tomorrow with many good intentions. I know they won't last long but if I tomorrow pick up one trash from the ground or try to make someone else happy then I think this movie has made the world already a better place. Thank you, Superman!
Was this review helpful to you?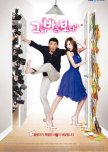 That Fool
18 people found this review helpful
I absolutely loved this drama! It was heart-warming, cute and entertaining. I admit that a fake marriage isn't the most original storyline ever but that isn't important when we are talking about a romantic comedy. We know more or less how the plot is going to develop and what the outcome will be. What makes these dramas interesting is the interactions between characters. If the characters are likeable and there's chemistry between them, the drama is enjoyable. And in this case, the main characters are excellent.
Hwang Jeong Min is an amazing actor who portraits Dong Baek as so good, honorable, and kind-hearted man that you just have to love him. Even though Dong Baek is a little simple and sometimes easily manipulated by others, he isn't a pathetic fool. I really admired his positive life philosophy: find reasons to smile and laugh even when bad things happen. More cynical person might find it annoying, I certainly didn't.
The first impression of the beautiful actress Ji Soo (Kim Ah Joong) is that she's a distant star but as the drama goes on she turns out to be a sweet and quite ordinary girl who isn't flawless either - and that's what makes her so charming and deserving of Dong Baek's love. I really liked how the main couple's relationship develops in a believable way despite the fact they seem quite mismatched at first glance.
A special mention goes to Sang Chul (Baek Sung Hyun), Ji Soo's little brother. Together with Dong Baek's little sister Min Ji (Lee Chung Ah) he adds some really adorable comedy elements to the drama when meddling in the main couple's relationship as a protective little brother. The interactions between these four characters offer some of the drama's best moments.
The plot is fine and the drama goes forward with good pace. There isn't too much angst or melodrama which I personally don't like that much. However, I came to almost despise Kang Mo and his slick smiles.
Music got only 6 because it wasn't that great and there were even some songs that annoyed me a bit. If the drama had a better soundtrack, it would be even more amazing.
I gave this drama overall 10 because I loved it so much; it was exactly the kind of drama I enjoy to watch. If you are searching for a drama that makes you laugh, shed a few tears and feel good and happy after watching it, I warmly recommend trying this one. You might even learn something from Goo Dong Baek! :)
Was this review helpful to you?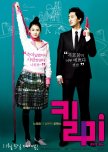 I'm not an expert on Korean movies but I'd say that this wasn't bad at all. Obviously, a two-hour movie cannot have the same depth of character development as a 16- or 20-hour drama series but since the main focus was on the main characters, I think you had enough time to get attached to them. I even shed a few tears at the end of the film (or then I'm just too soft... :P)
This movie isn't full of drama but it is not a light one either since it touches upon themes like violence, alcoholism and depression. However, all these themes are illustrated in a warm-hearted manner, not too realistically, and hope is definitely present all the time. This is certainly not too serious a movie, and that is largely because of the more or less twisted and dark humour that spices the story up and makes you laugh.
The overall plot goes onwards at a good pace and has some interesting twists that I was unable to predict, especially at the end. Shin Hyeon-Jun portraits in a very endearing way the professional killer Hyun-Jun who is a serious, warm hearted and troubled man questioning his profession and quietly looking for someone he could talk to. Kang Hye-Jeong's Jin-Young is a bit crazy, not an ordinary woman, but very adorable.
This movie has some very endearing and funny scenes and that is why I liked it so much. The main characters are very likeable as well. If you have two hours to spare, go and watch it, it isn't a waste of your time.
Was this review helpful to you?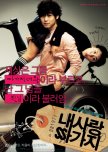 I didn't have great expectations for this movie to begin with - and still it managed to really disappoint me.
First of all, I couldn't like the main characters, and that is always a problem. I just couldn't relate to their lives or problems at all. In my eyes, Ha-Young was just irritating, spoiled little girl screaming, making faces and throwing tantrums all the time. Hyung-Joon wasn't any better, he was definitely arrogant (as the movie's name suggests), mean and self-centered. I could have still forgiven these flaws of theirs if they had had any good and amiable side in their personalities but I just couldn't find enough good in them to make me like them.
Secondly, the whole setting of the story was just too weird and twisted to my liking. I'm normally okay with dramas or movies that have all sorts of marriage/sibling/dating/cohabitation agreements in order to provide the main characters enough interaction so that they can fall in love with each other. However, this "Enslavement Agreement" was too much for me. My dislike for this agreement was further strengthened by the fact that the girl was still underage and the boy in college (call me prudish if you like). Had they had a pure, equal relationship, then it might have been okay, but in this case, the setting was just too weird.
Thirdly, I wasn't convinced that the characters really fell in love with each other. I acknowledge the obvious time limitations of a movie compared to a drama but still, there just was something missing. Fourthly, I really didn't get the humour in this movie. Even the numerous day-dreaming scenes of the main heroine didn't really work or weren't that funny. I was actually really surprised to notice that Ha Ji Won played in this movie. I liked her in "Secret Garden" so I'm tending to believe that this movie wasn't so bad because of the acting but because of the storyline.
For those who now think that I seriously underrated this movie, please feel free to give it a better review. I am no longer teenager, nor am I Korean, so maybe there were just some things I didn't get, but personally, I wouldn't recommend this movie to anyone. You'll just feel stupid afterwards for wasting your time on it.
Was this review helpful to you?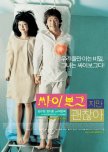 First of all, this movie brought two persons to my mind: Tim Burton and Johnny Depp. (A movie could raise worse associations, I guess.) In this movie, I sensed an atmosphere similar to many movies one or both of them have been involved with. The concept of "normal" is questioned and twisted around. Imagination can fly free and being "weird" is acceptabale - and even adorable!
I think Rain had a really Deppish role in this movie. Il Soon is eccentric, peculiar and sees the world in his own way. He is kind, child-like person carrying deep scars from his past. In addition, he, too, has dark, beautiful eyes and he wears a weird "hat" - count all Depp's roles in which he has worn some extraordinary headgear!
Lim Su Jeong does a superb job in the main role as well. Her Young Goon is indeed a very cyborg-like girl with great expressions. There were some very cute scenes with these two characters and you just have to love them both. If you know the American movie "Benny & Joon", here you have Korean Sam and Joon.
I really liked this movie a lot. I have to admit that I didn't like it as much when I watched it the first time. I thought the beginning was a bit slow and it took me some time before I realized where the movie was heading for. I had also some difficulties to follow the plot from the subs and I think I missed something because I can't understand Korean. When I rewatched this movie I understood a lot more from the start and noticed new little details that were part of the big picture.
However, I couldn't fully love this movie because I couldn't help but to reflect on the reality behind the film - how mentally ill people have been - and are - treated. How "normal" people judge others as mentally ill and close them to institutions, out of sight. This wasn't the main issue in the film, though it was touched upon. I think there would have been the potential for more.
The soundtrack was excellent. The music was in an important role creating the movie's atmosphere. In some scenes the music was in a strong contrast with the action on the screen and thus made the viewer to view the scene in a different ligth.
If you want that everything is logical and reasonable and you don't like fantasy elements, don't watch this movie. If you like movies with a little twist on the weird side, movies that are about people who don't see the world like "the normal people" do, you might really like this movie.
P.S. If you don't get the ending of the movie first, don't worry; I didn't get it either. I missed the crucial point but fortunately I found the explanation in some comment and then everything made much more sense. Just watch the last 10 minutes or so carefully. :)
Was this review helpful to you?