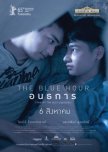 This review may contain spoilers
This is my first movie comment. I felt compelled to write this review because many viewers and reviewers haven't given this movie credit for how good it is primarily because they have a preconceived notion or expectation of what the movie is before watching it and feel unsatisfied at the end because they don't fully understand it. If you think this story is a gay coming-out/love story or a horror movie the you've been badly misled but give it a chance and you'll find it to be a pretty worthwhile watch.
I will admit that the first time I watched it I was confused as to what happened. Much like the movie the Sixth Sense this one made you think and required you to watch it a second time. The second time around it makes more sense. This is not your conventional horror movie or a gay coming of age love story. Think of it as the reaction of the mind because of horrors that it has to endure.
The title The Blue Hour is very significant to the meaning of the movie. The Blue Hour, also known as Onthakan, is the time between day and night; dream and reality; good and evil. This is where this movie lies.
My personal thoughts on what the movie means after watching it a second time. Don't read the next section till you've watched the movie at least once,
The story is about Tam, a High School student who's bullied at school and physically and mentally abused at home by his family for being gay. To escape, his mind creates an alter ego named Phum. The movie goes back and forth between Tam's reality and dreams — hence the blue hour — with the majority of the movie in Tam's dreams. Phum is strong, independent, self-aware and confident, traits that Tam doesn't have. Phum essentially acts as the trigger (imagine that little devil on Tam's shoulder) that unleashes the horrors that lie within Tam's mind. Phum frees Tam sexually; makes him feel at peace with himself and who he is (any of their poolside chats and the rooftop scene); allows Tam to metaphorically see what his parents have taken away from him (the empty field with so much potential that became a garbage dump - Tam is accused of everything that is bad with their family, including being gay), rationalize murder to save himself (stuff that happens while he's in the dump); and to learn how to mentally get away from it all (I think this is what the whole holding breath thing is, to be dead without being dead). The pool represents the dirty section of Tam's mind. The random images that show up on the pool walls that look like images of people made from crap are manifestations of Tam's problems specifically his family that keep on showing up no matter how hard he tries to remove them. Tam nearly drowning in the pool is essentially that, Tam drowning in his problems. Not sure what the meaning of Phum saving Tam from drowning means. However, after Phum saves and revives him, Tam admits that he can't remember anything that happened - thereby admitting that he's struggling between dreams and reality or maybe even good and evil thoughts. The gangsters, who Tam and Phum meet at the pool, are the manifestations of Tam rationalizing murdering his family and a willingness to give up parts of himself to do it - the whole negotiation and Phum listing all the things he's willing to give up. The ending scene, Tam and Phum meet at a calm river representing Tam's mind at peace and calm.
I too struggled with this movie at first. A second viewing with an open and objective mind will really make you appreciate the movie and its subtle complexities.
Gun and Oabnathi did a great job acting in this movie that you wanted to believe that they were "real" couple/friendship as opposed to just that little devil on Tam's shoulder. Thats the genius of movies like this and the Sixth Sense.
Was this review helpful to you?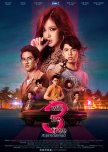 I'm not going to spoil this by giving away much about the story. I will say that it's a very, very good series! The story does get a bit convoluted at times but there's enough substance in the two main plot lines and the acting is top-notch to carry the series through. Kudos to the director and production company to tackle issues of transgender and poly-relationships rarely seen in any series from any country. If you're going to watch just one episode, make it Episode #5. That episode Is an A+ and on its own could be a short film. The final episode is also well done with an interesting end to the series.
The overall acting is solid! Joss Wayar finally gets a leading role in a series and he doesn't disappoint playing Neo, the tall, dark, street-wise survivor looking for a place to land. Tay Tawan is equally as successful playing Shin, the shy, naive, gay, introvert son of a big time mafia boss. It's great to see Tay show his acting range as he's successfully played the strong, knows what he wants role in other series and he portrays himself as a happy go-lucky guy in the various reality type shows that he does. This was definitely a good departure from his usual. Mild Lapassalan rounds off the big three with a good performance as Miw the hapless trouble follows me girl. Honestly, not a huge stretch for her as she does the strong female character well. It was really nice to see Jennie Penhan finally get a significant role in a series, arguably she too is a lead in this series. Her performance here will hopefully lead to more significant roles for her in the future.
Overall, a worthwhile series to watch! Watch it for the acting and unique storyline.
Was this review helpful to you?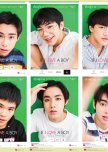 Works as Teasers but Fail as Standalone Short Movies
"If I Love a Boy" is a set of 5 unrelated short stories with a BL theme. They were released as four separate short films with "Everybody Run" and "Night Before Everything" released together with each of these two storylines cutting back and forth between the two stories. At first, I thought that these short stories were prequels to the "Thank God It's Friday" series which was marketed by the same production house, at the same time, with the same actors as the If I Love a Boy films were released. That of course is not the case as TGIF has a completely different storyline and the actors play entirely different roles.
If the stories in "If I Love a Boy" we're in fact prequels to a future movie or series then you could forgive the ambiguous and in one case, bizarre endings to the stories. As standalone short films they do a decent job of character development but they don't capitalize on that by giving them satisfactory endings. Each story leave more questions that could be answered with another 5-10 min of development or again using them as a stage as prequels for a longer movie or series, as each are good teasers but not much else.
Maybe the storytellers we're trying to leave the audience with some profound thought or dilemma to ponder. The titles of the movies come in like breaking news headlines for a news broadcast. If that's the case, what message or profound thought are they trying to convey or make you think about? Maybe they were trying to make you think what would you do in that situation? What ever it is, it doesn't come out clearly.
The production values for each of the films are surprisingly high for storylines and acting that are arguably at the level of a student project. So there was some money placed into this project which makes you think that there's a greater purpose to the films. Speaking of acting, it's very obvious that each of the actors are new and green. Not necessarily a knock as inexperience can give a natural sense of innocence and genuineness that more polished actors sometimes lose. It will be interesting to see how they develop moving forward. Ball and Poori in "Everbody Run" seem to be the least green of the group with their acting being the least wooden of the group.
Overall, I think these short films are a missed opportunity that I'm hoping that the producers will jump on as the next project for this set of actors after TGIF. Each story wets the appetite but they need to follow through on filling the belly.
Was this review helpful to you?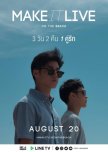 This review may contain spoilers
Beginning or End; Making this relationship live!
If you're a big fan df the "Make it Right" series you'll overlook the technical challenges of Make it Live: on the Beach and be happy with the continuation of the Tee/Fuse story. As an overall storyline Make it Live: On the Beach falls albeit flat mostly because of its unnecessary length and poor writing. This is especially obvious when you compare Make it Live against the excellent short continuation series in the same Thai BL genre such as Our Skyy, which continues/ends the storyline of five beloved BL series's, or ReminderS which weaves the three year later story of Phum and Noh from the LoveSick series with a new storyline with the cast from the Love By Chance series. Thankfully, the six episodes are short so you can live with the pacing but I can't help feel that better writing would provide depth to the characters and the series.
The acting in Make it Live isn't too bad. Peak's acting has gotten much better from MIR. He does a good job of going from happy to sad and back again while still being the childish Fuse. Boom, on the other hand, seems to be about the same, not really developing from his MIR days. The central theme of the story was Tee's conflicts and Boom had challenges achieving this, is that acting or poor material?
Usually in Thai series they leverage a second or third couple to add a bit of depth. Unfortunately, any scene with Ess and Lukmo were pointless. In MIR Lukmo was the comedic relief but in Make it Live he was just there. They both were just unnecessary fillers that didn't do anything to advance the story which is too bad as I liked Lukmo in MIR. Ess and Lukmo weren't a couple in MIR so the writers couldn't randomly add them as a second couple/storyline. It would have been interesting to see what the plot line would have been if they got Ess's or Lukmo's respective significant other meaningfully cast if that second storyline would have added more to depth to the series like it did in ReminderS.
Even with the lackluster storyline and writing, there's potential in this series and if you want a little blast from the past and relive that Tee/Fuse love it's worth the time to watch. I think all of us are hopeful that this is a foundation to the continuation of this couple or maybe even an MIR 3 with the expanded storylines of the other couples.
My interpretation of the story below. There are some spoilers.
The storyline of Make it Live: on the Beach starts three years after the end of MIR 2, when Tee and Fuse made their relationship official at the conclusion of the series. It seems that both Tee and Fuse went off to different colleges. Although they stayed together as a couple, the distance and college commitments meant that they didn't spend a lot of time together. The trip to the beach was a celebration of their three years together but also a possible end to their relationship as Tee, as we find out during the series, was receiving pressure from his family to end his relationship with Fuse and presumably marry a girl to carry on the family tradition. The trip to the beach was their way to hopefully make their relationship live.
These competing emotions (celebration and end) are played out through the six episodes. Both Tee and Fuse spend the trip validating their relationship and professing their love for each other while a cloud of dread hung over them of the reality that their relationship would come to a forced end. Fuse had all but embraced the fact that their relationship was ending and was making the best of the time that he and Tee had together. Tee, on the other hand, was fighting the battle of his heart and family obligation. The ending is a bit cliche and rushed. I was not convinced that moment was the tipping point for Tee.
I think that the writers could have spent more time playing up Tee's inner conflicts. In MIR they did this by setting us several scenes and concurrent plot lines to show what Tee was going through. Where as in Make it Live, it was way too superficial and Boom's acting limitations (or the inability for the director to pull it from him) couldn't make-up for the poor writing. Refreshingly, Peak was able to make his character show his. You could argue that Fuse always wore his emotions on his sleeve while Tee was more of an introvert. However my argument back is that there are myriad of short films and the aforementioned Our Skyy series, that do a much more effective job with their actors and writing to show this conflict, even with introverted characters - see Krist in the Sotus series. I think better writing would have elevated this series and warranted its length.
I thought that the congratulatory appearances of the other MIR characters beyond Ess and Lukmo were a nice touch and a nod to the ending of MIR2 when Book and Frame were being congratulated by their friends on their engagement. Book/Toey as the Director was also a nice surprise addition.
Was this review helpful to you?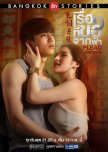 Can Love Conquer Destiny?
I was anxiously waiting for this series to get translated to English from GMMTV on YouTube - which didn't happen... Based on the trailers, I suspected that it had a storyline, strong lead actors who could carry the series, and production values worthy of an international release. Sure enough, Netflix picked it up!
The basic premise of the series is whether love can conquer destiny. The multi-relationship story is sweet and the actors are solid, especially lead actor Non Santinatornkul, who plays the lead as Tee in this movie, and Morkut Liu, who plays Pai - Tee's longtime childhood friend. Both actors are challenged to play charters who are blind but yet they are sighted in real life; they both pull it of brilliantly! Punpun Udomsilp does a great job in her role as Elle, the other main character in the series. It would have been easy for her to have been overly dramatic or sappy but Punpun balances her role well. The rest of the actors are very good and add dramatic tension and a bit of comedy to storyline that could have easily turned into a sappy romance flick. Thankfully, the storyline doesn't overwhelm you with too many characters, unnecessary relationships, and bizarre plot twists (well there is one) which can needlessly confuse the audience.
Not to get too deep to spoil the series, I'm going to leave it up to you to decide on whether the couples in this series conquered destiny with their love. I highly recommend watching this series!
Was this review helpful to you?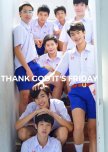 When Cute is not Enough
Over five years ago, "Lovesick - the Series" and it's sequel "Lovesick 2" paved the way for the Thai BL genre. It opened the door for main stream young gay characters where the focal point of the story is their love relationship. Before "Lovesick" gay relationships were were often relegated to a secondary role. "Lovesick's" success is due to a simple storyline, two lovable lead actors, straightforward interactions between secondary characters, and an iconic OST in "Shake" which is the best song from any Thai series regardless of genre. "Lovesick" made the slew of BL series, movies, and short films that followed possible as it showed high interest level for the genre. You know you've arrived when you're one of the few series with a BL theme that's playing on Netflix in the US.
"Thank God it's Friday" (TGIF) is supposed to carry on the "Lovesick" franchise as it takes place five/six years after the Seniors from "Lovesick" graduated. The Friday College Music Club is again in financial difficulty. Because of their lack of appreciable success and maybe actually music playing ability, they enlist the help of the music club at their sister school in Chaing Mai for assistance. Although their initial meeting was rocky, the two groups bond and relationships (both platonic and otherwise) occur.
TGIF is directed by Andy Kusolkulsiri the same director as the both the "Lovesick" series'. Unfortunately, the only connections between "Lovesick" and TGIF are the school's name (Friday College), the music club that the two groups are involved in, and a brief exchange between Jump and Yong in episode 1 where Jump refers to Noh as his idol and Yong asking Jump if he knew the rumor of Phun and Noh being in a relationship. Let's forget about the weird suggestion at the end.
Although the three main couple storylines were fairly straightforward, where TGIF fails is that the storyline was muddled, had unnecessary side stories that we're confusing, poor character development, random intrigue between characters that don't make sense, and a main plot line of the Bangkok music club getting help getting completely lost. Could these guys actually play or not? I was often left wondering if I missed a half episode in between episodes because I couldn't figure out what was going on for awhile at the start of each episode, it took a while to settle into an episode.
I felt like the overall story was being made up as they went along. Let's start with the premise of saving the music club. That isn't working so let's focus on the budding relationship between Home and Jump. That's turning out bland so let's focus on the Por and Yong and the Lun and Nana relationships but fail to give it real substance because they're not the main characters. The lack of storyline focus was confusing especially when they added the other side stories and characters without enough development. How long can you run a minor storyline of a missing condom from a bag?
I did find that the story and characters matured from episode to episode - to a point. That point was pretty much at the middle of the series when the three couples end-up at the dam. After their return back to Chaing Mai everything, with the exception of the Lun and Nana story, regressed.
The young female actors were actually not bad but unfortunately the performances of the male actors were all over the place. This is a failure in casting where it appears they favored cute over substance. The main characters of Jump and Home we're so wooden it was sometimes painful to watch. Their acting did get better as the series progressed but as their bangs got longer their acting again got worse. The second couple of Por and Yong were fine but, their storyline could have been streamlined with better developed conflicts and character struggles. The best developed and acted relationship was the third one between Lun and Nana. Their storyline and acting felt genuine due to the two actor's having good chemistry and ability, which was lacking with the rest of the actors and couples.
The soundtrack of TGIF also seemed to get better as the series progressed - again to a point. The main soundtrack is cute and catchy. It's no where near the level of "Shake" but pretty good. The Jump and Home relationship song at the dam was also pretty good. But just like the majority of the series, the music fell apart in the second half of the series with some awful music tracks sung by the actors in the series. Pluggy has a very unique voice, not sure of anyone else in the series has lead vocal quality, so if he was in the song it was fine.
Why I really come down hard on this series is because I'm watching this concurrently with a number of far better Thai series. The producers of TGIF chose to release it at the same time of the end of "Theory of Love" and "3 Will be Free" and the start of "TharnType", "Dark Blue Kiss", "I am your King 2", and "Until We Meet Again." Yikes! That's crazy bad timing! How can you go up against those heavy hitters with green actors and a poor script? The quality of the storyline and acting of TGIF pales in comparison to any of those series. I rate each of the aforementioned series between a 9.5 and 8, while I give TGIF a generous 6. Maybe if I watched TGIF during a period where no BL series running I would be more forgiving,
Five years have passed since the groundbreaking "Lovesick" series. The Thai BL genre has evolved so much in those five years that just having a cute series is not enough. I think that audiences are expecting more coherent and developed storylines, better writing and frankly better acting from their series, regardless of genre. I did stick around and watched all 12 episodes of TGIF so cute may have a place?
PS - Had to go to another site to watch the last episode as it's been over a month and the producers of TGIF have yet to translate the last episode on YouTube, which they had diligently done a week or less post-release of an episode. Did they also give-up on the series?
Was this review helpful to you?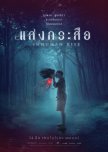 Not your normal scare your pants off horror movie. So if you get scared easily, don't worry about that with this movie. Think of think as a supernatural thriller/romance flick with a touch of Thai style horror tossed into it. The story is solid, certainly worth the nearly 2 hour movie length but, the pacing is a tad slow. I can't help think that they could have cut 15-20 min and still had the same effect. Acting is good and believable. Music is your typical horror/thriller/romance variety - appropriate in terms of timing and adding to the scene. Rewatch value is just ok, 2-hours is a huge time investment to re-watch a movie. There will be no "Sixth Sense" or "The Blue Hour" (an earlier Oabnithi stared movie) stumper where you need to watch again to figure it all out. Overall it's a solid movie that's worth watching. Don't worry, it's not a straight up horror movie so if that's keeping you from watching, don't let it.
Was this review helpful to you?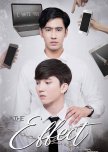 Unwanted Love
Unwanted love is unwanted love. The Effect deals with the consequences of unwanted love. A subject matter that's too often glossed over in many BL series Thai or otherwise (see the start of two main storylines of Make it Right and arguably two of the storylines in Love by Chance). This was a difficult watch but definitely worthwhile. Although it starts off like your typical teen series, don't expect it to be that. The Effect's storyline is deep and at times difficult to watch, but it's told in a very mature manner. James Prapatthorn is a stand out in his first leading role in a series. It's not easy for a young actor to have to portray all the levels of emotions his character goes through in the series. The depth and subject matter is a definite change of pace from your normal drama that deserves your time.
I rated the music a bit low. The main soundtrack for The Effect sung by Boy Sompob, the king of the BL OST, is up there with most of the OST from other series; it's not Shake but, it's good. Where I take major points off is the background music in some scenes is downright inappropriate. The music is supposed to help convey mood. In this series, sometimes the music that they chose was counter to what was portrayed visually. It's alarming in a bad distasteful way.
Was this review helpful to you?
Girl likes boy; boy doesn't like girl back; girl tries (with the help of her friends) to woo boy; boy still not interested; girl losses interest and stops pursuing boy; boy misses her and begins to like girl. It's not an too unfamiliar a storyline and unfortunately this version is nothing special and brings little in the way of storytelling or great acting to the Teen RomCom genre. Set in the same school and even classrooms as the Hormones 1,, 2, and 3 series, it's hard not too make comparisons (fairly or unfairly) between the two series. Frankly, Hormones just does a better job with the similar storyline. The storyline in Hormones has more depth, the acting is better and it has a more believable plot. Beyond Hormones there are just so many better Thai series out there that do the Teen RomCom genre better.
Speaking of Hormones, Belle - the lead character in this series - is played by Kanaywee Songmuang who has a major role in Hormones 2 and 3. In this series she's passable but not entirely convincing as a head over heals infatuated girl. I think Songmuang is better in roles where she plays a strong but yet vulnerable character much like she does in Hormones, Kiss Me Again, and Project S - Shoot Me. In this series her best scenes are those where she's standing up for herself from an infatuated ex played by White Phumphothingam of LoveSick Series fame.
Korapet Kirdpan is ok at best in his role as S, the male lead in the series. His acting isn't entirely convincing either. He's basically indifferent the whole time which makes his switch from not liking to liking her a bit more difficult to believe. You never get the feeling that he cares nor gets mad or even understands what's going on. And no, it's not intentional more like green acting. He does a much better acting job in a similar role in My Dear Loser Series: Edge of 17 and thankfully has seriously matured with his recent role in The Gifted series. The rest of the actors are fair playing their roles. Most portray their roles stiffly, including White. It would be funny if it didn't come of as young actors learning the ropes.
Story - This story has been told many times and there are better out there in the same genre.
Acting - Eh... good potential but only ok at best.
Music - Appropriate but not something you'd remember
Rewatch - unless you really like these actors that much or you're looking for a fluffy series it's not worth the time
Overall - There are better series out there.
Was this review helpful to you?