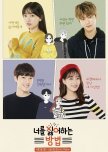 Although this show may have been short, it defiantly left me wanting to see more at the end.
I liked the character development and the emotion, the actors played their roles very well and everyone seemed to have great chemistry together making this very realistic and believable. It was centered around a freshman entering college which for some can be a hard transition to make, so I appreciated seeing how the main female role tried to come out of her shell a little bit which is also how she would end up meeting both male roles played here. Overall the show had a very light and easy vibe to it but was still heartfelt as its realism to the real world can be relatable to others. I really enjoyed watching this and would defiantly recommend it for others to try watching as well.
Was this review helpful to you?