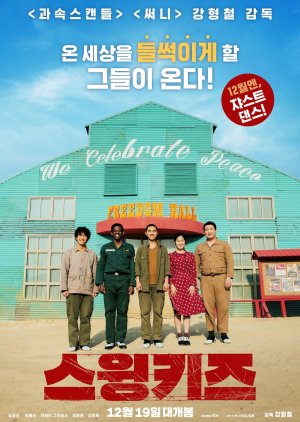 There is a reason why the tragedy tag is there. The setting of this movie itself is during war, in a war camp where all sort of people is there. The good and the bad people, the honest and the one with ulterior motives.

The story itself is unique to me. Usually, movies in a war setting are heavy on tactical or political but Swing Kids focuses mainly on tap dance. When I watched the trailer, it got myself thinking too how did this one ended up as musical movie? The music was necessary to accompany the tap dance. I don't really know much about American music during war times but it is pleasant to hear. The movie focuses on the hero, Kisoo and how he fell in love with tap dance. How tap dance changed his life, the consequences he got when he accepted his love for tap dance from his fellow countrymen and enemies, and the dream he wanted with his talent. It was a beautiful journey to watch his character development. The other characters are necessary for this development, one leads to the other, and another, until they completed each other. And these characters will be tested on their ideology and loyalty; either to be freed physically or to be freed mentally.

Do Kyungsoo is so incredible in this movie. The way he talked in North Korean accent, the way he potrayed as a bully and the most important is the way he tapped dance. It was so beautiful to watch his character. The second lead for me is the character Jackson. The actor, Jared Grimes, is really into his character, I am so impressed. Jackson is the person that introduced tap dance to Kisoo. The relationship between them is so beautiful, it transgressed language, skin colors and ideology. Park Hye Soo's English is wonderful and she certainly can tap dance; while Oh Jung Se and Kim Minho completed the comic relief in this movie.

The movie started with a good humor here and there, and later it changed into a serious tone due to a major event in the movie. But the beauty of tap dance is featured in the movie from the beginning until the end. The director is clever to use music as the momentum, mostly the pacing of the shoe's tap itself, and there are some scenes I literally held out my breath, the tap dances in this movie are that good.

I would love to rewatch it again in the future. This movie is certainly different from the others. Recommended.
Was this review helpful to you?