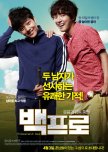 I suppose I dedicate this to the lead actor Yoon Shi Yoon, who has been discharged from military service this year!
Story
The plot of Mr. Perfect is heartwarming. Be warned, there is the typical cliche of a bad boy main character suffering from the classic case of fame gone awry becoming a good citizen; however, the story is convincing. This movie was a box office flop because of its heavy sentiments; movie-goers prefer more action or excitement. Dramatized movies such as this one are best saved for Netflix or other at-home movie streaming sources. Other than that, the ending of Mr. Perfect was bittersweet and highly unsatisfying for a movie. If you are looking for the classic perfect storybook ending, Mr. Perfect is not for you.
Acting/ Cast
It is obvious that the cast is filled with well-seasoned actors. All were very professional, especially the adults. Yoon Shi Yoon was once cast in a similar role in the Chinese drama, Happy Noodle, which provided voice overs. Pretending to be mute is a breeze compared to pretending to speak another language. In his role as a teacher, Yoon Shi Yoon connects with people that have teaching or tutoring experience by expressing the gratification of students learning and progressing in their studies. However his character's internal journey of self realization was largely not shown in the movie. As for the students, Yeo Jin Goo, the other main character, preformed above the rest. This was to be expected because of his casting in multiple child roles. He is expected to elevate his career with his main roles in dramas Orange Marmalade and Jackpot.
Music
As per usual, I perused the film post-viewing for memorable tracks of any sort. The OST was nothing special. Mr. Perfect had too much sad ballad songs in their OST that made their lighter songs be recycled constantly for the funny scenes.
Rewatch Value
As a Yoon Shi Yoon fan, I would rewatch this because it is Yoon Shi Yoon's most recent work. Hopefully he does act more in future since he just got discharged. As previously admitted, Mr. Perfect is not the easiest film to watch or rewatch due to its heavy sentiments. Knowledge of the plot will also lower the emotional impact of the story, contributing to a less fulfilling rewatching.
Overall
Mr. Perfect is perfect for an emotional night at home, especially for the whole family. Living on the island is like living in a big multifamily house. Characters in the movie come from every different age bracket to represent and connect with each family member at some fundamental level.
Was this review helpful to you?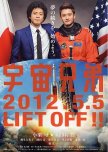 This is one of my favorite movies and ... wait, why am I the first one writing this?
I have not watched the anime or read the manga. This is a purely an unprofessional opinion.
Story
At first, I was concerned. How could anyone shorten an anime that is 100 episodes long into a movie? However, Space Brothers is concise, leaving the supporting character rabble behind to support the main cast, the brothers. At first the concept of brothers both becoming astronauts was unrealistic because rarely anyone shares the same aspirations and the determination to aim for them; however, the brothers show their differences and own way of overcoming obstacles. Space Brothers is a perfect scripted bromance (when they are not speaking English).
Cast
The main cast could not have been better. Oguri Shun and Okada Masaki together in a drama is perfection. Both are famous actors, with Oguri Shun being a more noticeable name as the main lead in Rich Man, Poor Woman and other very notable dramas. Okada Masaki is a more obscure actor, but has won numerous awards for his acting. Expect top tier acting from pros! Other than that, there are foreign actors in Space Brothers so please brace for some awful English. (There is a surprise cast member too!)
Music
Though at first jarring and unexpected, rock music and space travel were a match made in time. They both were popular topics of the 60s and have a lasting impact on culture of the world. For instance, Japan now has JAXA and BABYMETAL thanks to this decade and this movie's soundtrack reminds you of that. I also appreciated the how the songs were in English as a nod to USA's NASA, one of the most powerful space programs with its prevalence in astronomical history.
Rewatch Value
Watching this again with another person would be well worth it. This movie is convenient for every occasion, a dose of funny and entertaining with a compelling story.
Overall (Personal)
I love this movie so much that I can remember the exact instance I found it. I found this movie while surfing on Viki with my friend (minimaruko) and as space geeks, we were skeptical if they would portray NASA and JAXA correctly. I can say now that Space Brothers producers overdid themselves… they really should have directed One Direction's Drag Me Down music video. Really.
Was this review helpful to you?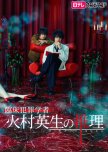 This is my first actual drama that is not a movie review! Yay!
Story
As far as detective dramas go, Rinsho Hanzai Gakusha's story arcs are based on individual cases. However, what makes this drama distinct is the fact it circles around a criminologist, not a detective. The mind of the criminologist is delved into deeper in each arc. It is as if the story is conceived to solve the mysteries of the criminologist Himura HIdeo rather than the mysteries. The story was otherwise entertaining; however, predictable.
Acting/Cast
The actors of Himura and Alice really played up the Holmes and Watson vibe which is refreshing to see after Detective Conan. For this drama, the cast was of a high caliber, all great actors seasoned with experience. The best acting would be from Hasegawa Kyoko as Moroboshi Sanae. She is the best villain, because who knew she could be so evil? Of course the main cast is nothing to scoff at either. Takumi Saito already has experience in law from the drama Ace Attorney. Masataka Kubota was Light in Death Note, so its interesting to see him on the right side of law this once. The only actor I would complain about is Yamamoto Yusuke because I see him in literally every Japanese drama.
Music
In a detective drama, the soundtracks are suspenseful, and little of nothing else. Unfortunately, Rinsho Hanzai Gakusha failed to break away from this norm. If the soundtracks were more memorable, not repetitive for every case, and not only suspenseful, I would have given a higher score. Sorry, I way have high standard because of Meitantei Conan.
Rewatch Value
Rinsho Hanzai Gakusha should be quite easy to rewatch because the story happens in arcs. Just pick the arc you like and rewatch it. In addition, it helps that this is one of the best mystery dramas out there.
Given that you know the criminal and every fact of the case, the rewatch experience would be a tad lacking.
Was this review helpful to you?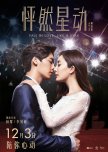 Happy Valentine's Day MDL! Here is my gift to you all!
Story
Valentine's Day and its lovey-dovey atmosphere really suits this movie to a T. The story was meant to be a cliché from the beginning with its separated and reunited lovers trope. As the story is nothing special, the script writers did what they could to spice things up. I do like how they made it closer to real life by not including a real villain girl or guy, letting time be the only obstructive construct.
Acting/Cast
This is hands-down a great cast. The passion conveyed through the main couple is amazing. I have no complaints about the main characters are seasoned actors who both did a great job. There were some side characters that had potential for development, namely the production manager as the first one who knew the couple's secret and the girl's rival agent. The agent may have been slated as a villain but later removed to the half-baked persona she was in the movie. She could have potentially been more if it wasn't a movie.
Music
Music was a solid pillar in this movie, deserving of its solid 7. I believe the music was great, not the crap pop like I expected, but rather soothing and ballad-like. This is a brand of Jay Chou who revolutionized the Chinese pop industry into being less pop. Although Li Yifeng was a successful star in the movie, he did not sing. He would have been talent less if not for his mad piano skills, which contribute to the not quite pop atmosphere.
Speaking of not pop genres, the blues and jazz make an appearance here. Talk about multicultural!
Rewatch Value
I think I've seen too much Li Yifeng this season. This movie is definitely a chick flick and I probably will not be watching this again until the next Valentine's Day.
Background/Setting (extra)
What the production did with the setting was amazing. They showcased the better parts of Shanghai with snippets throughout the movie. It was a shame that they did not film on the hot air balloon, but rather opting for distance shots.
Was this review helpful to you?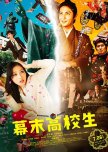 Historical knowledge galore! I'm sorry if I get some things wrong in Japanese history... I took European history.
Historical Backgound/Story
Time Trip App does involve quite a bit of history but the most important thing to know is the Katsu Kaishuu saved Edo (Tokyo) from a civil war between the emperor who abdicated his throne in 1867 and the new government. This is the transition between the Tokugawa shogunate (Edo period) and the Meiji Restoration called the Bakumatsu. The movie seems to express the indecision of Katsu Kaishuu when faced with making the choice that changed the history of Japan with a certain foolishness for comedy. Ishihara Satomi's teacher character is problematic at first. The plot is quick to expose her flaws as a teacher and corrects her flaws through her experiences in the past. Strangely enough, Shintaro Numata seems to be the only student involved the development of the main storyline as the others are cast aside into their own side plot. There is more amusement at the situations these future characters find themselves in rather than comedy provided by Katsu Kaishuu. Also, I hate to crush everyone's hope and dreams but the ROMANCE IS PRACTICALLY NONEXISTENT! The time travel trope manifest itself in this movie by recycling elements from Back to the Future. The goal is the same: to return things to how they once were and to safely go back to the future.
Acting/Cast
Tamaki Hiroshi and Ishihara Satomi!! Wow, both are great seasoned actors! Tamaki Hiroshi's acting in here does outshine Ishihara Satomi's because he is playing a historical character. Although his acting and looks may reflect the true Katsu Kaishuu, he does keep the historical timeline accurate with his fool-like personality. Ishihara's character may be generally dislikeable; however, do take note that she is playing a character going through self-realization. By the end of the movie her attitude will take a turn for the better. The students were also played by experienced actors and I was not disappointed with their acting. Kawaguchi Haruna is a cut above the rest, going above and beyond with her modern street girl personality.
Music
There are horribly cheesy music to go with effects. The OST is nothing overly done, all songs are ordinary, to the point that it portrays each atmosphere with a sense of familiarity. The ending song, INFINITY?ZERO by nano, seems to be the only actual song in this movie. The song fails to fit in with the rest of the movie since it is heavy metal, but it is a good song and a highly energetic way to end a happy movie.
Rewatch Value
Rewatch this for missed historical references. Or maybe just to see Tamaki Hiroshi and Ishihara Satomi. Props and setting-wise, this movie is a goldmine. Each Bakamatsu or Early Meiji setting building is the stuff of textbooks.
Overall
This is a great movie to watch if you are bored and know some Japanese history. Without historical context this movie seems absurd because all plot is build on real history. This movie does try to appeal to the younger generation with the student and the time travel trope but can also be a family movie enjoyed by all.
Was this review helpful to you?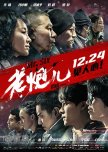 Mr. Six
2 people found this review helpful
This is my first drama review so it will be quite different from my typical anime reviews.
Story / Audience
This movie is enjoyable for most if not all audiences. Since it centers around an older character, Mr. Six, the older generations, especially those who lived in the latter half of the 20th century in China, would enjoy it most, sympathizing with the time-old jokes of the older man. The clash of old and new morals in modern society is a compelling subject to discuss about in film for the Chinese, due to China's rapidly evolving industrial sphere.
Mr. Six is loaded with fighting (kungfu-ish), which is what I expect from a Chinese movie. The pacing during the action scenes was terrible, loaded with slow motion when it was supposed to be fast paced. It was not notable enough to complete throw off the audience's concentration; however, it did subtract from the epic element in the movie. After watching this movie, I really believe this old geezer can defeat anything. However do keep in mind he is old, so the movie is about him being old sometimes.
Acting / Cast
The cast was masterfully picked. In my opinion, it could not have been better. The acting of Mr. Six (Feng Xiaogang) is sprinkled with his traditional comedy and emotion. It was a compelling performance on the big screen. Xiao Fei (Kris Wu) also had emotional depth, making a multitude of facial expressions that made me laugh. The other characters acted accordingly; however, the script did not bring out anything but their violent and frivolous natures, making their character development shallow. The only other characters who had minor character developments were the aunt and the son (Li Yifeng), but their role in the movie as consistent supporters of Mr. Six made Mr. Six overshadow any such attempt to develop their characters.
Music
The music was nothing worth mentioning. There was a cameo of TFBOYS right before the climax, and I honestly wish they sang something. As a former member of EXO, anything Kris sang would have added to the music aspect of the movie. At the very least, the music was well-placed within Mr. Six, appearing at appropriate times like epic battle scenes.
Rewatch Value / Translation
The English subs made my eyes bleed at certain times. The Chinese subs were right on point.
If given the chance, I would rewatch this movie to better understand the plot.
Westerners, be warned, this plot is filled with Chinese morals.
Was this review helpful to you?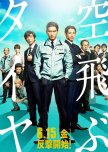 Recall
0 people found this review helpful
Disclaimer: I have never watched the jdrama TV series so this review is based purely on the movie with no comparsions to the jdrama TV series.
Overall: With a promising cast of successful actors, the movie wanted to deliver but the lackluster plot line made this movie fall short. For a similar plotline, look at Hanzawa Naoki also based on a work by Ikeido Jun. Dramas based on Ikeido Jun's novels are everywhere; Professor Takeshi Usami from Chuo University writes "The protagonists in Ikeido's novels do not simply draw viewer sympathy, but also elicit a deep satisfaction by doing what everyday employees cannot—and this in turn makes these characters the target of powerful admiration as well." Akamatsu's written character is strongly the reason to watch this movie.
Story: The main sore point of this movie is the plot. The underdog Akamatsu (Nagase Tomoya) struggles against a large corporate enemy as a hero of justice. The plot was very predictable and many times I wondered why this movie just kept dragging on.
Acting/Cast: The most screentime goes to Akamatsu (Nagase Tomoya) so I'm surprised Izaki (Takahashi Issei) is even mentioned in the summary. Nagase Tomoya is underrated and I'm glad to see him refreshed in this movie. Sawada (Dean Fujioka)'s acting has come a long way from what it used to be (note: Hapimari) and I'm glad he is still improving. Takahashi Issei is fabulous as always and makes his whistleblower character very likeable.
Music: The OST is nothing special to note.
Rewatch Value: Lots of pretty men in this movie, but the plot leaves much to be desired.
Was this review helpful to you?