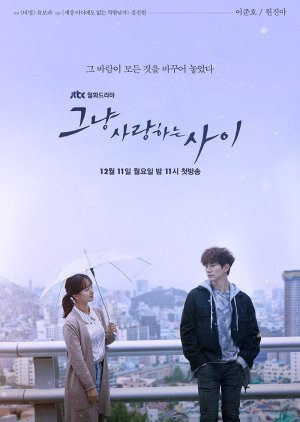 I wanted to be one of the first ones to write this review. Why? I didn't even finish the last episode properly yet. Because this drama completely played with my emotions and made the beginning of 2018 so amazing!

Seldom can dramas make me feel this frustrated, excited, bubbly all in one episode. That's what an incredible drama should do with you - completely play with your feelings, make you question certain things. The genre is definitely melodramatic so prepare to feel heart-broken and to weep a whole lot. However, this is also a realistic drama showing the unfortunate lives of two humans and their natural approach to romantic love. Seeing the two characters develop feelings for each other and being connected in the past made my heart oh so weak. I'm a sucker for the main characters to have a bomb chemistry. And oh boy, the lead actors killed it! First, Won Jin Ah is currently one of the most memorable young and starting actresses out there for me. She was so professional with how she transferred her character's feelings. I have to say, this was my first time seeing Lee Jun Ho's performance as well and not only is he an amazing actor, but a singer as well. Speaking about music, the OST was so sincere, the songs made such an impact on all of the scenes, and me included. To add, I appreciate that the viewers got to see the different lives and struggles of the supporting characters. Each of them have their own unique story which makes this drama worth rewatching all over again!

(Also, I felt the need to address something as well. Never drop a drama if you're not sure on how the ending is going to turn out like. The natural progression of the drama, the characters, their developing stories are what make this series worth watching.)

Overall, this drama makes you appreciate life even more and live your life to the fullest every day somehow. I bow down to the creators of this drama for giving me a thrilling rollercoaster ride full of incredible emotions!
Was this review helpful to you?