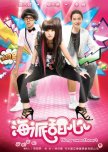 First off, if you're looking for a light-hearted, funny and heartwarming drama, then this is it for you.
STORY - I personally loved most of the storyline. I really enjoyed it. It was cute, funny and just the pick-me-up if you needed it. There was just a plot in the last two episodes that I didn't like and for that reason, the rating on this drama missed that 10 mark. Still, overall a great storyline!
ACTING/CAST - This is my first time seeing Show Luo and right off the bat, he earned a spot in my favourites for this role. He was phenomenal. The differences in his characterizations of Da Lung and Xue Hai actually made me wonder for a moment if it really was the same actor that was in the drama earlier. His transformation from lovable dork to gorgeous hunk was just that good. As for Rainie Yang, it was refreshing to see her in this bad girl role and really, she did a commendable job with it! She usually has the angel look but as Bao Zhu, that was no longer the case. The secondary characters were also as good with a notable performance from Lee Wei as Xuezhang and Wu Maggie although I didn't like her character.
MUSIC - Both Rainie and Show sang songs for the drama which somehow made it even better to watch. They suited the atmosphere perfectly and really, it's a wonderful OST.
REWATCH VALUE - I give it an 8 because for me, I loved the first 10 or so episodes. The last two didn't do much for me though I did like the ending. The storyline was good and I did like seeing Show Luo's acting so there's a very good chance I will end up watching it again.
OVERALL - 9/10
Not a bad drama! Definitely recommended if you want something light and warm :)
Was this review helpful to you?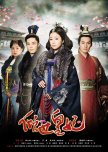 It usually doesn't take me very long to get tired of a drama but I've had better luck sticking with Chinese historicals than most other genres. I was a bit skeptical about starting this drama and the first time I did try it, I lost interest within the first 15 minutes. However, I powered through and at the end of this very long drama journey, I think it was worth sticking with it.
Story - 8.0/10
The story in this was actually quite good, very entertaining but at times a bit unrealistic and far-fetched. It did keep me hooked right to the end. Down to the last minutes of the drama, I was wondering how on earth the conflict would resolve itself. The weakest parts for me were the final episodes since I almost didn't bother with finishing it and the ending felt weak. However, the majority of the storyline was highly entertaining so I'd give it a higher rating.
Acting/Cast - 7.5/10
I've never seen any of these actors before so I thought they were all good. The actors accomplished the characters' motives well - the villains most notably. When they were evil, boy they were evil. Unfortunately, the characters themselves didn't work for me. I can't think of one character I liked in this drama, which is unusual for me. But still, the actors played their parts well and there are some whose works I'll definitely follow up on.
Music - 7.5/10
I'm an OST kind of girl but sadly I couldn't find one song from this that I liked that much. The music was appropriate most times, just nothing memorable for me.
Rewatch Value - 4.5/10
At the end of the day, this drama feels too long for me to rewatch it. Give me a year or two and maybe then, but not the whole thing. There was just so much in this that I feel exhausted thinking about it.
OVERALL - 8.0/10
Definitely a good drama. Not great or magnificent but one worth watching. Just don't try to marathon it - you'll get exhausted quickly (because I know I did - I had to take several breaks in between!)
Was this review helpful to you?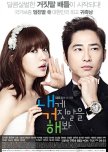 I finished this drama within two days time! It was a beautiful story and I liked it a lot. I've been a fan of the Hong Sisters' dramas since You're Beautiful and saw this on their list. I liked the story line so I decided I'd give it a try. Besides, I needed a break from the longer drama story lines where there's 20+ episodes. At 16 episodes, this story is sweet and simple.
I give this story an eight because while it's not an original storyline, it's a very cute and captivating story. The actors and actresses however are what really drew me in.
Yoon Eun Hye is an outstanding actress who I've liked since Coffee Prince and Goong and she carries her role well here. What I liked about the female protagonist was that she was strong throughout the story. There were lapses here and there in her character and towards the end, I wanted to smack her a little bit for her indecisiveness but I respected her throughout the story despite her crying jags and drunken fits of temper. Those were hilarious to me though!
As for Kang Ji Hwan, this is the first drama I've seen him in and boy did he blow me away. I won't lie; I hated his character at first and at one point I wished the character would just take a long walk off a short pier. But he managed to win me over and had even me, an ardent lover of all second male leads, rooting for him.
Sung Joon's character got a bit left out in the dust in the wake of Gong Ah Jung and Hyun Ki Joon. But I loved him from episode 1 and if it's one problem I had with this drama was that he ended up getting less and less screen time. Nevertheless, his role here is what got him another fan.
As for the rest of the cast, they did pretty well, all things considered. Special mention goes to Hong Soo Hyun whose character's transition was very good.
The OST for this drama is also AMAZING! There's cute, there's sad and there's absolutely beautiful music on it. A favourite OST for me! Also, there was a lot of Western music here which I was pleasantly surprised to hear.
Another thing about this drama:
KISSING SCENES.
Yes! Finally a female lead who KISSES BACK. Thank the heavens. I can count the number of female characters I've seen actually kiss their man on one hand. Thankfully, there's one more finger up.
Overall, I thought this drama was very good. Definitely worth giving a try.
Was this review helpful to you?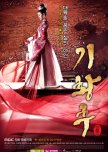 From beginning to end, it kept me hooked.
Don't get me wrong; it had its ups and downs as all dramas do. There are times you sometimes hate what's going on and you rant and rave (as I did many times) about the injustice of it all. But looking back on it, once it was over, I think this drama was amazing.
51 episodes for me is the longest drama I've ever tried but I was willing to do it for the plot and for Ha Ji Won who does not disappoint in the least. I followed it from the first week to its last week and I finally completed it today. And all I can say is: Wow.
Story: 8/10
I think, for a lot of people including me, the best of this story was in the beginning and was its strongest point. I loved the fact that it never dragged in the slightest. Like so many other historical dramas, this one didn't spend much time with the childhood actors which I was glad for. Everything was well-paced and the story pulled you in immediately.
While there were one or two questionable plot-points in the middle, despite the initial "Um, what now?" response, you learn to just go with it and the story went along quite well. This drama had feels, some palace drama, some tears, quite a few smiles and laughs. The characters make you cheer for them, make you care for them, make you hate them. The cute ones you adore, the horrid baddies you hate probably a little too much (and then relish their deaths with glee), the honourable and loyal ones who do what they must while you sob about the injustice of it all. Again, lots and lots of feels.
Acting/Cast: 10/10
While the characters' motives were questionable at times, the actors and actress in this drama were spectacular in their roles. From the main actors and actress to the secondary ones, everyone was brilliant. The male leads, Joo Jin Mo and Ji Chang Wook, really impressed me. Their roles were as different as night and day and for the few scenes they had together, they were epic. Ha Ji Won wows as the main protagonist. You find yourself cheering her on and shipping her with people you probably shouldn't in addition to both male leads (personal experience here talking). I have to commend Jin Yi Han who was a surprise in this drama, making me love a secondary character like Taltal who I never expected to like so much. The actors and actress who played the villains were really commendable since they had me hating them with a vehement passion from the expected evil like Kim Jun Hyun, Baek Jin Hee and Jung Woong In to the shocking and unanticipated turncoats towards the end. This is one cast that definitely deserves that 10.
Music: 9/10
I've downloaded all the music from this drama and listen to it probably a little too often. From the first episode to the last, the music has never disappointed in the least. I especially love when an actor sings for the OST as Ji Chang Wook did because it makes the scene it plays in that more genuine and the sadness palatable.
Rewatch Value: 7/10
At 51 episodes, I'm most likely never going to watch this entire drama from start to finish again. But I will, as I have already started doing, rewatch my favourite episodes and scenes. This drama had some hugely wonderful moments that are too great to watch once.
Overall: 9/10
I recommend that you try this drama if you like historical settings that have a little bit of everything - romance, action, drama, political intrigue and feels.
Was this review helpful to you?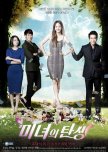 To be honest, when I started this drama, I didn't have very high hopes for it. I expected lighthearted nonsense and that it wouldn't be anything special. I must that I am pleasantly surprised and very happy to be adding this one to my favourites.
If you're looking for a cute rom-com that will have you smiling throughout while at the same time having you ready to pull your hair out in frustration but will keep you interested overall - this is it.
STORY - 7.0/10
I'll say it right off the bat - if you're looking for a drama with completely sound logic, this is not it. There are several lapses in logic throughout the drama, mainly the beginning but if you're like me and just going with the flow, it won't bother you very much. The story is full of k-drama clichés that again you'll need to ignore. Also, in my opinion, the drama dealt with the issue of plastic surgery and body appearance very lightheartedly so again, if you feel strongly about these issues, this may not be a drama you'd like.
However, there are many good points in the story from the main couple romance to the baddies whose hair you'll gladly be ready to pull out. The story blossoms beautifully, evolving from one point to the next with some speed bumps along the way. It keeps you hooked and interested especially in the first few episodes. There's also a lot of fluffy and adorable moments between the main couple.
ACTING/CAST - 9.0/10
This is the first time I've seen any of these actors and actresses (with the exception of the veteran actors) and I have to say, this cast was brilliant. I loved Joo Sang Wook to pieces in this. Han Ye Seul and he have wonderful chemistry that kept me enthralled from episode 1. Wang Ji Hye did her role as Chae Yun quite well since I don't think I've ever disliked a character so intensely. Jung Gyu Woon as Lee Kang Joon was very entertaining as well.
MUSIC - 8.0/10
The OST is actually quite good and the music throughout the drama was appropriate. I'm definitely downloading some of these songs.
REWATCH VALUE - 7.0/10
I'd definitely rewatch this drama someday (maybe sooner than I think) because I really enjoyed the romance and comedy plus the bit of hilarity and ridiculousness that came with it!
OVERALL - 9.0/10
I enjoyed this one immensely. If you like a drama with romance, comedy and fluffiness with a hint of revenge and k-drama craziness, you'd probably like this one.
Was this review helpful to you?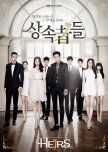 The way I see it, a lot of people who watched this drama started it mainly because of its star-studded cast. That being said, after its end, there are some who will rate it very high because of its cast while others may rate it much lower because they were disappointed in the storyline. While I am one who started it because I wanted to see if it was really worth the hype, I must say Heirs was a pleasant surprise for me.
Story -8/10
I like the school drama/romance atmosphere and I suppose it's not the most original storyline with rich boy/poor girl. There were points where the story was a bit slow especially with the various story lines going on simultaneously while also being linked. It wasn't that hard to keep track of and after a time, it became easier to identify and distinguish between them. I liked that the story wasn't focused on the main relationship alone but still showcased that relationship well.
The ending was good though there's one character whose ending I didn't like though that may be because I like the actor and though the character got what he had always wanted, it was at a higher cost than he had anticipated. I felt sorry for him. On the other hand, the endings for the other characters including the main couple were good and cute.
Acting/Cast - 9/10
It's actually not because they're all such well known and loved stars but because their acting was just that good. There's one actor in particular I feel stood out from the rest and he got a lot of fans for his role here including myself - Kim Woo Bin. His character Choi Young Do started off as a horrible bully who was rather snarky and cute at time but then eventually evolved into a really amazing character. His evolution wasn't so drastic as to lose the character seen previously but was done so well that the transition seemed perfect.
Music - 7/10
The OST for this drama is actually very good and I've already downloaded most of it. I especially like that some of the actors sang the songs pertaining to their character which always seems to make it more authentic. That being said, the reason this rating is only a 7 is because at times, I felt as though the same song was being used too often. Maybe it's because two of the songs have similar lyrics and feel to it but sometimes I felt like I was back into Almost Paradise mode a la Boys Over Flowers.
Re-watch Value - 7/10
Reason for this being because of the slow periods. Honestly, if I re-watch this drama, I will skip through some of the heavier parts since I'm not a fan of angst and tears. There are many cute and funny scenes though that I definitely am going to watch over and over again.
Overall, it is an 8 out of 10 for me.
I recommend that everyone who's a fan of school drama/romance or of one the actors here to give it a try (at least 4 episodes because to me that's when it picked up).
All in all, congratulations to the entire staff and crew of Heirs on a job well done! :)
Was this review helpful to you?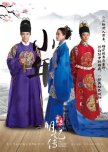 It is truly rare to find a 50 episode historical drama that can keep me hooked and ready for the next episode. This is one though I admit sometimes it was out of exasperation just to see how this next conflict was going to be solved. This drama definitely had its high points which I enjoyed and low points which frustrated me to no end and had me plotting characters' painful deaths. However, the high points kind of stuck with me and the ending (for me) made me happy enough to give this drama a high rating purely because I quite enjoyed it.
STORY - 7/10
it's kind of mind boggling to look back on how much has happened on Yunxian's journey over the several years in which the drama takes place. There are some points you're questioning character's sanity and there's huge amounts of palace makjang and the evil plotting to go along with it.
The story alternates between being interesting to cute to eye-rollingly exasperating and/or boring to heartbreaking to wanting to kill everyone and everything between those categories. As I've said before, it's really a roller coaster ride of feelings and despite the low points, I think it was enjoyable.
ACTING/CAST - 9/10
Honestly, I love Liu Shi Shi and I might be biased in saying this but I thought she kicked butt in this. There's not a lot you can do with Yunxian's character who's really virtuous and kind and basically a cinnamon roll but I think she rocked it. I've seen a lot of complaints about her acting and again, I might be biased but I think she did a fabulous job. Yunxian also reminds me a lot of her other historical roles like Bu Bu Jing Xin's Ruoxi and I love how I felt as if I was growing up with Yunxian throughout the drama.
Wallace Huo also deserves his own paragraph of praise because I love how he portrayed Zhen Qi's character progression. Both Zhen Qi and Yunxian evolve as characters as they go through their own trials and tribulations and in the end, I think they portrayed it well. Wallace has played unrequited love characters before and he always plays them so well that my heart is literally crushed while watching him as Zhen Qi. I really believe he did a great job in this and he is one of the major reasons why I stuck with all 50 episodes. He emotes very well and you can see how Zhen Qi grows into a better man.
The other actors and actresses also portrayed their roles well, most notably (for me anyway) the villains like Mei Lin and Qiyu's mother. When they were on screen, they had me plotting terrible schemes for them to go through. Then there were the characters who I loved to hate (Qiyu) and the characters I probably should've hated but ended up loving anyway (I'm looking at you, Ye Xian).
MUSIC - 8/10
I loved the music in this drama. It's not much songs really, just about 3 or 4 but they're incredibly meaningful and honestly add to some extremely emotional scenes. Definitely some of my favourite OST songs.
REWATCH VALUE - 7.5/10
It's 50 episodes long and I'm probably never going to rewatch the entire thing but I definitely have scenes that are my favourites and that will have me coming back to this drama.
OVERALL - 8.5/10
I quite enjoyed this drama particularly because of its lead characters, the female lead's passion for medicine, love stories (unrequited, triangles, squares) and its ending. The journey was a great ride and I'm happy to complete it and add to the favourites pile.
Was this review helpful to you?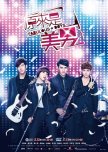 I've watched You're Beautiful and loved it. It prompted me to watch the Japanese version Ikemen Desu Ne which I also loved. Out of love for the storyline, I decided to watch the Taiwanese version instead of re-watching the Korean one which was my favourite at that point.
Fabulous Boys is now my favourite version of the three. It is beautiful and though others say they would give it a lesser score for being a remake, I have to say this version blows the others out of the water for me.
Of the three, this one has the most character depth, the most emotion-filled scenes and while it has its comic moments, the characters are never over the top and are never annoying. This is the first version that hasn't made me hate the characters passionately nor does it make me want to rip my hair out for their stupid acts. As I said before, the characters have real depth and emotions that are simply beautiful across the screen. Certain characters especially Shin Woo/Shu/Xin Yu have really been improved upon in this drama.
Story: 9/10
While it's another version of You're Beautiful, the story is still great. For me, I don't find it as similar to the other two as some others have found it. If anything, I thought they took elements from both the Korean and Japanese versions and incorporated them into the story while adding new pieces. Overall, I thought they did a fantastic job. It wasn't a carbon copy of the others but rather, a new point of view on the original story. It definitely was still entertaining to watch regardless of how many times you've seen You're Beautiful/Ikemen Desu Ne.
Acting/Cast: 9.5/10
They were amazing! As mentioned before, I preferred You're Beautiful over Ikemen Desu Ne and this was mainly due to the casting. Jang Geun Suk, Jung Yong Hwa, Lee Hong Ki and Park Shin Hye are the original A.N.Jell and they rocked it! I loved them as the original cast. However, there were little points in their acting that I had problems with when I was watching You're Beautiful.
In Fabulous Boys, however, these nuances were gone. The Go Mi Nam/Gao Mei Nan character was made less annoying and a lot more insightful than she was before in my opinion.
Also, Jiro Wang as Hwang Tae Kyung/Huang Tai Jing was awesome! I thought Jang Geun Suk did an amazing job but Jiro took the character for an emotional rollercoaster with his performance. And truly, he did such a great job that he's ended up in my favourite actors with one single role.
Hwang In Deok did a superb job with the Shin Woo/Xin Yu character. If anything, he really improved upon the character for me and it's really one of those things that made this drama the best for me. Also, he's extremely handsome which made this drama especially lovely to watch (combined with others like Jiro Wang and Evan Yo)!
Evan Yo was commendable in his role as Jeremy. He was cute, he was heartwarming and he was perfect. Not to mention, very talented.
The rest of the cast did a great job as well. Characters like Youie/Liu Hui Ni, the manager Manager Ma/Mark and the stylist Kko Di/Ke Di improved for me and made me actually like them for once.
Music: 7/10
The drama reuses the tunes from You're Beautiful but adds its new ones as well. You're Beautiful was one of those dramas that started my love for OSTs and this drama does not disappoint in its music. The new additions are really beautiful as well.
Rewatch value: 6/10
I'd re-watch my favourite scenes but probably not the entire drama. There were great moments in this drama!
Overall - 8.5/10
Certainly recommended for anyone
-who loves the original story
-is looking for a great gender-bender
-loves dramas where there are gorgeous boys (and likes watching boys fall for one girl)
-loves dramas with bands and great music
Was this review helpful to you?