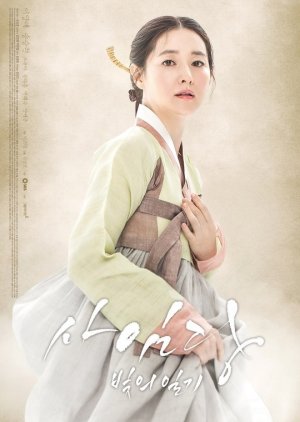 lee gyeom is the epitome of a true gentleman

God knows how much i love his character. the one who would clear the path for the comfort of the person he dears, a person that remains loyal even after all those years of finding solace by wandering, a man with virtue. on the last episode when they recap lee gyeom's life i cried shit loads of tears. i felt terribly happy for him (terribly because of his tragic life; happy because he found his inner self in that tragedy)

and of course Saimdang. this drama depicts her journey from a carefree teenager to a mature woman. Saimdang has to be the strongest female character i've ever known, having to go through such ordeal in life. an obedient daughter to a loving mother and a respectful wife. i swear her patience and perseverance are on a whole new level. and i really love her conversations with her children especially the one she had with maechang under the blooming trees so heartwarming and she's very well composed.

my favourite part of this drama is of course the romance. No u dont have over the top lovey-dovey romance in here, no u dont have romantic scenes with all the sugary conversations that makes u want to jump off the window due to the sweetness. the romance in here is very subtle. u know there's love but u can't see it, u just feel it's there (i'm not making any sense here, too blinded by their love). the look on lee gyom's eyes every time he look at Saimdang is so deep that it pierced through the screen right into my heart XD.

now for the plot i think the modern part is totally unnecessary because; 1. very little screen time 2. it feels out of place. i read people commenting on how the plot is very cliche with political fights and vengeance etc. honestly that cliche plot is critical for the characters development. it's not that bad, the plot was just okay but interesting enough to make me watch it until the end. one thing for sure is that this drama is really really really slow and i usually drop slow dramas by 3-10 episodes in but this drama? theres something about it that kept me going, weird enough i dont know why. if and only if they had not cut the episode to 28 i personally think the ending would be better. u know when they introduce the characters they write the character's future below the name, like how woo was supposed to be an artist hyun rung a successful scholar. i thought they were gonna show it but no hmm. all and all i really love this drama and will definitely watch it again.
Was this review helpful to you?