If you're still experiencing technical difficulties, please report it
here
.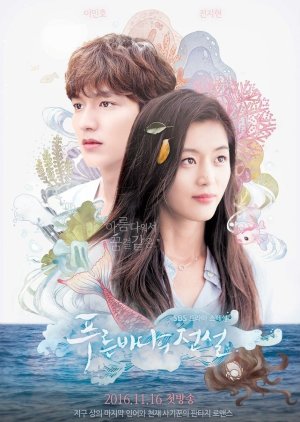 The Legend of the Blue Sea Episode 15
---
---
The Legend of the Blue Sea Recent Discussions
The Legend of the Blue Sea Episode 15 Reviews
--Episode Spoilers past this point --
They visited the museum together and she was able to see the painting of Kim Dam Ryung and hear Joon Jae's version of their past life.
I was actually mad at him because he changed the ending (of the past) so as not to worry Cheong - however that can only come back to bite him.
So another encounter was between Ma Dae Young and Heo Chi Hyun, though Chi Hyun still is ignorant to who he actually is, im sure in the next episode or two the truth will be revealed to him. I am also almost 99% positive I know who it was in Ma Dae Young's vision who threw the harpoon, so only time will tell if the right decision will be made.
Finally, Mo Yoo Ran (Heo Joon Jae's Mother) found out through her friendship with Cheong that her son was in front of her all along. The episode has them standing across the road from each other. Cheong with Yoo Ran, telling her about her boyfriend and realising it was Joon Jae's mother - we see them start to cross the road but before they meet in the middle the episode finished.
The next episode will be emotionally intense as that final plot point will come fruition. I cried and cried watching her reaction until the episode ended.
Was this review helpful to you?
This episode ended with tears; at least for me. The story has reached the pinnacle in this episode finally gaining headway into some characters fateful encounters and also for Shim Cheong who now knows the Joon Jae can hear her true voice and also of the past.