Where to Watch Angel's Last Mission: Love Episode 1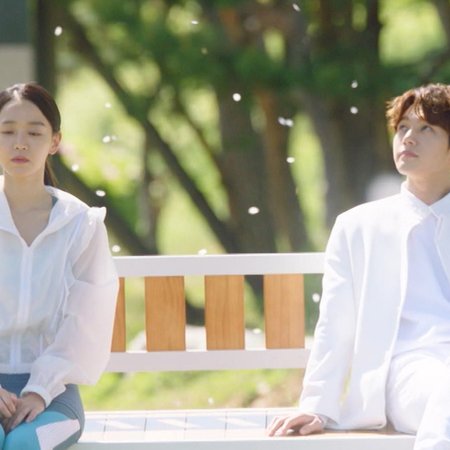 Angel's Last Mission: Love Episode 1
Yeon Seo Fails to Receive the Cornea Donation
---
---
Yeon Seo receives an invitation letter to the 20th anniversary party of Fantasia Cultural Foundation. On her way to take a walk, she hears Seung Hwan talking to the doctor on the phone. She asks the doctor if she can receive the cornea donation. Dan accidentally encounters Yeon Seo and observes her. (Source: KOCOWA)
Angel's Last Mission: Love Recent Discussions
Reactions
Lee Yeon Seo was a ballerina until a stage light fell and broken glass pierced her eyes. Killing her dreams. (Which I will argue about further down.) Three years later she's waiting for a cornea transplant. A transplant that is being thwarted by her own aunt. Which kind of backs up my first impressions that the stage light incident was probably not an accident. Either her aunt did it. Or Ni Na's mom. (I think the woman in the car is her mom.)
Either way it's a great setup. The angel bit isn't too over the top. I'm looking for a quirky drama! But I don't want it to be insane. It's funny I was looking for a quirky drama like Lucky Romance and this is by the same screenwriter! So my expectations are higher.
L as Kim Dan makes for a fun and lovable angel who just happens to meddle in the wrong doers live's. Though setting dogs lose like that to roam may not have helped them. (If I want to be totally negative some activists set the minks loose on a farm here. You know what happened? They get hit on the road and got ate by other predators. Those never found starved.) He really makes you smile. Though I found what he said about Lee Yeon Seo's reaction to jumping off the bridge after she goes blind odd. That most people don't react like that to tragedy. If he's talking about suicide there's a startling proof off stats of how many people do take they're lives after going deaf or blind. It's common sense. I really want to know if he meant something else.
Overall I'd say Lee Yeon Seo is not an ice queen or whatever. She is a woman who has grown up under staggering tragedies her whole life. Losing one's sight is one of those things that you can only hope to never, ever, have to go through. Because the loss of sight affects so many things. Not to mention her parents so on. She's a woman living with one disappointment after another. A woman people are constantly messing with and trying to sabotage. Because I'm sure it was to end her life, but for her own aunt to want her to remind blind.
My issue is that losing one's sight does not mean she can't dance. My Pointe teacher would have us blind folded so that we could learn how to memorize the length of steps and leaps to get to position. Not only that but to test how we used the space and made up for each other's leg length. There are a number of professional ballerinas who are deaf and blind. Being blind might mean you may not be able to reach certain height. But she can do battle with jerks in the park and since their presence. I have no doubt she could dance again. It would be nice if this is just a pity party she has to over come. It would be lovely to see her take dance back. Though I feel like this drama will not let her stay blind for long.
The setup of Kim Dan not being able to be touched by a human without disappearing seems . . . silly. As in silly stupid. We'll see how it goes though. I'm looking forward the the other half to see where this drama is going.
Was this review helpful to you?
So this episode of course is working on the setup. Since it's only half the normal time that means the next will help it feel more like a full episode of a "normal" episode. It's an interesting enough setup.
Was this review helpful to you?
The drama starts of with a great start and something I didn't expect. Lee Yeon Seo is blind and Shin Hye Sun's portrayal of a blind person is very well done. We are introduced to the characters and from the first episode we know who the 'bad guys' are and what they are capable of. This is my first time seeing L - Kim Myung Soo in a drama and he's very entertaining to watch. This is my 3rd time seeing the type casted Lee Dong Gun although he's a great actor, because I've seen him portray the same characters his actions will be predictable to watch. The drama gives me a good impression so far.