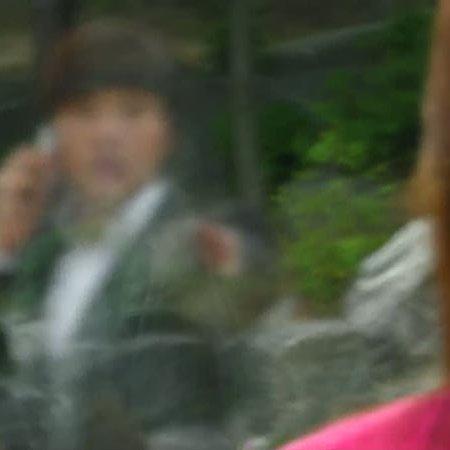 Queen In Hyun's Man Episode 15
Selfish Mean...
---
---
When BD finally seemed to have settled in the present, he disappears while on a date with HJ and is back in Joseon. The talisman turns black. He finds YoonWool dead and avenges her death by killing JaSoo who was the murderer. Once again he comes to present only to disappear once more in front of HJ's eyes, the monk who made the talisman also dies. BD decides to burn the talisman, writes a letter to HJ and brings the talisman to the fire.
Queen In Hyun's Man Recent Discussions
Reactions
As for the second half, I'm glad they did it like that since 1: it showed the leads great acting abilities. 2:it made sense to get rid of the thing that made them meet the talisman. If it stays with them then there will always be the chance of him going back to the past. I think this move is a necessary step for the final episode.
Was this review helpful to you?
First half was the most adorable thing ever -the whole spaghetti kisses :p
Was this review helpful to you?
The episode started out so well and happy and so cute when they were eating but deep in myself i was saying that this isn't it at any time something bad would happen because always too much happiness in one episode means too much bad things is going to happen but i didn't expect it to turn out this sad really *claps* for the writer who made such an unpredictable twist in the story but please let it be a proper happy ending not like rooftop prince where only one of them is happy
Was this review helpful to you?
Okay to the person who regrets watching this drama...it wouldn't make a good drama if there weren't any problems. It would have been super boring.
Was this review helpful to you?
im so so depress with this episode. they just dated for awhile and boong do disappear again. and he went back to the past. oh crap.. i was really in the mood of happiness and it turn down to sadness and depression cuz of this episode..
Was this review helpful to you?
I'm so pissed off and angry right now. Would it kill them to just let Boong Do and Hue Jin be happy together for just ONE full episode???? They weren't even together for a minute before they were torn a part ... AGAIN!!! Everything started off so well only to result in THIS??? I'm so regretting having watched this show!
I don't get it why he was able to go back for a moment ?
and the ending of this episode was just toooo sad.. I felt like I wish to cry, but the tears won't come out....
Was this review helpful to you?
The beginning of this episode was so cute. I truly love this couple. As this scene where he dissapeared - before that I had that feeling that - what is going to happen now ? - the atmosphere was just too wierd.
Was this review helpful to you?
this episode i am literally crying over here. it started out all great and when the talisman went black i thought i was cause of yun wol dying or the monk that he went to see that took him a month to travel. like i am tearing up
Was this review helpful to you?
I have waiting for days for the english sub version and even though I read reviews and recaps, nothing can prepare you for the despair that I feel right now; for Hee Jin waiting for Boong Do to return; when she gasped when he disappeared, I did too. For Boong Do, when realized and found Yun Wol dead, the rage and sorry i also felt. Then to continue to compound his sorrow to realize the last person who could help had also died, the sheer defeat in his eyes as he realized he had no way to return. This episode, this writer is amazing! She has been able to write a story, a drama that so many of us have been looking. So sad that there is only one episode left but I feel confident that the writer wil give us what we want; a happy ending! Idf you have not watch, you need to!
Was this review helpful to you?
What an emotional rollercoaster! It was a super awesome-sad-plot-twisty episode! Kept me on the edge of my seat and on the verge of tears the whole time. I really hope things turn out well in the last episode! I guess it doesn't have to end happily (though I would prefer that), but I do want it to end WELL.
I felt like somebody grabbed my heart and tore it out of my chest when BoongDo disappeared in front of HeeJin... a second ago I was screaming at him Nooo! It's not gonna work, you're gonna die, put down the sword, then a wave of relief, then BANG in my face... sadist kangdungnim...
Whatever you need to do, just do it, if you need a Blue Fairy, just create her in the drama, I won't say a word how absurd it is... just... HeeJin and BoongDu MUST BE TOGETHER, arasso???? I'm a person under a lot of stress right now, you don't wanna mess with me now, trust me!!!!!
Was this review helpful to you?
As if I needed more depressing scenes...
I loved how Boong Do was getting lessons from Hee Jin about the modern world and it was finally a happily ever after!? GODDAMN IT!
And pooor Wol!!! That stupid assassin got what it deserved, pooor Wol. A total shocker, writers have been so cruel to her I cant believe she got killed?! What will happen next to Hee Jin and Boong Do?! Hee Jin was crying, Boong Do was crying, I was crying!!! poooooor Wol (still) I feel so bad for her! Poor everyone in this!! Just when everything was so perfect fate had to rip them apart.
Was this review helpful to you?
NONONONONONONONONONO! it even worst than the last episode! Starting to think this couple suffer more than they are happy!!! Why must fate be so cruel the tear this perfect couple apart!!