Actors Over 40 Who Never Cease to Amaze
Part 5
---
48
Despite not watching him in lead roles – not sure if he had any - I can stand firmly and shout at the top of my voice - this man is a genius.
No matter what role he plays, you cannot just not notice him. He fills his place. And he plays such a variety of roles that not every ''supporting'' actor can play.
Of his pre-40 works I have watched a few, I don't recollect his roles in some because the work either didn't leave an impression at all or I was so immersed in following the main characters. In 2009: Lost Memories he played a rebel fighting for the independence of South Korea. He looked and sounded like everything a rebel could be. And I cried my heart out when he died. I don't remember his roles in Tae Guk Gi: the Brotherhood of War or Running Wild because the two main leads and the main story didn't leave any space for that. I don't remember anyone else except for the leads in those two, it's not just Ahn. As for Sad Movie, I confessed many times that I was clueless as to what to feel or understand while watching it so I barely remember anything about it.
At 40, he played a gang boss in Hearty Paws and I vividly recollect the disgust and hate he sent through me as he used the kids mercilessly like they did in cartoons. In short, he acted the character I hated the most as a child. When I remember that hate, I applaud for his awesomeness.
In Iljimae, at 42, he amazed me with his martial art and sense of humour. Every scene he was in was memorable. His moments with his daughter and the training camp with Iljimae were touching, funny, and indelible. I loved him to bits there.
Then came his most famous and most outstanding role as Chil Sook in Queen Seon Duk which won him a grand award. The emotional and mental journey he went through as he fluttered between his loyalty to Mi Shil and the new emotions aroused by his attachment to So Hwa and his helplessness as how to act were epic. I felt like reaching my hand to him more than once. I hated and liked him. I pitied and admired him. I wished him serenity knowing that would never happen. And I cried, more than once. I cried my heart out.
In Chuno, at 44, he was a breath of fresh air. In the heartbreaking masterpiece, Jak Kwi appeared to make me smile and forget for a while. His sense of humour and martial arts were again shown, not like Iljimae or QSD but in a funny way. And I was thankful to whoever cast him there.
I don't know why I can't place his role in Dream High. Was it because I watched it long ago and was one of my first when I barely knew anyone?! Anyhow, I cannot think of him there.
In 2014 and at 48, he acted in 5 works – I know!! - I watched three of them. In the three he was funny, adorable, caring and unforgettable. He played the male-mermaid-turned-human An Ma Nyeo in Surplus Princess. His one-syllable answers and solemn look were the most adorable thing ever. In My Secret Hotel he was a big reason why I loved the drama. As detective Kim Geum Bo, he chased the truth hilariously. Anyone who watched the drama would remember the marvellous wink forever and ever! In Tomorrow's Cantabile he played Il Rak's father and was such an awesome dad I envied Il Rak to death.
In 2015, he received all the blows and shouts by his companion in Shine or Go Crazy. His shocked reactions and pouts were just brilliant.
He's cast in the coming drama Orange Marmalade and I can't wait to see what emotions he's going to evoke in my already head-over-heels-in-love-with-him heart.
---
41
This name has been ringing in my ears for years. There was something about him which would made me hesitate every time I would think of checking him out. I really don't know what that was. But anyhow, I kept delaying that until I was tricked into watching Queen Seon Duk – by Yoo Seung Ho, that is!! -. and there I surrendered my heart to the mighty Kim Yu Shin.
I admit that Bi Dam changed my life and though it's been months, I still cannot get over him but Kim Yu Shin there was all that I admire, all that I behold sacred and all that I dream the world would be. His courage, loyalty and brilliance were of another world. I read all I could find on the real Kim Yu Shin and I couldn't imagine him but being Uhm Tae Woong. I still think of him as KYS and I don't know when I will be able to move on.
In Dr. Champ he acted the scarred but ultra talented Dr. Lee Do Wook. His coldness and bluntness strangely were so lovely to me. When he'd raise his eyebrow, I would faint. When he'd cry, I would cry along. I even came to try to like whom he liked – though I really really hate Cha Ye Ryeon - just because he loved her. There's something magnetic about him that would simply control my feelings. I would literally follow whatever emotions he'd express like I was connected to him or moved by him.
I have Delightful Girl, Choon Hyang on hold at 5 so I can't say what I think of him there but I liked what I saw.
He's into the awesome 40s now. What would he show us?! What more?
---
47
Whenever I see this actor, I simply laugh. Even if his role is not a funny one – which is rare - I laugh. His sharp and ready wit displayed in the distinctive way he utters his ironic, sarcastic and cynical remarks is his trademark. I like him no matter what he does and wherever he is. And he never fades into the background.
I didn't watch any of his pre-40 works. Though he's surely done a lot.
At 40, he played In Bong, a taxi driver joining the 'rebels', in May 18. He was again funny and he broke my heart as he died.
His role in Beethoven Virus, at 41, is one I can never forget. His journey from a clumsy musician to a responsible one was worth the watch. And I liked how mild and caring he was for his team members.
He was pretty active in 2009 acting in 6 works. I watched 2 and dropped the third. Though I did watch 4th Period Mystery, I don't remember him. But I do remember him in Kiss Me, Kill Me as an ex-contract killer giving life advice to his younger friend. I dropped The Return of Iljimae and he was a good reason for that. Or his role was!
At 45, I watched two of  the seven works he acted in – told you the guy is active. In Warrior Baek Dong Soo I watched him acting the bad guy for the first time and I liked what I saw. He acted In, the overambitious and underestimated assassin who would face a lot of misfortune because of that blind ambition. In was a complete nutcase and Park Chul Min did a great job at that.
In Fighting Spirit he acted the coach of the second team of the baseball national team. He was funny and sarcastic there but caring and helpful.
My favourite role by him was in Hotel King as the chatterbox Jang Ho Il. I disliked the drama with passion and he was one reason I could hang in. He did a great job living in a dream world and his fantasies were the best thing about the drama.
I'm still watching Maids and I love how he cannot be serious even if he tries to.
---
44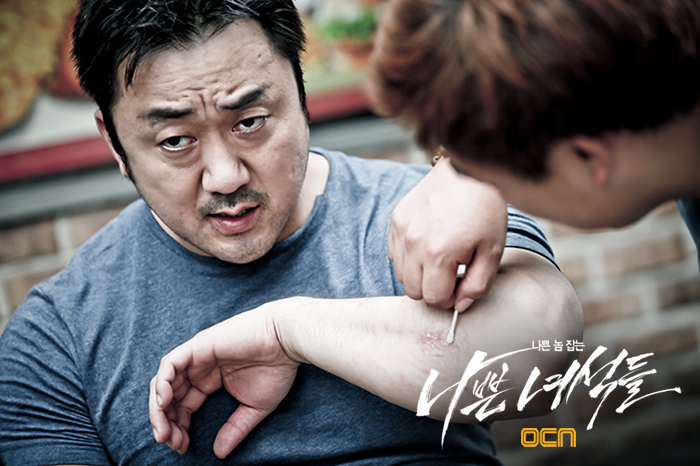 This actor is surrounded by a great mystique I cannot decipher. I don't know if it's the way he looks, his voice or that earnest and enigmatic look in his eyes. But I know his aura is no joke.
I first watched him in Shut Up: Flower Boy Band and at 41 he showed me the most charming image of a teacher. How I laughed and how I loved him there. If only I had such a teacher in my school, we'd bond together and rock the world. Sighs.
Then I watched him in The Five - the heart-wrenching movie. And as his heart was torn apart trying to save his wife without sacrificing the leader he became attached to, my heart went up in flames. And how I wept!
Then the masterpiece and the sensation Bad Guys started and I officially enrolled as a hardcore fan. Wow! What exactly was he trying to do there? I still can't believe the drama was only a 12-episode one. Everything else aside, the amount of emotions he evoked in me and I'm sure many others was insane. His fighting scenes were so well-done and natural. Such as he fit for a teacher, he did for an ex-convict and when I watched Dr. Champ I realised he'd fit in whatever he did for he perfectly fit as a judo coach. Bad Guys was one of the best dramas I've ever watched but I can firmly state that it would never have been the same, had Park Woong Cheol been acted by someone else.
I know Imma stalk the guy one day, soon.
---
49
Another Bad Guys legend but the tale started a while back.
I don't know if  it's alright for me to write about this great icon when I haven't watched much by him but in 2 of the four works I watched, he left me in a stance trying to figure out the planet he came from.
Typically and fortunately – or unfortunately - my first drama by him was City Hunter. I hated him. I hated his guts. I loathed him taking advantage of the poor son who trusted his life to him. I despised his so-called revenge. Every single word or gesture sent chills down my spine. But I stupefyingly and reverently watched him wrap the whole world round his little finger. I couldn't separate the character from the actor. Whoever that person was, he cast a spell on me.
In Our Sunhi and A New Leaf the spell was inactive and I couldn't feel the magic. I was a free person then and I could even criticise!
But then I watched Bad Guys and I fell into the trance again. I loved everyone there and supported them. I wanted justice to prevail and the truth to be unveiled. But oddly and mysteriously, I found myself taking his side throughout. For me, he was right. A remote voice would tell me to think otherwise especially when he was about to kill Lee Jung Moon. I didn't know the reason but I knew Jung Moon was innocent. Still, I supported Oh Goo Tak.
The drama ended but I'm not sure about the spell. I'm afraid of starting Jing Bi Rock. What would he do to me at 49?! The evil genius!
---
46
Moon No!!!! Dear Moon No! Poor Moon No! Groundbreaking Moon No!
Though I watched many of his works, I didn't actually recognise Jung Ho Bin's genius until I watched Queen Seon Duk. Well, the drama obviously changed my life. At 40, he brought the one and only Moon No to life. Moon No took my breath away as he fought, challenged or protected. Deokman was looking for Moon No and I was looking along. I would actually call his name out. I would murmur to myself: "When would Moon No come?! Moon No is supposed to appear! Where's Moon No?". And when he died, I couldn't believe it until later. Just like Bi Dam, I didn't believe it. After QSD, I would look back upon his other roles and raise my hat in respect.
His pre-40 works were Tae Guk Gi, Yesterday and Friend. Since you know I could only see Jang Dong Gun and Won Bin in the first and since I mentioned multiple times before that Yesterday for me was a waste of time, I wouldn't remember him in both, would I?
In Friend, though, I do. I held him in contempt with every single cell of my existence. Wow, how appalling he was! I still can't believe what he did. I can't believe how he ruined a bunch of people's lives like it was nothing. Eun Ki is one character I could never overcome my feeling of disgust towards.
What made matters worse was his comeback after 13 years in the same role in Friend 2. I felt like killing him. I was screaming: ''If you guys don't kill him, I would''. Shamelessly and abominably, he was enjoying the privileges he snatched after his betrayal. And he continued doing the same even after the victim came back. Oh, the mere recollection! Damn!
In the infamous Boys Over Flowers he was the most adorable thing after Kim Joon. I vaguely remember scenes but I remember that I liked him so much there.
In Warrior Baek Dong Soo and at 42, he showed great martial skills again. Though his role was not long, it was not forgettable.
I would love to watch another Moon No-like role though I doubt any such thing would ever resurrect.
---
45
I love this actor. No matter how small his role is, he always leaves a print. He has this you-can't-simply-pass-me-by aura.
I liked him in everything he did. I liked the gangster-turned-nationalist Yong Dae in May 18 and cried when he died. The betrayer and greedy Min Hong Ki was hilarious in Girl Scout. Detective Choi in Secret was intriguing. Though his rival was Cha Seung Won, I sympathised with him. In Happy Ero Christmas I laughed because of how clumsy he was. I respected Im Kyung Jae in Golden Cross and thanked him for supporting my hero. In Reset he impressed me as Chief Investigator Go and had me sobbing as he was attacked more than once. Jang Byeong Se had me in stitches in Healer. And now, at 45, he's coming back in Hwajeong - the drama I'm waiting for on fire.
---
54
You either love this actor or hate him, there's no in-between.
He plays such intriguing and complicated roles, I'm always in awe of him. At times, I'd feel like placing him on a pedestal and at others, I'd feel like pushing him off the roof.
I hated his guts – which did not mean I was not impressed, on the contrary- in City Hunter. Now, for me, that was the best performance he presented. Such a conflicted President he was. Hypocrite or cornered? Loyal or a betrayer? Considerate or selfish? Man of principles or immoral? I couldn't figure him out throughout. He was one of those characters who'd give you a headache trying to sort them out and I couldn't, no matter how I tried.
I despised him as the rotten selfish prime minister in Doctor Stranger and as President Hwang in A Dirty Carnival. How could he betray without flinching?! Goosebumps! I'm extremely hating him now in Bluebird House. He's being so hateful and he's doing it well.
But at the same time I loved him so much in 2009: Lost Memories despite the small appearance. He left a deep impression as the leader of the resistance movement. In Ugly Alert, acting the most loving and adorable husband out there, Chun Ho Jin once again managed to drive me crazy trying to place him on one side.
---
Anticipate the 6th and last part of Actors Over 40 and the special edition...
The actress version is on the way.