Maine Mendoza was a nobody until her first Dubsmash video uploaded on Facebook reached over a million views in just a span of 24 hours. She then uploaded it to her own Youtube account. Here's the link to the one on Youtube.
To those not aware: Dubsmash is a video messaging application for iOS and Android where users can choose an audio recording or soundbite from movies, shows, music, and internet trends and record a video of themselves dubbing over that piece of audio. (1)
So let's dig deeper.
The Basics: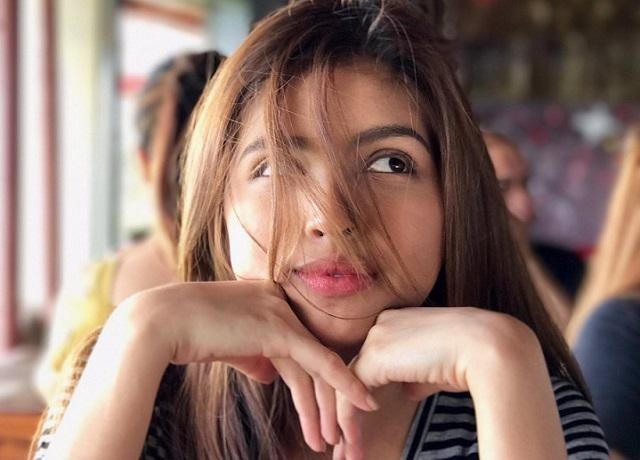 Born As
Nicomain Dei Capili Mendoza
B-Day & Age
March 3, 1995 (age 23)
Nationality
Filipino
Occupation

Actress
TV host
Internet personality
Writer
Singer - Song Writer
She completed a bachelor's degree in hotel, restaurant and institution management and major in culinary arts at De La Salle-College of St. Benilde. She had her internship at The Sagamore in Bolton Landing, New York. 
She was already a blogger even before she entered show business and has a passion for writing. Her blog is mainemendoza.com which she still tries to maintain until now.
She considers herself a pessimist and an introvert.
Acting Career: 
Since 2015 she has been a part of the longest running noon-time show in the Philippines: Eat Bulaga! There she did hosting jobs but was more known as Yaya Dub (Nanny Dub) of the segment Kalye Serye (Street Series). That segment was also the medium for her to meet her on-screen partner Alden Richards who was also given a hosting stint of the same show. Their meeting is considered a phenomenon as both their careers catapulted in an unprecedented height in a very short period of time. Collectively, they are known as AlDub.
By the end of 2015, Maine and Alden have been given an acting job alongside veteran actors Vic Sotto and Ai-Ai Delas Alas in the movie "My Bebe Love".
March 2016, Maine participated in the Lenten season drama specials, Kaputol ng Buhay (Half of Life) and God Gave Me You with Alden. 
By July 2016, the movie starting the love team AlDub which was shot in Como, Italy was released with the title Imagine You and Me.
February of 2017, Maine starred in a drama series, with her onscreen partner, entitled Destined To Be Yours.
She also did a few guest appearances on different TV shows at the end of 2017 until present.
By the end of 2018, she will star again in a new movie with Vic Sotto and Coco Martin, Jack EM Popoy: The Puliscredibles.
Modeling Career and Endorsements: 
Mendoza has had multiple print-ads and TV ads. In the span of 3 years, she's had over 40 different product endorsements and has appeared as a cover girl of several magazines.

Some of the magazines she has appeared on are Meg Magazine, YES! Magazine, Inside Showbiz, People Asia, BizNews Asia, Cosmopolitan, Esquire and a few more.

She also ranked 21st in the 2016 FHM's 100 Sexiest.

In 2016, she became the Trinitian Awardee for Most Valuable Female Advertising Endorser during Platinum Stallion Awards (Awards for Advertising).
She's also the first Asian to do a collaboration with MAC Cosmetics. She launched her own lipstick shade, Mainedcm. (2)
Other Careers:
Aside from her blog, she has also written her first autobiographical book entitled "Yup, I am That Girl" which was launched in October 2017 by Summit Media. 
Mendoza also wrote and performed "Imagine You and Me," the theme song for the 2016 movie of the same name. By June 2018, she signed a record deal with Universal Records. Neocolours lead vocalist Ito Rapadas is the overall producer of Mendoza's first album. 
Photo Gallery: 
Here are some photos of her (all can be found in google or her Instagram account), both wacky and pretty.
For me, she is one of a kind.
So how do you find her?
Please visit her blog, IG or Youtube channel to know more about her. 
Source: Wikipedia, Personal Knowledge about her by being her fan.
Previous Articles: 10 Japanese Movies and Doramas I wished had another season, Five Japanese Actors and Actresses with Filipino Heritage, Currently Watching: BG ~Personal Bodyguard~, A Stalker's Guide to Takuya Kimura (2018), Takuya Kimura's Hair Style Evolution, Why You Cannot Not Love Kimura Takuya