A Very Tardy 2018 K-drama Rundown
"My reasons are justifiable."
With 2018 swiftly about witness its final sunset, the time for celebration, festivities and reflection are at hand, with the realm of Dramaland being no exception. Umpteen dramas have aired: some good, some bad and some horribly meh and today I'll attempt most likely unsuccessfully to give you a rundown of the K-drama year 2018.
Now all of which you read above is what I was planning to release at least… I don't know - not March. Admittedly, I could excuse this tardiness by pulling a Supreme and call it fashionable, however, my reason is much better. I'm laz- I strongly believe that the K-drama year isn't quite done until all its drama is. In essence, if the series started in 2018 and ends in 2019, some due diligence should be given.
Disclaimer: This is in not an excuse to work in Sky Castle. I resent such nay-sayers.
---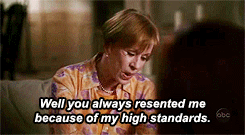 With that said, let's journey back in time, back from the future to this rundown.
On your mark, get set, go! Out of the gate, MBC crashed and burned with the ironically titled ratings-bait drama: The Great Seducer. That despite trying it best to Johnny Bravo audiences was treated much like Bravo after an attempted seduction and was served a resounding "L". One so great it became the second lowest rated show on the channel with my super legit sources saying the blame game was intense.
On the topic of Ls, plenty of those were being served up by Best Boy Baek Boem (

Jung Jae Young

- that guy from that 2017 drama you didn't watch) on his second drama outing since

Duel

(that 2017 drama you didn't watch him in) in last year's best unintentional comedy "Opinion Wars", another wise known as "My Gut" or better yet not known by its actual title

Investigation Couple

. Did I mention you didn't watch it? Hosting such gems as drugged induced lucid dream mystery solving and a female lead whose density attracted Jupiter. It was as painful as it was fun to laugh or scream at. Jokes aside, it did have some interesting enough mysteries that may be enough to warrant its teased second season. Looking at MBC's track record of season two's however, I wouldn't suggest holding one's breath.
Laughter in Waikiki had most laughing themselves to tears and then maybe me mostly asking if the ultimate joke is that it became a shipping bay. Never the less, its newly made stars did spread their wings landing favourably elsewhere in Dramaland throughout the year, all three suspiciously on MBC. Kim Jung Hyun would go on to spark method acting non-troversy in Time - the time that Seo Hyun's acting sucked a little less -, Lee Ki Kyung fared the best landing in both the aforementioned Opinion Wars, but more importantly Children of Nobody alongside Kim Sun Ah, in one of the best drama of the year, and Jung In Sun in Terius Behind Me - a drama I didn't see, sooo...
Rom-com filled comfortably into its cookie-cutter mold, for the most part, sticking true to the age-old formula of no surprises. The Korean Odyssey (We shall speak of this later), A Poem a Day, About Time and Radio Romance, some of those padding out the ranks. Yet, SBS determined it would seem to get back on a best of the year list of mine finally succeeded with Should We Kiss First?. A drama of middle-aged romance and learning to love again minus the cliché. This drama, of course, not be confused with MBC light novel adaption, Let's Hold Hands and Watch the Sunset, a drama with more words in its title than episodes I recommend watching.
Wednesdays and Thursdays where the bomb on TvN; the second half

Prison Playbook

,

Lee Bo Young

and company's amazing performances in

Mother

and the best K-drama of 2018,

My Ajusshi 

(the most unbiased opinion you'll hear this year) on which speechlessness is enough said. TvN  - not one to keep a time slot nor romance for too long - however, reverted soon for the summer with

What's Wrong With Secretary Kim?

. It's so sweet its diabetes couple took many by storm, I, however, saw it for what it was a continuing this years trend of questions as titles and the secret conversion of Kdrama into a light novel. Thin foil stuff guys tinfoil stuff. Live? Live? Basically, Live Police Department was personal favourite Writer-nim,

Noh Hee Jung

's 2018 entry, after unseating most of our 2016 favourite

Signal

with a drama of all the ajumma's and ajusshi's in

Dear My Friend

.

Live

, while still amazing, seemed woefully lacking on character development from some a bit heavy-handed on the sympathy for others.
And now on a serious personal note
Let us all come together to mourn the loss of 16 hours of my life to the disappointment that was Queen of Mystery 2. Despite the originals tendency to fall prey to over-acting and pacing that didn't make sense for just one season, it thrived from a lovable and engaging cast of characters, a good balance of its campy mystery comedy elements. Sadly, the second outing suffered from poor and drawn out resolutions, a drop off in directorial talent and a poorly recycled plot structure that could work for a second time around. RIP my 16 hours you will be missed.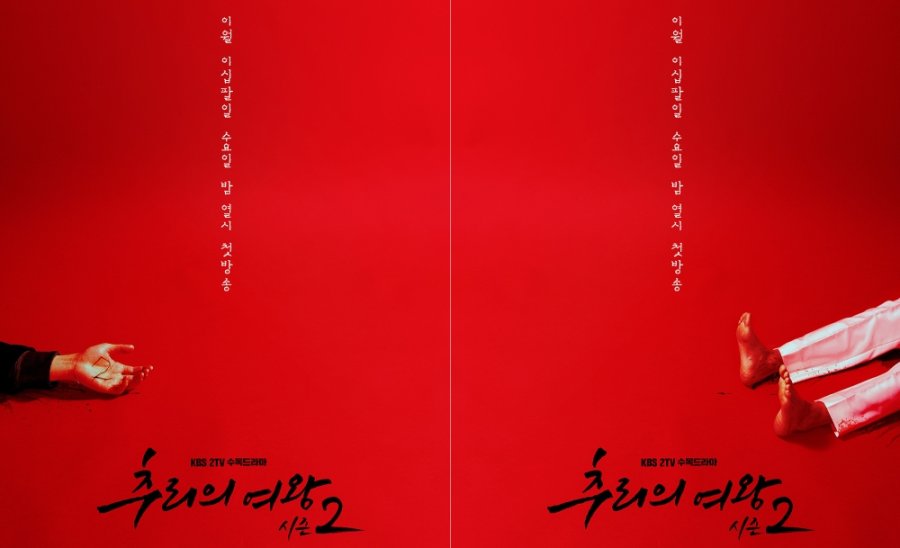 For all its worth, I Ioved these posters.
And now for the best drama of the year voted by you the MDL'ERS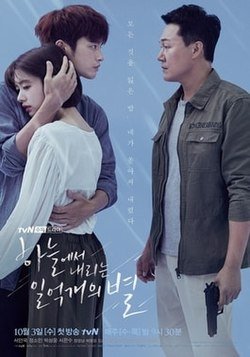 I didn't watch it.
Hey guys and gals remember OCN? Yeah, they released this year too.
A weak second season of

Bad Guys

,

Children of a Lesser God

had reliable subtitles nowhere for me to properly assess it, and

Mistress

probably cursed by its name was only in for a hot minute before boiling down into

LMN

bad territory (No disrespect to my

LMN

lovers out there).

Life on Mars

restored life on OCN with what was one of the more interesting takes on the time-slip formula despite a bit of a head-scratching finale.
Speaking of OCN; Voice return from its relaxing bloodbath in which it lost some blood of its own as lead man Jang Hyuk did not reprise his role as the "Mad Dog" detective, Moo Jin Hyeok. In my pre-release consultations with Pennywise, not to be confused with a murderous half-brother, Pound-foolish; he said rather ominously from a sewer - no less weirdly - "It's gonna sink". Sadly, after watching its first episode, I felt inclined to agree with him. Foreshadowed well enough within the first episode which ended in a car crash and some painfully overdramatic and try hard acting from replacement Moo Lee Jin Wook. Preserved, however, was the black box recording on which this script was found.
Voice 2: Opens with casual dismemberment.
Me: Good ole Voice. Take that Pennywise.
Also Voice 2: Cuts to some 'nice' dry, lazy exposition on why some faces are missing, a more frustrating than a tense car chase, the classically annoying one-step ahead villain and near unanimous bad acting.
Me: *surprised Pikachu meme*
But really the MVP was this MDL comment itself.

The pain
---
Ratings bait of another variety was active this year with honestly now an indistinguishable duo, Writer

Kim Eun Soo

k (

Goblin

) and Director

Lee Eung Bok

. Their sure-fire hit,

Mr Sunshine

, broke rating s as it was supposed to, gathered a massive caravan of fans as was destined and let's not forget the tons of money poured into it by TvN. With all this for me, at least, much like Kim's other works, it was beautifully shot and acted, but could not stave off a hollow script that felt like it was constructed more to hit those specific emotional beats than to actually earn it from the viewer. Since this is probably the most subjective I've gotten, I try to sum it up like this:

It had a lot of moments but very little else.
Later in the year, when winter drew near which sparked the urge to write in rhythm, new drama brought a new prospect. SKY Castle, understanding perfectly the term 'fashionably late', came like a wrecking ball to best of the year lists everywhere. Performing surgical character breakdowns, meaningful cinematography and social commentary, it did not only performed well in the rating for a change but also tried its hand at more meaningful subject matter.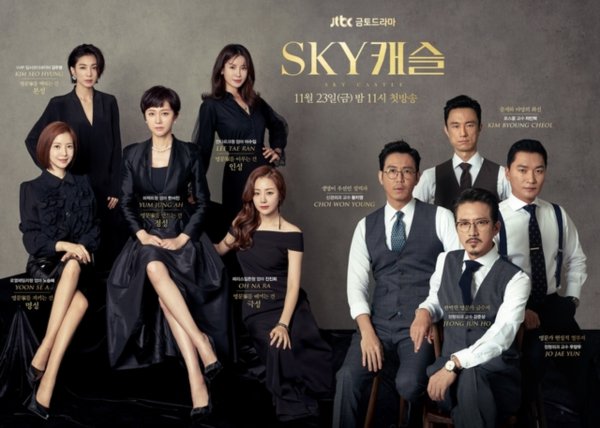 ---
Now, I know we've been all over the place, but you know no one said travelling through time was easy or linear. However, I remember now a gem of a conversation a had with a friend who actually made it to the end of A Korean Odyssey, who showed me the dragon fought at the end of the series and all I could say was and say this with me: That dragon looks like demonic black anal beads. The End.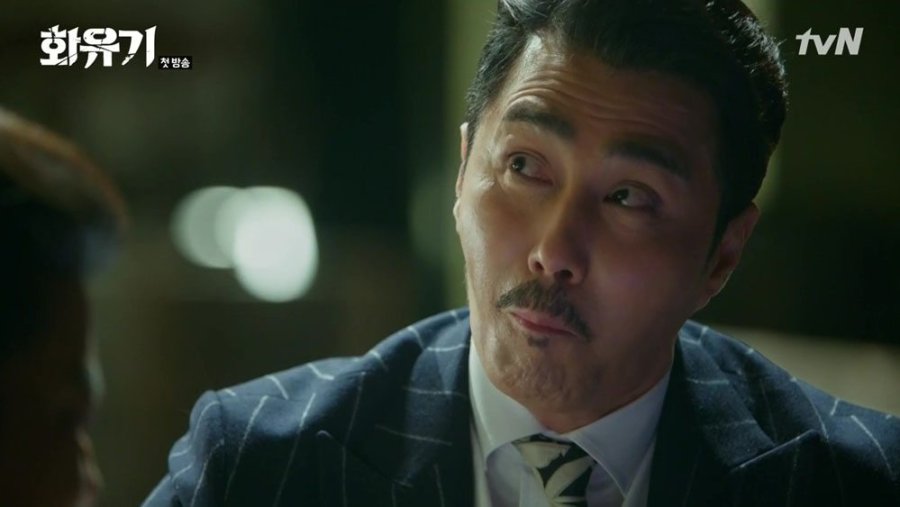 ---
Goodbye 2018
Now, I know that this isn't anywhere near a wide enough web to throw ever the last year in Kdrama. I can already think of dramas I missed like: Something in the Rain, Cross, The Guest, My ID is a Gangnam Beauty and so forth. Really, we all are carrying those dramas we watched, loved or despise from the year with us waiting once more for one that redefines the medium. Really the best part was sharing in the world of K-drama with the whole community from the forums to comments sections shattered across the interwebs. Happy New Year and see you hopefully again next year for another very tardy 2019 drama rundown. :)
P.S.: This was truly the greatest part. ;)

- Somewhere in the salt mines of The Great Seducer's comments section -