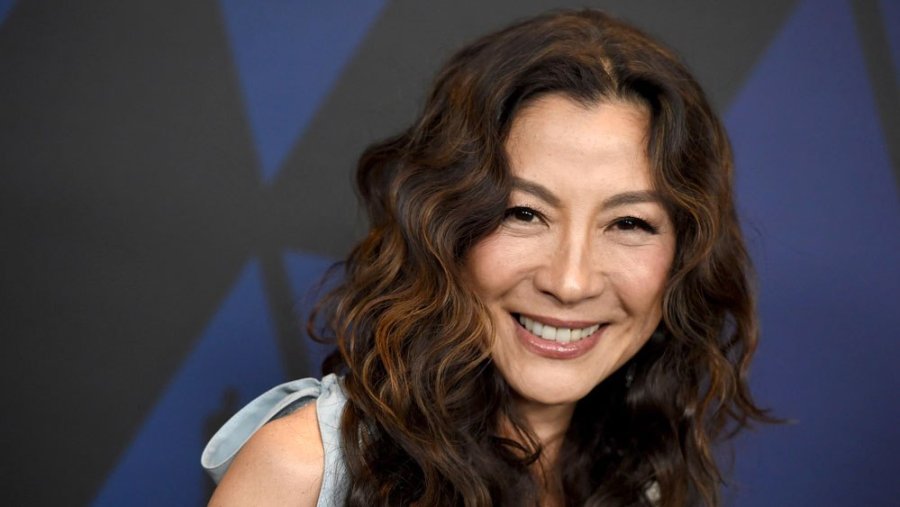 Some call her Irony Lady, but most of the people hail her as the Queen of Martial Arts. The truth is that this actress has been throwing punches and kicking asses on the silver screen for over 30 years. She insists on doing her own stunts, does not avoid any challenges, and always looks for roles that demand psychological depth and physical stamina. Most importantly, she still does not receive enough recognition in the West. I give you all… the heroine, the legend, the one and only… Michelle Yeoh.
It is difficult for me to recall personally when I saw Michelle in her cinematic glory for the first time. I believe that it must have been when I was 8. My parents rented Crouching Tiger, Hidden Dragon on DVD and we all gathered to watch it. As a kid, it was difficult for me to read subtitles quickly, so I barely knew what was going on, but I clearly understood that Michelle played a righteous and graceful lady protecting the sword, so I cheered for her!
I do not want to lie. It has been quite a daunting task for me to write this guide, so I hope that at least partially I did Michelle justice. It took me quite a while to go through numerous articles, interviews, and (of course) Michelle's films. My aim was to put everything together and outline it in a coherent whole. Consequently, without further due, let's get into the life and career of this legendary actress.
Name: Michelle Yeoh
Birth Name: Yeoh Choo-Kheng
Born: August 6, 1962 (Lunar year of the Tiger)
Birthplace: Ipoh, Perak, Malaysia
Height: 1.63 m (5′ 4″)
Religion: Buddhism
Occupation: Actress / Producer
Languages: Malayan, English, Cantonese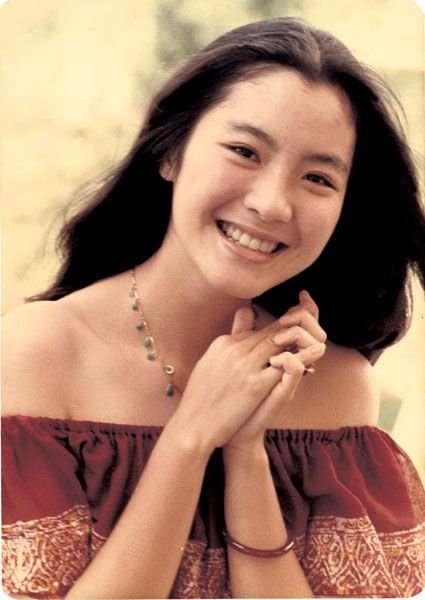 Michelle was born in the mining town of Ipoh, in West Malaysia. Her parents, Janet Yeoh and Yeoh Kian Teik, are ethnic Chinese of mixed Hokkien and Cantonese descent. From an early age, Michelle was quite physically active. According to various sources, she liked many sports, such as squash, swimming, diving, and running. In her teenage years, she even represented Malaysia at many sports championships in the aforementioned disciplines. In addition, her parents instructed her to play the piano. Nevertheless, Michelle's true passion was dancing.
At the age of 15, she set out to England in order to nourish her dream, and there she enrolled at the London Royal Academy of Dance, taking up a specialization in ballet. Unfortunately, Michelle sustained a spinal injury which prevented her from further practice. She described later this event as a "dream shattering in front of [her] eyes" (source). Thankfully, due to the college principal's support, she switched to choreography and eventually received a B.A. degree in Creative Arts and Drama.
Having returned to Malaysia for a summer break in 1983, Michelle was shocked to discover that her mother had secretly entered her for the Miss Malaysia contest. After being pestered by the parents, Michelle reluctantly participated in the later stages of the competition and won in the end! She herself looks back at this as the moment when she became "Malaysia's Ambassador of Goodwill" (source).
While touring the world as Miss Malaysia, she caught the attention of Hong Kong producers who offered her to star in commercials. Intrigued by the proposition, Michelle agreed and she ended up making promo ads together with Jackie Chan and Chow Yun Fat (!)
Later on, Dickson Poon, a producer of D&B Company, offered Michelle a two-year contract to star in movies. Michelle's first movie role ever was that of a damsel-in-distress in Sammo Hung's The Owl vs Dumbo. It is on the set of that movie where she had the opportunity to see action being staged. Instead of being bored, she became greatly interested, because she thought that the movie fights were very similar to dance choreography.
After a cameo as a judo instructor in Twinkle, Twinkle Lucky Stars, there came a big break in the form of a Yes, Madam movie. Michelle relentlessly practiced ten hours a day in a gym with stuntmen in order to prepare for the role of a tough policewoman. Her first action stunt involved throwing two baddies off the balcony while flipping backwards through the glass (shown below). The film became an instant success and it initiated the Girls with Guns genre (which I discussed here). By 1987, Michelle starred in three more movies (Royal Warriors, Magnificent Warriors, and Easy Money) after which she took an acting hiatus and married Dickson Poon.
"It wasn't a hard decision because I saw marriage as a full existence. […] My thinking was that I couldn't be running around all over the world, jumping off buildings, if I was going to give my marriage 100%. When I choose to do something, I always give it my complete commitment. If I feel I've done my best, and it's not going the way it should, then I'll leave. That's what I did with my marriage." [Michelle on her marriage]
The marriage lasted a little over three years. The reasons for divorce are unknown, but the fact is Dickson and Michelle remain friends to date. Needless to say, in 1992, Michelle made a huge comeback into the Hong Kong industry with Jackie Chan's explosive Police Story 3: Supercop. She stole the show with her exhilarating performance (cue: bike jump onto a speeding train) and, subsequently, her career kicked into a higher gear.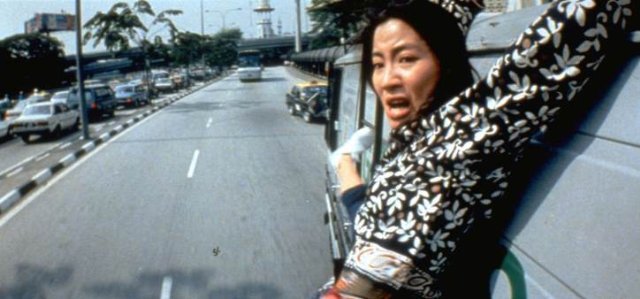 The year 1993 saw the release of five movies with Michelle. A highly stylised action fantasy The Heroic Trio (in which she teamed up with Anita Mui and Maggie Cheung), which was followed by an immediate sequel, The Executioners. Then came a Police Story spin-off, Project S, and a sword-fighting Butterfly Sword with the legendary Tony Leung Chiu-Wai (Michelle also sang closing credits theme). In addition, there was a crazy awesome period action comedy Holy Weapon in which Michelle leads an all-star cast of female warriors in their quest against a super powerful villain.
In 1993 and 1994, Michelle collaborated with a director Yuen Woo-ping, the result of which was two-period martial arts films: The Tai-Chi Master and Wing Chun. The first is primarily a Jet Li vehicle, but Michelle portrayed a heroine who helps out Jet in the moment of greatest despair. The latter, Wing Chun, is more of a light-hearted comedy of mistakes with a good amount of fighting and Donnie Yen in supporting role. It is worth to check this one out because Michelle clearly shows how much potential she had to play Hua Mulan-like character back in the day.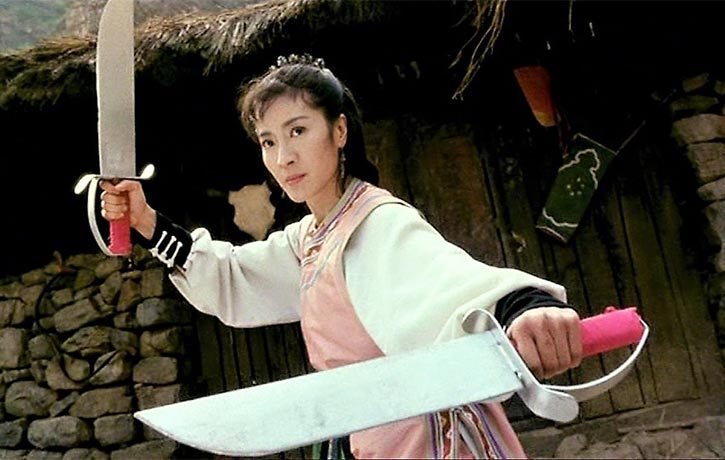 In the later years, Michelle went on to appear in Wonder Seven (1994), a spy thriller about a group of secret agents protecting a key-card, and Ann Hui's disheartening drama Ah Kam (1996). In my opinion, this picture marks Michelle's first dead serious and compelling performance in her career. The movie was supposed to be a tribute to the unsung heroes of Hong Kong cinema, the stuntmen themselves; however, the filming itself proved to be a nightmare for Michelle.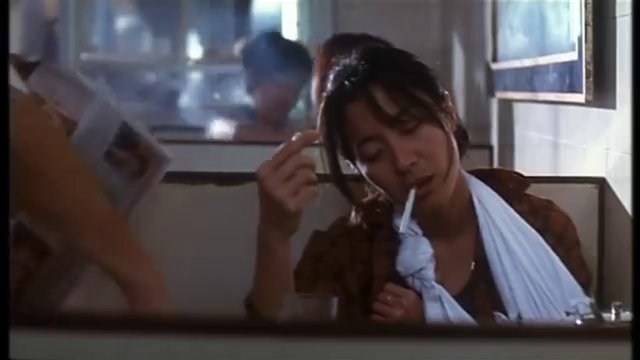 While performing a not-so-demanding stunt of a bridge jump, Michelle accidentally overdid the fall, nosedived in the air, and landed in-between two mattresses. Her legs touched her head and the back cracked loudly. She was immediately rushed to the hospital where she spent three weeks recuperating from a broken rib and deep-tissue bruising. You can check out the actual footage here.
I think this is a good place to make a short stopover and recount the many badass injuries which Michelle sustained during her fast-paced career.
| | | |
| --- | --- | --- |
| | Royal Warriors | Dislocated shoulder |
| | Magnificent Warriors | A ruptured artery in the leg |
| | Holy Weapon | Spinal injury |
| | Wing Chun | Dislocated elbow |
| | Wonder Seven | Spinal injury |
| | Ah Kam | Broken rib, deep-tissue bruising |
| | Crouching Tiger Hidden Dragon | Injured knee; scraped hands, knees, and legs |
After Ah Kam, Michelle did her first entirely non-action role in a historical biopic The Soong Sisters (1997) about the three most prominent political figures in China of the early 20th century. She masterfully portrayed the character of Nancy Soong, the eldest of the sisters, and was nominated to Golden Horse Awards for Best Supporting Actress. Two years later, she did a guest appearance (free of charge) in Daniel Lee's sensually idiosyncratic Moonlight Express.
In the early 2000s, Michelle set up Mythical Films, her own production company through which she released The Touch (2002), an Indiana Jones-like adventure story revolving around the chase for an exotic artefact, and Silver Hawk (2004), a film about a too-cool-for-school masked vigilante (obviously played by Michelle) who is saving pandas (*so much win*).
Ms. Yeoh goes to Hollywood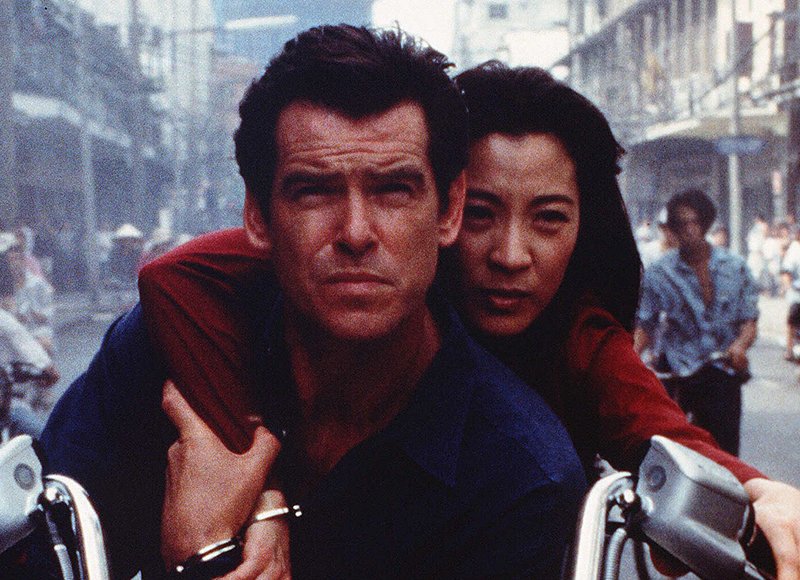 Michelle's first foray into the world of Hollywood happened on the set of Tomorrow Never Dies in 1997, a James Bond film (18th to be exact). She broke the convention of a powerless femme fatale by portraying a Bond girl as his equal. Pierce Brosnan was so impressed that he called Michelle "a female James Bond". Michelle herself could not do her own stunts, but she was allowed to do the fighting. That is what she said about the role of Wai Lin: "She's equal to Bond, so all the Asian girls are going, 'Hey, I can be a spy too'. What was amazing with Pierce, he was so confident a man that he goes, 'Yeah, let her fight!' Then he would just stand there like a proud dad" (source). I suspect that the two must have had a lot of cracking fun on the set.
| | |
| --- | --- |
| | |
Then came the already mentioned, multi-national production, Crouching Tiger, Hidden Dragon in 2000. Even though Yu Shu Lien was not the story's main protagonist, the critics praised Michelle's mature and full of subtleties performance of a virtuous warrior. Interestingly, Michelle had to learn her lines phonetically for the part, as she did not speak Mandarin.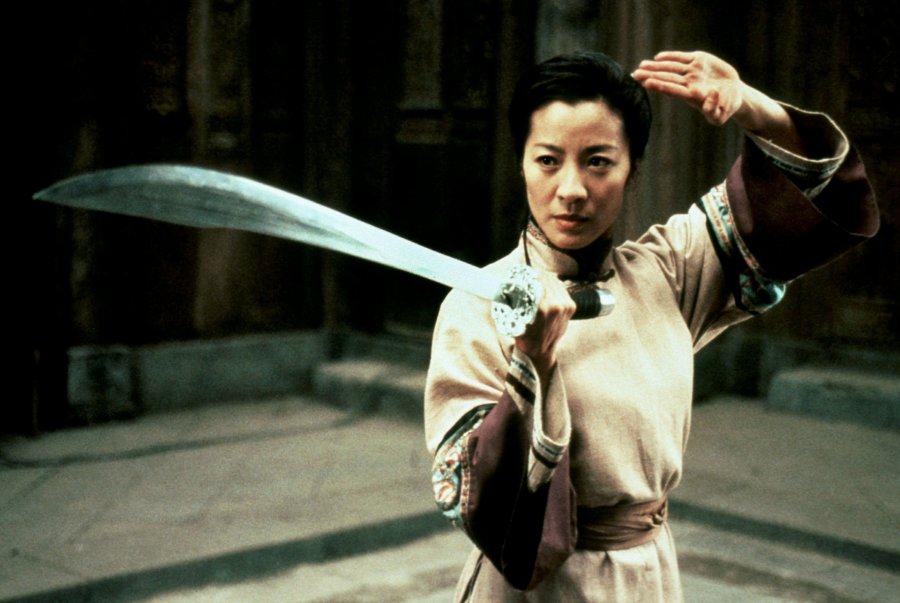 Out of her many Western productions, I believe there are four which have to be mentioned here. The first one is Memoirs of a Geisha (2005). As in the case of Crouching Tiger, Hidden Dragon, Michelle got the supporting part, but she presented the figure of a Japanese mentor effortlessly. In 2007, it came out Sunshine, Danny Boyle's science-fiction epic where Michelle played a botanist. She lobbied so hard to be in the picture that the director gave her the part originally written for a young, non-Asian, male. The same year saw the release of Far North, a psychological drama set in the desolated wilderness. In this picture, Michelle had the opportunity to play a Woman in the Dunes-like figure (*no spoilers, just watch it on your own*).
Last but not least, Luc Besson's The Lady premiered in 2011, a biopic about Burmese Nobel Peace Prize winner Aung San Suu Kyi. In my opinion, this is one of the best biographical films that came out during the genre's craze in the late 2000s (initiated by The Queen). In every scene, you can see that Michelle gives 100% of herself in front of a camera while portraying a freedom movement leader. Both the movie and Michelle's performance are highly overlooked nowadays.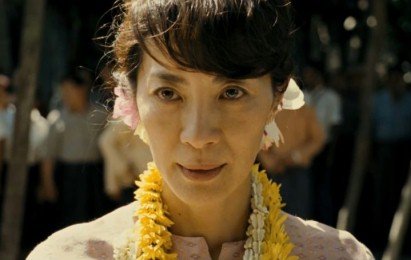 Apart from many cameos and guest appearances in Hollywood's blockbusters (*whispers* Guardians of the Galaxy Vol. 2), Michelle returned to Hong Kong industry with awesome wuxia epic Reign of the Assassins (2010) and Crouching Tiger, Hidden Dragon: Sword of Destiny (2016). In 2018, we could see her in cinemas everywhere in extremely successful Crazy Rich Asians, and (as of now) Master Z: Ip Man Legacy marks the last entry in her impressive filmography.
Alas, it is not the end, because Michelle also appeared on television, most notably in such TV shows like Strike Back (2015) and Marco Polo (2016). In addition, she portrayed Captain Philippa Georgiou in the first season of Star Trek: Discovery (2018). As of January 2019, CBS plans to develop a stand-alone Star Trek show centering on Michelle's character (*claps in respect*).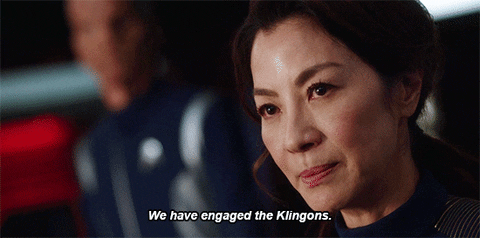 1998: Asian Media Award
2001: ShoWest Award for International Star of the Year
2013: Outstanding Contribution to Asian Cinema
Michelle was the highest paid Asian actress in the 1990s.
Chosen by "People" magazine as one of the 50 Most Beautiful People in the World in 1997.
Currently engaged to Jean Todt, who became the President of Fédération Internationale de l'Automobile in 2009.
In 2012, she was given the title of "Dato' Seri" by the Sultan of Perak, her native state. "Dato'" is an honorary Malaysian title similar to an English knighthood.
She hosted a memorial event for her dear friend Anita Mui in 2007.
Only the second Asian actress to play the James Bond girl. The first one was Mie Hama in You Only Live Twice (1967).
[About representation of Asian women on film]: "If we stick to this very stereotype and we endorse those kinds of characters then, yes, the audience will think 'yes, the Chinese girls are like that' or 'the Japanese girls are delicate little butterflies.' We are delicate, but we are silk and steel. Put it that way."
[About Sunshine]: "When I told my agent I wanted to work with Danny Boyle on Sunshine, he said, 'There's not really a role there for an Asian face.' But that's the thing: I'm not an Asian face. I'm an actress. That's what we need to overcome."
[About stunt work]: "It's so important for me to do my own stunts. The sense of achievement is so immense. But the studios don't want to take the risk. 'You're an actor, actors don't do stunts!' And if they do let you do anything, they wrap you in so much cotton wool it takes away the fun anyway."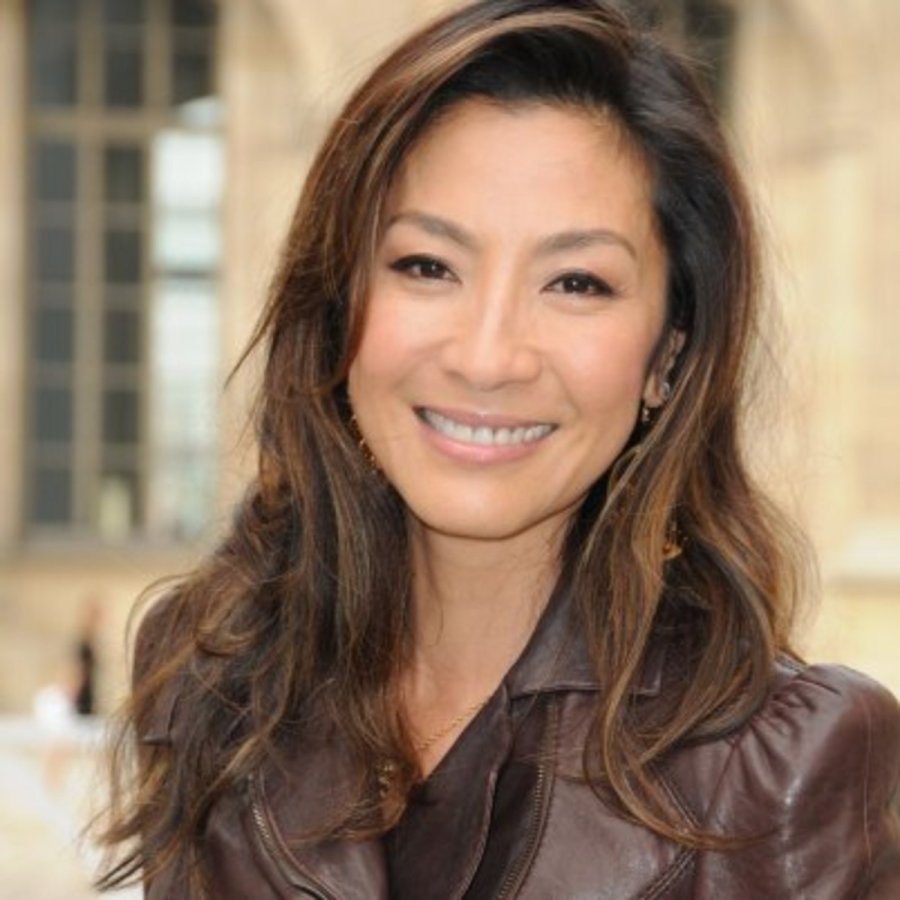 ---
I could go on and on about Michelle's greatness, so let me just end it here. Michelle Yeoh is without a doubt one of the best actresses out there, if not the greatest Asian actress of modern cinema. She has physical prowess, beauty, and, most importantly, unique grace with which she charmed millions of cinemagoers around the world.
Make sure to check out my sources since I did not manage to mention everything: Great and detailed Interview with Michelle in English * Michelle Yeoh Web Theatre * Biography.com * GQ Interview * Taipei Times * Hollywood Reporter * NY Times * The Guardian * BBC * The Lady-Wikipedia * Michelle sharing some trivia on Youtube * IMDB * HKMDB [Note: I did not provide captions under pictures due to formatting issues]
---
What about you? What are your personal favourite Michelle's movies? 
Which ones you would like to check out? 
Please write in the comments and thank you, as always, for the feedback.