The website is currently undergoing maintenance. Sorry for the inconvenience.
Name: Shimizu Fumika
Native name: 清水富美加
Nationality: Japanese
Gender: Female
Born: December 2, 1994
Age: 23
Shimizu Fumika is a Japanese actress and gravure idol. Her parents are followers of the new religious and spiritual movement Happy Science, which Shimizu has been born into and following since birth.
In February 2017, she announced her retirement from the entertainment industry to join the controversial Happy Science religion. Through Happy Science, she announced a return to acting under her new name Yoshiko Sengen (千眼 美子 Sengen Yoshiko) with Happy Science's ARI Production company.
Movie
Title
Rating
Tokyo Ghoul

Kirishima Touka

(Support Role)

8.0

Laughing Lucky Cats

Hitomi Takashiro

(Main Role)

0.0

Girls in the Dark

Sumikawa Sayuri

(Main Role)

7.8

Zenin, Kataomoi

{Asahan no Yuge} Fuka

(Main Role)

7.9

HK: Forbidden Super Hero The Abnormal Crisis

7.4

Happy Landing

0.0

Zutaboro

7.3

Deep Red Love

6.1

HK: Forbidden Superhero

7.1

Kamen Rider x Kamen Rider Wizard & Fourze Movie Taisen Ultimatum

Yuki Jojima

(Support Role)

7.6

Kamen Rider Fourze the Movie: Space, Here We Come!

Joujima Yuuki

(Support Role)

7.7

Kamen Rider × Super Sentai: Super Hero Taisen

Joujima Yuuki

(Support Role)

7.3

Kamen Rider × Kamen Rider Fourze & OOO: Movie War Mega Max

Joujima Yuuki

(Support Role)

7.8

Avatar

Yamane Takami

(Support Role)

6.5
Drama
Title
Rating
Warau Manekineko

Japanese Drama,

2017

, 4 eps

Takashiro Hitomi

(Main Role)

6.7

Byplayers

Japanese Drama,

2017

, 12 eps

Herself (Ep.4)

(Guest Role)

8.3

Kaseifu no Mitazono

Japanese Drama,

2016

, 8 eps

Hanada Emiri

(Support Role)

8.2

Mohouhan

Japanese Special,

2016

, 2 eps

Yumiko Takai

(Support Role)

7.5

Sekai Ichi Muzukashii Koi

Japanese Drama,

2016

, 10 eps

Hori Mahiro

(Support Role)

7.8

Kounodori

Japanese Drama,

2015

, 10 eps

[Mother](Ep.1)

(Guest Role)

8.5

Okaasan, Ore wa Daijoubu

Japanese Special,

2015

, 1 eps

8.6

Tonari No Seki-Kun To Rumi-Chan No Jishou

Japanese Drama,

2015

, 8 eps

Yokoi Rumi {Tonari no Seki-kun}

(Main Role)

7.6

Mare

Japanese Drama,

2015

, 156 eps

Kuramoto Ichiko

(Support Role)

8.4

Petero no Souretsu

Japanese Drama,

2014

, 11 eps

8.1

Magical Boy Cherry's

Japanese Drama,

2014

, 15 eps

5.8

The Chasing World: The Origin

Japanese Drama,

2013

, 12 eps

7.6

Kamen Rider Fourze

Japanese Drama,

2011

, 48 eps

Joujima Yuuki/Dark Yuuki

(Support Role)

8.0

Kamen Rider OOO

Japanese Drama,

2010

, 48 eps

Joujima Yuuki

(Guest Role)

8.3
Articles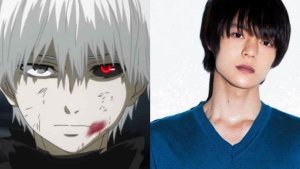 Famed Manga/Anime Tokyo Ghoul to finally get a live action adaptation