Name: Kuroki Keiji
Native name: 黒木啓司
Also Known as: KEIJI;KJ
Nationality: Japanese
Gender: Male
Born: January 21, 1980
Age: 39
Keiji became a member of a Jpop group Nidaime J Soul Brothers in 2007 and joined the EXILE performer team in 2009.
In 2012, he started carrying out activities officially as a member of EXILE THE SECOND.
Aside from performer activities, he has devoted himself to movies, dramas, magazine series, MC on self-produced TV show, thus further expanding the scope of his portfolio.
Moreover, he launched the entertainment project "THE NINE WORLDS" promoting his hometown Kyushu in 2015.
(source: ldh.co.jp)
Drama
Title
Rating
I Shared My Husband

Japanese Drama,

2019

, 10 eps

Mori Ryusaku

(Support Role)

7.3

HiGH&LOW SEASON 2

Japanese Drama,

2016

, 10 eps

8.3

HiGH&LOW

Japanese Drama,

2015

, 10 eps

8.4

Wild Heroes

Japanese Drama,

2015

, 10 eps

Hayashida Noriaki "Tenten"

(Main Role)

7.9

Zannen na Otto

Japanese Drama,

2015

, 10 eps

Sudo Toshiya

(Support Role)

7.4

Bitter Blood

Japanese Drama,

2014

, 11 eps

Takano Kouji

(Support Role)

8.5

Monsieur

Japanese Drama,

2013

, 10 eps

5.8

Last Cinderella

Japanese Drama,

2013

, 11 eps

Kondo Suguru (Ep.10-11)

(Guest Role)

7.8

Saikou no Rikon

Japanese Drama,

2013

, 11 eps

Ohmura Keisuke (Ep.3)

(Guest Role)

8.1

Kimi to Boku to no Yakusoku

Japanese Drama,

2012

, 10 eps

7.3

Watashi ga Renai Dekinai Riyuu

Japanese Drama,

2011

, 10 eps

Kawabata Ryouichi

(Support Role)

7.6

Namae o Nakushita Megami

Japanese Drama,

2011

, 11 eps

Sawada Kei

(Support Role)

8.0
Movie
Title
Rating
HiGH&LOW The Movie 3: FINAL MISSION

8.7

HiGH&LOW The Movie 2: END OF SKY

8.7

HiGH&LOW The Movie

8.5

Road To HiGH&LOW

8.2

Crossroads

Tatsuru Sawada

(Main Role)

6.5

The Backdancers!

6.1
Special
Title
Rating
Akujotachi no Mesu

Japanese Special,

2011

, 1 eps

Nakamura Masahiko [anesthesiologist]

(Support Role)

7.1
TV Show
Title
Rating
BPM - BEST PEOPLE's MUSIC

Japanese TV Show,

2016

, 0 eps

0.0

Buzz Rhythm

Japanese TV Show,

2015

, 0 eps

0.0

EXILE Casino

Japanese TV Show,

2014

, 0 eps

9.3

Shabekuri 007

Japanese TV Show,

2008

, 400 eps

8.9

Kouhaku Uta Gassen

Japanese TV Show,

1951

, 69 eps

9.0
Articles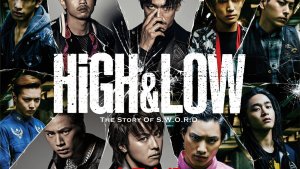 Drama Recaps

- Jun 18, 2018
Old Anime Lady's overview of the High & Low Franchise