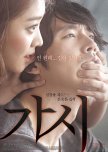 If you watched Wet Dreams (2005) and enjoyed it, this movie is definitely NOT for you. The plot may seem similar (student falls for PE teacher), but the take is total opposite. No rom-com, laughter, stupid little gags, farts and dumb teenage girls here. No butterflies and bubbly dialogues. Welcome to the dark side!!!
I was glad to see some fine acting from Jo Bo Ah, nothing like her performance in Shut Up: Flower Boy Band. Looks like she is maturing as an actress and I look forward to her next movies. She took a serious challenge with this role and I must confess I was worried she might not have what it takes YET to pull it off. But she did! And her chemistry with Jang Hyuk was beyond my wildest expectations, more so as their age gap IRL is 15 years and he is such a sunbae to her!!! They are both smoking hot and manage to suck the viewer into the story and keep him holding his breath most of the time.
Yes, you have some mature content and violent scenes here and there, but nothing gratuitous! Let's face it: you cannot dive into the depths of human mind and soul without getting a bit dirty in the process. Lust, obsession, betrayal, guilt, revenge are not easy to portrayal, nor digest. So beware!
I majored in Psychology (plus my father is a PE teacher LOL), so I liked this movie very much, but it sure won't be everyone's cup of tea. However it's worth watching and you won't get bored for sure.
Was this review helpful to you?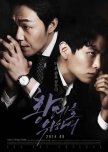 Another action packed movie, or should I say another blood bath passed for a story line? Very graphic, as this new trend in K movies seems to be a MUST lately. It's not the blood splashing all over that's bothering me, it's the fact that it reminds me of the HBO Spartacus kind of scenes (meh! no poetry whatsoever, nothing epic, uplifting or cathartic, just a slaughterhouse field trip). 90% of the guys in this movie seem to have grown knives straight from their fingers and whenever they move they stab someone... I never thought I would miss the good ole iron pipe that Korean old school gangsters used. I must admit there was one fighting scene however that made my day. Let's just say it involves a shirtless, slim, muscle packed and tattooed Lee Min Ki and a refrigerator. For the guy he was fighting with...
And since I mentioned the shirtless LMK earlier, I should warn you (or entice you, depending on what you like lol) that the shirt is not the only MIA piece of clothing... try ALL of them! His interview during the press conference made me wonder why would he be so wary of the public opinion. Watch the movie and you'll get it! It's more than your regular bed scenes, so I wouldn't recommend this movie to those that dislike mature explicit content. I had no problem with those scenes, I do however have to say that Lee Tae Im, the only actress in this movie, seems to have been cast purely for this purpose. And it somehow annoyed me. Talk about sexual objectification of women. Not that I have a feminist out of place moment here. It's just that her character is anything but 3D, to say the least. Yeon Soo or an air doll, all the same...
The story is nothing much, rather filled with cliches. It reminded me a little bit of A Bittersweet Life, but you need to be drunk or extremely lenient to put the two movies on the same page.
Park Sung Woong is right on spot, bringing his character to life as perfectly as expected. His reserved, classy, poker faced gang boss Sang Ha shows great chemistry with the loose cannon, enraged, horny and blood thirsty Yi Hwan, the character played by Lee Min Ki. I think that's one of the few things that I enjoyed while watching the movie.
Long story short, For the Emperor doesn't have much of a statement to make. It's your regular action flick, with lots of blood and over the top steamy sex. The story line is very simple and predictable. The characters not too complex, the soundtrack nothing much. Lights and cinematography, few memorable scenes. Rewatch value? Unless you wanna play on repeat the few bed scenes or action ones, I'd say no one would bother revisiting this movie.
Watch if you are a Lee Min Ki or Park Sung Woong fan, if you like violent action movies and you don't care too much about intricate plots.
Don't watch if you dislike mature content, graphic scenes or if you think Lee Min Ki's hairdo resembles a bird nest or next door ajumma's perm.
Was this review helpful to you?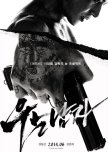 This review may contain spoilers
"A love story between a professional hitman and his next target."??? Nope. The synopsis is just misleading and you will grow old and die before you get to see any romance in this movie.
The story is nothing fancy, nor original. In fact it can easily fall under the category "a dime a dozen". It's your typical action flick, with lots of bullets, knives and fists flying around, tons of red paint and zero emotions. If anything, both male and female leads' attempts to cry make for a good reason to laugh. Jang Dong Gun-shi, please don't cry! Ever again! You'll only ruin your image. Stick to what you do best, you were kind of cool in some of the fight scenes.
I can't say too much without spoilers, but the main characters are just not convincing enough. Their motivations, choices and reactions don't feel right.
The dialogues bounce between English and Korean, even though I can't see why that would be a plus for the movie. It felt more like showing off than a way to give authenticity to the characters. Heck, at some point they even throw in a bit of Spanish for the "Wow!" effect. Too bad it had the opposite impact, at least for me. On the bright side, if you understand English and basic Korean, you can give the movie a try even with no subs. You don't really need them, no food for though that you might miss here.
I guess guys could like "Crying Man". And girls, provided they are bored or have no choice (because of the guys LOL). Watch if you are a fan of action movies or of Jang Dong Gun (this being his comeback after 2 years).
Don't watch if you don't like violence and blood splashing on your screen! If you are looking for a profound, meaningful story, if you like complex characters or if you were just tempted by the synopsis, don't waste your time!
Was this review helpful to you?