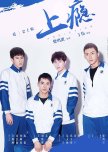 Addicted Heroin ruined me for another BL web series especially considering that this was my first BL drama. This drama open the doors to me for BL romance, The chemistry between Gu Hai (Huang Johnny) and Bao Luo Yin (Xu Wei Zhou) was amazing, I would never have thought that this was their first drama. Although we do not really get to experience the side characters relationship as much you still grow to love the chemistry that happens between them as well.
Characters
Gu Hai was the typical bad boy in this drama, he was big, tough, and had a chip on his shoulders. What I love about this drama was that Gu Hai was clearly the dominant one in the relationship. He was not afraid to express his thought and feelings and even himself into Bao Luo Yin life. The biggest surprise came from Bao Luo Yin, who was the typical top class student. He was arrogant, smart, but also kind to his friends, what blew me away was the fact that he was also dominant (just not as much as Gu Hai). He did not let Gu Hai do whatever he wanted without making the consequence know. Bao Luo Yin unlike Gu Hai did not just roll with the punch and often had to fight his feeling but also Gu Hai feelings as well.
Storyline
The storyline was great, it was realistic and made sense. There not of much I can review it without spoiling it. The issue that made the storyline lacking was the jumping. Due to a ban on "sexual scene" in China, there was a lot of scenes that were cut which often leaves you confused. I found myself nearly falling off the bed when the scenes getting intense to scratching my head and asking how in the world we end up somewhere else. Okay, it's not that bad, most of the time it is easy to follow how you got from point A to point B it just annoying because the chemistry is so good ( better than some opposite sex couple dramas) you often feel like your missing something.
Overall
The web series is amazing it funny, dramatically, and the romance is to die for. Its worth the rewatcth, which is exactly what I'm about to do and will go down in my book as one of these best (if not the best) BL dramas.
Was this review helpful to you?