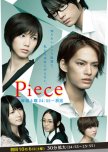 Piece
23 people found this review helpful
When I first decided to watch Piece, I wasn't sure what to expect, but it definitely took me by surprise. I was immediately hooked in the first episode and overall, it was a really great drama. I just wish it either had longer episodes or more of them because it was so addicting.
Story: Aside from loving the teen/school romance theme [Yuma and Tsubasa were pretty cute], I was mainly drawn in because of the mystery plot revolving around a certain classmate's death. As the story jumps between the past and present, the mystery begins to tie or "piece" all the main characters together and delve into their own personal lives and innermost feelings/secrets as they search for answers about their classmate's past. One thing I will say in advance is that you may love or hate the ending. I actually liked it, but the only thing I'm not completely satisfied with is that some questions were left unanswered. Nevertheless, the story itself is really engaging as there are so many twists and turns that have you guessing until the very end. You'll also find that the romance in this drama depicts a darker side of love as each character has their own secrets and struggles that prevent them from being true to the people around them or unable to let go.
Acting: I thought the acting was decent. There could've been a bit more improvement, but they still did a good job. I must say though that Nakayama Yuma played his distorted character Hikaru really well. I found myself charmed by him one minute, and chilled by him the next. Definitely a big step up from his Koishite Akuma days.
Music: Everything was great. The songs went nicely with the characters, I loved Yuma's opening song, and even the matchbox twenty song went well with the drama.
Rewatch Value: I'd probably watch this drama again because it was a refreshing take on a teen drama. I suppose the mystery being solved might not be as fun as the first time, but the relationships between the characters and the underlying messages about life makes it worthwhile to watch again. I'd say give this drama a chance if you like teen/school romance stories or mysteries =]
Was this review helpful to you?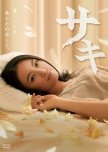 Saki
7 people found this review helpful
Let me start off by saying that I loved this drama. It was suspenseful, had a great cast, great plot, and was very addicting. Nakama Yukie who reprised her role as Saki did not disappoint one bit and made you wonder just what evil plans she had in store for her selected targets. If you're someone who only knows her from the Gokusen series, this drama will show just how amazing and versatile she is as an actress. She may still be teaching lessons and kicking ass, but this time it's through revenge.
Plot: The story itself had a a great plot. You learn that Nitta Hayato [Miura Shohei] is searching for his older sister whom he only discovered existed after his mother's death. This brings Amihama Saki [Nakama Yukie] into the picture. What starts off as a heartwarming reunion soon turns into an eerie mystery as Hayato discovers that his lovely sister may be someone completely different than what she seems and she's actually got a hidden agenda of her own. She's out for revenge and nobody's going to get in her way. If you're someone who likes suspense, you'll definitely enjoy this drama because the whole time you're on the edge of your seat wondering what's going to happen to everyone and how she's going to bring them down. Although her actions are undeniably evil and wrong, you just might find yourself unable to hate her as the drama progresses. Up until the very end, I could not hate her character at all despite everything she did. This drama was very well done. You might feel a bit weird about wine and steak after this one though Lol...
Acting: The cast lineup and acting was great. Nakama Yukie was perfect at portraying an angelic woman who is in fact calculating and leading her targets to their own destruction. Her ability to express Saki's emotions was so amazing and I really felt for her character during the last episode. I'd love to see her reprise this kind of role again. Miura Shohei did well too and had great chemistry with Nakama Yukie although, I was amused at first since they went from having a student-teacher relationship in gokusen 3 to brother and sister xD Aside from that though, the cast was great. Uchida Yuki was awesome. I actually wish we saw even more of her in the drama. I'm also a fan of Okada Yoshinori so I was pleasantly surprised to see him in this drama. Takashima Masahiro, Kyo Nobuo, Ishiguro Hideo, and everyone else were great in their roles as well.
Music: Takahashi Minami's song Jane Doe was a great opening song and TVXQ's catch me fit perfectly with the ending scenes. There was also an english song they played, I'm not sure what it was called, but that song matched really well with the scenes they showed with Saki. All the music gave a perfect feel to the story.
Rewatch Value: I'd watch this drama again. The only thing is that the mystery part isn't much of a mystery anymore after seeing it twice and you somewhat lose the suspense so it won't exactly be the same. It's still a great drama and worth the time though. I'd definitely recommend this to anyone who likes mystery or suspense. And of course, if you're a fan of Nakama Yukie but haven't seen it yet, I'd say check this one out as well as Utsukushii Rinjin, where Nakama Yukie played her first role as Saki =]
Was this review helpful to you?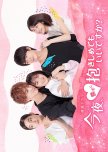 This review may contain spoilers
My initial interest in watching this drama comes from the fact that I was curious to see one of Yahagi Honoka's more recent works, as I have not seen any since her role as Kotoko in Itazura na Kiss. And for viewers who were not fond of her character there, let me be clear and say this drama is definitely not for you. The characters are very similar.
STORY: The story follows Saeki Riko (Yahagi Honoka), who is a college student lacking in both career aspirations and success in relationships. While she has dated others in the past, she eventually backs out of her relationships when they want to get serious because she doesn't actually love the men she's with. She's oblivious to her friend Shindou Shin's (Nakao Masaki), longtime crush on her as well as her best friend Amamiya Yoshino's (Kamura Mami) crush on Shin. With such an oblivious character who can't read her own heart nor her surroundings, there is bound to be plenty of drama to ensue and that's exactly what this drama is. A big emotional mess. Once her childhood friend and first love Ichihara Shuuji (Mizuno Masaru) comes into the picture after many years apart, she suddenly realizes he's the one she has loved all along, hence why she was never able to love anyone else, and tries her best to pursue him. But things aren't exactly smooth sailing as he's already somewhat taken by his co-worker/"lover" Fukai Midoriko (Iriyama Noriko).
I don't mind the whole childhood friend concept even though it's been overdone, but in this particular case it was off-putting because she's head over heels over someone who said they would marry her when they were just a little kid. And I mean a kid. They literally had no contact for years. Even her best friends told her she has a problem if she was actually taking a childhood promise to heart. Upon reuniting, he clearly rejected her advances and yet, she still kept pushing for him just to admit he was her childhood friend and would interfere in everything he was doing. The drama as a whole was difficult to watch, almost everyone was doing something shady at one point in order to get who and what they wanted. Riko was constantly oblivious to everything, whether it was Yoshino being annoyed and angry with her, or Shin being jealous or sad. She only had Shuuji on her mind the whole time. What I did like though is how Yoshino and Shin would sometimes call her out on her questionable behavior, such as the incident when she was following Shuuji like a stalker, when she herself had recently been scared by her past boyfriend doing the same to her. That kind of behavior is not cute or romantic, it's scary.
ACTING/CAST: Everyone was decent as their characters, but then again this drama didn't exactly need any noteworthy performances. While Saeki Riko might have been an overbearing main lead, Yahagi Honoka really nails this kind of character. Very innocent, sweet, but also clumsy and naive. When it comes to Ichihara Shuuji (Mizuno Masaru), I felt the acting was very stiff, especially for being a main lead. Even though he supposedly loved Riko, you could barely tell because he didn't have many facial expressions and he was also making out with Midoriko to cover up his feelings. I felt his demeanor really came off as him seeing Riko as just a childhood friend and nothing more, so I was skeptical when he admitted he was in love with her in the later episodes. It seemed more like he gave in. While the acting may not have been the best though, I did like how Riko and Shuuji's encounter helped each other to both realize and pursue their dreams.
Oh and for those who didn't watch until after the ending credits, the little promo/preview skits with the cast were cute. Poor Shin always getting ignored lol
MUSIC: The opening song "Blue Star" by COLOR CREATION was a nice choice for the drama
REWATCH VALUE: Would I sit down and watch this again? No. The ending itself was also underwhelming and questionable. On a positive aspect of this drama though, the episodes are only about 24 minutes long, so it's decent for something quick to watch. But there are way better romance dramas out there. I wasn't impressed with the story and while Yahagi Honoka's character Riko may have been similar to Kotoko in Itazura na Kiss, I definitely find the latter to be the better character and drama in all aspects.
Was this review helpful to you?
To start off, I originally watched this drama when it came out a few years ago, but never actually got around to writing a review. After rewatching it recently though, I found my thoughts on the show have changed a bit since the first time watching. I've never read the manga, so I will be basing my opinions on just the drama itself.
Basically, the story revolves around Kiriki Tsukasa (Nakajima Kento), a new transfer student, who unintentionally becomes the new gang leader of Gokurakuchou, one of the big three gangs in hiroshima, while trying to win the heart of his love interest Yoshimoto Kumi (Hashimoto Nanami). The plot follows Tsukasa's experiences in leadership, friendship, and romance as he tries to take on being a gang leader and faces off various opponents along the way. His usual persona is a bit timid and doesn't look strong at all, but when it comes to protecting the people he cares about, his true power is revealed which unexpectedly makes him a great gang leader. I found this drama had a similar setup as other fighting dramas such as Sugarless and even the classic Gokusen series, where each main character has an episode to focus on their personal problem, new fighting opponents each episode, as well as a main character who shows overwhelming power and courage to fight for those they care about, all while teaching others valuable life lessons. It also has a similar casting comparison with Shiritsu Bakaleya Koukou where they pair JE boys with a female idol group, only this time it's with Nogizaka46. With only 12 episodes that span about 22 minutes or so, the plot didn't have enough time to really develop into much and there were various plot holes, but entertainment-wise, it was enough. Outside of the fighting scenes and main storyline, the many comedy parts they added into the show were actually pretty funny and helped to enhance the sense of friendship the characters shared with each other. The gang auditions and dating simulations were hilarious, thats all i will say.
Acting/Cast:
Here's where I might get a bit more critical with this drama. Clearly, most of the cast was chosen for the visuals. With many JE boys, the acting is definitely not the strongest and there were also many scenes that were a bit overacted. I laughed out loud during a few fight scenes where it clearly looked super fake or parts with super cheesy dialogue, but I suppose that could be seen as a charm in itself. Itano Tomomi's acting wasn't very impressive either. Although I'm a fan, her acting was severely underwhelming and she basically showed the same blank expression throughout the whole drama. I'm not really sure what the point of her role was, yet they kept giving her screen time of her just doing the same thing. Unfortunately the Nogizaka46 members in this drama were lacking in their acting as well, but it wasn't a big deal since most were minor characters anyway. What I will say though is that Triendl Reina and Hashimoto Ryosuke seemed to stand out the most out of the side characters. They had good chemistry as a couple and also when it came to Reina's parts, she was more convincing in portraying the role of a gang leader's girlfriend. Not to mention they were pretty funny together as well.
When I first watched this drama years ago, I thought Nakajima Kento didn't fit the role as the main character of this drama at all because it was difficult to picture him as someone extremely strong just looking at his image alone. He clearly has both a slimmer and smaller build compared to the other actors. After watching it the second time around though, I think he did the best he could do with his role. Even if his physical image didn't match his character, everything else did; he somehow made it work. The snow man members who played Kento's friends in the gang were decent at their roles as well, with Iwamoto Hikaru standing out the most. I assume that's why they gave him a more prominent part as the second in command within the gang. When it came to the big 3 gang leaders, I felt that Nikaido Takashi fit his character perfectly. Like Tomomi, he didn't have a lot of dialogue until the latter half of the drama, but he had a strong leader vibe to him and was more believable in being labeled as a strong opponent compared to others.
Music:
The songs for the drama were limited as they only used Bad Boys by Sexy Zone as the title/opening track and Sekai de Ichiban Kodoku na lover by Nogizaka46 as the ending song. I found it a bit cheesy whenever they started playing Bad Boys whenever a fighting scene was about to start, but I got used to it after awhile. There were also a few times when Sekai de Ichiban Kodoku na lover came on and i felt it didn't fit with the scenes shown, but since they needed to promote the songs, it was understandable I guess.
Overall/Rewatch value:
Overall, I will say that this drama is entertaining and as others have mentioned in the comments before, those who are fans of JE boys will probably enjoy watching it most. It's not a drama to be taken too seriously; the episodes are super short, and it has a pretty straightforward plot although it might be repetitive to some viewers. Even though it wasn't the best JE drama I've seen, it's something quick someone can enjoy for handsome boys, pretty girls, and some good laughs to kill time. It has some rewatch value, partly due to its short duration and positive messages, but it may not be to everyone's taste as there are definitely better JE dramas out there.
Was this review helpful to you?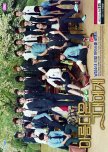 I like hana kimi and have also watched all the versions, so I was excited to see the korean version, but wasn't as impressed as I thought I'd be. It was still enjoyable to watch though.
The story: The story itself was good, but I felt like they wasted time going in circles with the same issues or had fillers when they could've added more depth into the story or the characters. I noticed they also altered or omitted characters from the story completely. For example, the dorm leaders [1&3] were rarely seen at all until some big serious moment came along and the students in the dorms were pretty much left out from this version even though they were there. So you didnt get to see their relationship with mizuki [Goo Jae Hee in this case] grow and see how close they became or how much fun they had together as a group which is a big part of the story. Also, the ending seemed a bit rushed too, so I was a bit disappointed in that aspect.
Acting: The only person I felt really shined in this drama was Lee Hyun Woo. He portrayed his character Nakatsu [Eun Gyeol] really well. Sulli did impress me on a few occasions though, which I had hoped to see anyway since she has acting experience.
Music: There were some nice tracks for this drama, with my favorite being Stand Up by J-Min.
Rewatch value: I love Hana Kimi, but I probably wouldnt watch it again. Although it seemed more flashy in visuals than the other versions, I felt I enjoyed the story much better while watching the japanese and taiwanese versions because there's more comedy and a better connection to all the students in the dorms. It's still a cute drama though, so people should try it out and see for themselves =]
Was this review helpful to you?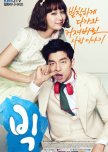 Big
3 people found this review helpful
As many others, I was excited to watch this drama since it was Gong Yoo's return to the drama scene and I'm also a big fan of Lee Min Jung. Unfortunately though, Big didn't live up to its hype. I honestly felt a bit disappointed, especially with the ending. Don't get me wrong, I enjoyed the drama, but it could've been way better than what it actually was.
The story itself started off really well. It was entertaining, it kept me interested in the relationships between Gil Da Ran, Kang Kyung Joon, and the mysterious Seo Yoon Jae, and it was really funny as well with much thanks to Baek Sung Hyun. But as the story progressed, I felt that it started to lose its way as there were many filler scenes that could've been used for more plot or character development. They also kept going back and forth with the "to love or not to love" dilemma between the main characters which made the story drag a bit. Although this is common for romantic dramas, this case was pretty excessive and became a repetitive occurrence which started to get old after awhile.
The cast lineup was great. For having a script with a story that somewhat lost its way, Gong Yoo and Lee Min Jung played their parts perfectly. Baek Sung Hyun also shined in his role as Da Ran's brother. He's actually one of the reasons I kept watching this drama since he always provided epic comic relief to all the drama going on. As for Shin Won Ho, despite being one of the main characters in the story, he barely got a chance to act at all, so if you're going to watch this because of him, I'd either pass on this one or just watch the first few episodes. In the time he was actually shown, he was great. If he had more opportunities to act in this drama, it probably would've been way more entertaining. And lastly, Suzy. I'm a fan of hers, but her acting wasn't noteworthy nor was it horrible either.
As for it's rewatch value, I doubt I'd watch it again. If I did though, I'd probably only watch the first few episodes because that was the best part in my opinion. The last two episodes were pretty disappointing and the end itself wasn't great either. It wasn't the worst I've seen, but it definitely left me wondering what the heck happened. There were many questions left unanswered because they decided to resolve the hyped climax within the last 10 minutes of the final episode. Why they didn't make better use of the last two episodes [or even more] for better closure to the story is beyond me. They had so many opportunities to make this story shine, but instead they let it run out of steam right midway into the drama.
I'd only recommend this if you have nothing else to watch. There are definitely some cute and hilarious moments that I enjoyed though and the chemistry between Gong Yoo and Lee Min Jung was great, so I'd say take a shot if you want to see it =]
Was this review helpful to you?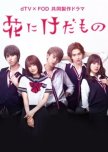 Like many other j-dramas, Hana ni Keda Mono is a live adaptation of a manga. I have not read the manga, so I will base my review on what was presented in the drama itself.
The plot starts out with a female student, Kumakura Kumi, who transfers schools and ends up falling in love with the most popular guy in school. Kakizono Hyo is known to be a playboy and he also steals her first kiss upon their first encounter. The story is very cliche; we've all heard of these plot lines before, but even so, I was curious to see if this could be a unique take on an overused plot. Unfortunately though, everything in this drama continued on the cliche path to the point where you can easily predict what will happen next, especially if you are an avid drama viewer. While trying to adapt to the new school, Kumi becomes friends with an outcast named Ogami Kanna, who is surrounded by many bad rumors due to her past that she has kept hidden. Eventually Kanna and other students Kumi becomes friends with become entangled in the complicated/romantic relationship that ensues between her and Hyo.
I can handle cheesy lines or scenes in some dramas, even if I'm not fond of them, but there were so many cringe-worthy scenes in this one that I ended up skipping through some. There are several scenes where it looks like the actors are going to kiss the camera or are talking straight into the camera as if the viewer is the main lead and it was just way too cringey for me. Filming aside, there was not much history or development given for any of the characters in this, so it was hard to connect with them unless one actually read the manga. I also lost interest in the relationship between the main leads and wished there had been more scenes to show the development between the side characters (Ogami Kanna & Hiyoshi Tatsuki) instead. The endless drama that kept happening between all the main characters could've easily been solved with proper communication, so it was frustrating to watch up to the very end.
ACTING/CAST: On a positive note, I did not expect oscar-worthy acting from anyone, especially for a high school drama. If I had to put it bluntly though, the acting was below average.
[Sugino Yosuke]: I initially started this drama because I was interested in Sugino Yosuke's works after seeing him in the second season of Good Morning Call, but out of the two dramas, this was hands down his weaker performance. I felt his acting was a bit too stiff and even some of his facial expressions were unconvincing (he was still superior to Nakamura Yurika), but overall a weak performance from him. I didn't feel any chemistry between him and the main lead like when he was in Good Morning Call. Even his recent cameo in Kakugo wa Iika Soko no Joshi was better than his acting in this drama. I hope he gets a better project in the future, so I can pretend this one never happened lol
[Nakamura Yurika]: Honestly, Yurika was the weakest link out of the cast lineup. She is very pretty, but her acting was stiff and her facial expressions didn't match what was going on in the story. She seemed very expressionless the whole time and I think that's partially why I didn't get invested into Kumi and Hyo's relationship. I didn't see or feel there way any chemistry, especially with how much they supposedly loved each other. There were also awkward hug scenes and exaggeration in other parts of Yurika's acting, such as one occasion where Kumi falls. She literally rolled several times on the ground lol Hopefully she can improve her acting over time.
[Matsuo Takashi]: Here's my guy! There wasn't much to Takashi's character because Izumi Chihaya is supposed to have a very quiet, calm demeanor and he also wasn't around some of the time. So with that in mind, he did play the quiet character well lol But the second lead syndrome was real for me. On one hand, I wanted Chihaya to get what he wanted and on the other, I think he deserved someone way better. This is my first time seeing Takashi in anything and I think he did ok, nothing above average. I might have to watch something else he's been in to get a better idea on his acting.
MUSIC: I was pleasantly surprised to see that Da- iCE sang the ost for this drama because I'm a fan of their music. They used their song "Waruguchi" as the main theme while various instrumentals were used for other scenes. If you haven't checked out anything from Da-iCE, I recommend doing so!
REWATCH VALUE: I would not watch this drama again, but I do think someone could watch it to pass the time. It's not a breakthrough drama, but it is still a high school romance and those who like that genre might enjoy it. I personally found it a bit too frustrating for my taste, but fans of the cast members might find it entertaining.
Was this review helpful to you?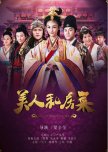 Before I get into my review, please keep in mind that my thoughts about this drama are based on what I understood from the raw episodes and my knowledge of the language itself is limited. Not zero, but limited. I had been waiting to watch this drama for a long time, but it was never subbed even up until now, so I ended up just watching it without them. If you're okay with that, then feel free to keep reading :)
STORY: The synopsis, although it is correct, had me confused while watching because the marriage to the leader of the rivaling country does not happen until the last portion of the drama. And I mean last. I literally watched 40 episodes and the marriage still hadn't happened yet. Everything seemed to get jumbled together in the final episodes which is something that I do not care for as a viewer, especially when I'm watching a drama that is 50 episodes long. When I read the synopsis, I was under the impression that the marriage was going to happen sometime in the beginning or the middle of the story, and maybe show how she managed to thrive as a chef and survive living amongst the enemy, all while watching her first love fight to save her, but I was very wrong (lol).
The story itself was familiar, with a royal having a birth secret and living as a commoner since childhood, as well as having a childhood sweetheart. The nice twist to this story is that Yu Die is a fantastic chef thanks to the talent of her adoptive mother and throughout the drama, she is cooking delicious food as she journeys through the country after an unfortunate event separates her from her adoptive family. Through her experiences and after spending time at the palace with the royal prince, whom she had met before, she eventually comes to learn her true identity as a royal princess. While I was interested in how/if her adoptive mother and her lover Li Ma would find her again, there was a lot of scheming both in the palace and at war between the rivaling countries that seemed to make up a good portion of the story. And of course a lot of cooking scenes which isn't helpful when you're hungry (lol). After so many episodes of the same thing, I started to lose interest and eventually stopped watching this drama for quite awhile before picking it up again. I really wanted to like this drama, especially since I loved the cast, but that was not enough to hold my interest. The way it ended was odd to me as well, I think they could've executed a better closing had they not crammed all the action to the final 10 episodes.
ACTING/CAST: I love both Zheng Shuang and Ma Tian Yu and was excited to see them together as main leads, but I can honestly say that this wasn't a stand-out drama for either of them. I believe they were in a previous drama together in the past as potential love interests, but I haven't watched it so I can't compare their performances. In this drama though, I wasn't able to get invested into the romantic relationship between their characters because most of the time they were separated. The characters would long for each other, but when they'd see each other, they would only hug and seemed a bit distant at times, which made me feel they had more a friend/sibling relationship rather than one of lovers. But they did look very cute together during their scenes. What I did like about Yu Die though is that she was persistent with her love for Li Ma, even after becoming royalty. Li Ma's character was different, in a sense that he seemed to feel unworthy of her love after learning about her birth secret even though he still loved her. Overall I did enjoy seeing how their love story played out. Steven Jiang played his part well as a royal and I liked how his character showed a different kind of love and affection for Yu Die. At times I felt like he had more chemistry with Zheng Shuang than Ma Tian Yu, but it might've also been because he had more screen time with her. This was my first time seeing him in a drama and his performance left a good impression.
MUSIC: There were only a few ost songs played and they were decent, but most of the time traditional instrumentals were used. Sometimes all you need are nice instrumentals to help carry the story of historical dramas and this was one of those cases.
REWATCH VALUE: I don't think I would sit down and watch this drama again even if it was fully subbed because I felt like it was too long . I don't think it needed to be 50 episodes, especially with the way they crammed everything together at the end. There are better historical dramas out there and I didn't feel there was anything that made this drama stand out on its own to set it apart from other dramas with similar themes. Fans of Zheng Shuang, Ma Tian Yu, and Steven Jiang might enjoy this, but they have other works that are more superior both story-wise and performance-wise. Nevertheless, it was still a decent watch and I'm still glad I decided to check it out.
Was this review helpful to you?