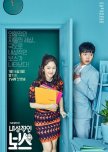 This review may contain spoilers
So, I started watching this drama a couple years after its release and got up to episode 3 before life got busy. Recently decided to pick it back up and enjoyed it a little less than when I first had in the beginning and here's why.
First off, the female lead was super invasive and annoying. She was supposed to be portrayed as a happy go lucky type of girl who didn't have a care in the world despite all that she's been through. With dreams of becoming an actress and a singer, she drops it in order to pursue a revenge on the people who killed her older sister ; her older sister, who was seemingly perfect in every way - obedient, soft-spoken, bright and friendly and easily got along well with others. This aspect of the story reminded me too much of 13 Reasons Why in that there is someone who killed herself and someone who loved her seeking for answers and some type of revenge. This part of the story was the only thing that really bugged me though.
The male lead, on the other hand, was, like the title says, introverted and shy, and came off as rude and scary. This, of course, was different from every drama or movie male lead I've ever seen and was a promising conversation starter for social anxiety and other mental health aspects in Korea (much like that of The Good Doctor). The interactions with him from other characters, really shows us how (Korean) society treats these kinds of people and how we can easily start assuming things about people without really getting to know them, thus spreading all sorts of unwanted rumors - which, for a person with social anxiety, is already unwanted.
I also really enjoyed how they showed with Yi Soo (Eun Ki's little sister), that someone who is bright and cheery and comes from a wealthy family, might have a dark story to tell that they're hiding. In sum, it shows that you really don't know what somebody else is going through no matter how close you are to the person. The drama painted a very dark picture revealing her suicide attempts and for her reasons why.
The story is supposed to be how Ro Woon changes Eun Ki for the better and does exactly that, but of course, a lot of effort from Eun Ki was needed. Of course, as other typical Korean dramas, Ro Woon just so happens to be the younger sister of Eun Ki's former and deceased secretary AND happens to be the girl he runs into on the first day Ro Woon is to show up for work at his company (Brain).
The love story and story in general, itself was quite slow, but, I actually really did enjoy the character development. Characters that you hated, in the beginning, become characters you easily start to understand or fall in love with and it is definitely a roller coaster of emotions. The drama shows that sometimes, things aren't exactly what they seem and that there are multiple sides to the same story, as we learn that Ro Woon's sister fell in love with Eun Ki, who was the love interest of Woo Il, who was the love interest of Yi Soo (Eun Ki's little sister). Fate can be dark and twisted and this drama was definitely a twist of events by the end.
From this, we learn that we should learn how to listen to others, to do something for others as it might bring a shining light into their life or into their day and be kind to others.
All in all, I definitely would suggest it to anyone who is into psychological drama and mental health.
Was this review helpful to you?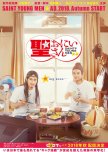 Firstly, this live-action series filled with shorts is loosely based on the anime and manga, which is also about the daily lives of Jesus and Buddha on Earth in Japan. However, this is more situated in the one-room apartment that they share and they don't go out at all. The casting choices for both Jesus and Buddha were spot on and I loved the details that they added from each religion. However, I do believe you do need an understanding of how Buddhism and Christianity/Catholicism (as well as Japanese culture) work in order to understand the religious aspects that they use for comedy - i.e. the use of "Amen" in katakana written on Jesus' T-shirt in one of the shorts. The show is extremely light-hearted and should be seen by all, despite its religious contexts. That being said, it is definitely not a show for hardcore atheists nor hardcore religious people. The show definitely brings the comedy into the religion, and, as a Catholic myself, it's definitely not an offensive show by any means. In fact, I had a good laugh at all the Catholic/Christian things that were mentioned. It is definitely something you can only watch once though.
Was this review helpful to you?