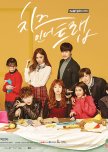 I think everyone is entitled to their opinion on the drama. I would be the last person to question why someone feels the way they do about it. If someone felt it went downhill and was terrible, that's valid. If someone thinks the overall experience was amazing, that's valid, along with all the other opinions people may have.
My advice: I think there's a general agreement that the beginning of the drama was strong. Watch it. If you get to the point where you're starting to doubt if you should continue or not, then make your decision and drop it or watch on. There's a reason people are talking, and people are angry. There are various reactions, but they're all strong reactions. Love it or hate it. I think that's the magic. So to new viewers, give it a chance and see where you stand.
To me this drama meant something. I could relate to it on so many levels and became really invested in the story and the characters. It's not the drama you can just watch and feel good about. It makes you think. Who are these people? Why do they act this way? It will make you laugh, cry, squeal, squirm, and rage. It's a slice of life drama, but(!) that's not to say that people who want to escape reality and dream of a happy romance won't be happy.
Again, just watch it. See why it's got everyone riled up, and where you stand. If that's not enough, it's got a kick-ass soundtrack, gorgeous actors and actresses portraying all sorts of personalities, and great wardrobe to inspire your outfits!
Was this review helpful to you?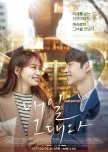 Let's get the elephant in the room out of the way -- Tomorrow With You is a slow burner. It is not an action packed, quick paced drama. This was not an issue for me, nor did it make the drama boring at all. I think this quality of the drama pairs well with the fact that the drama circles around the concept of living in the moment, enjoying life for what is, and reveling in the little things. It does have a more serious and melancholic vibe, although there are many comical and lighthearted moments sprinkled into each episode.
The plot of the drama is very meaningful and emotional. It deals with the subject of fate and destiny, and how sometimes there are things that are inevitable. There will be moments of frustration and annoyance that despite knowing the future, things still go a certain way, but it doesn't bog down the drama. The drama embraces the fact that some people tend to make the same kind of choices or refuse to change, but the characters and the plot adapt and keep the story rolling. In the end, it is a great reminder to be present, enjoy life's ups and downs, and to always be grateful, and all those other feel good life lessons. The drama also tackles issues like love and marriage, corporate greed and crime, family relationships, friendship and frenemies, and life's regret. Overall, I felt that the story had the appropriate pace and unfolded in accordance with it's vision and purpose.
The characters developed beautifully and I felt that as an audience member, I really got to know them and accept them for all their strengths and weaknesses. The changes in the characters were gradual and reflective of what they were going through in the story. The actors did a great job in their respective roles, and were really effective in conveying deep emotions in dramatic scenes, as well as comedy in those lighthearted moments. I also love how it didn't shy away from kisses and love scenes (though still very demure). The couples in the drama had electrifying chemistry with each other, and even the whole group as friends really had a natural feel to it.
The music was composed of more emotional slow songs and ballads. Understandable given the context of the drama, but I still really enjoyed them.
It's a great (re)watch and always gave me something to look forward to on the weekends. I hope people out there decide to watch it or at least give it a try.
Was this review helpful to you?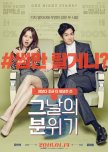 Such a great feel good movie. Really light fun story, with a great cast, and set in the beautiful city of Busan. It has just enough drama to make your heart squeeze, and the characters and the relationships are developed at a great pace. The one night stand is a common rom-com theme, but I think what sets these movies apart from one another is the way they make that brief encounter meaningful. I think the movie was successful in adding depth in a way that makes the development in the story, particularly the characters' relationship, believable.
Definitely worth your time!
Was this review helpful to you?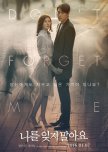 To be honest, it's difficult to write a review about Don't Forget Me. Given the context of the plot, the film strikes many emotional cords, but to discuss them would give the movie away. Here's my best effort:
Don't Forget Me is a film that tackles heavy and sensitive subject matter. It's a story about dealing with grief and struggling to cope with ones reality, and the frustrated dedication of those that love and support the bereaved. The movie is a slow burner. The story takes its time unfolding — you wonder what the intentions of the characters are, what this is really all leading to. Suddenly, the movie comes into its own, and it's like you've been hit by a truck. You were fine, and then you're in tears. You suddenly realise the depth of the movie, that you really were watch a true romance but you didn't know the extent of it til the moment it hit you. Suddenly you see that every character has a purpose, and every character acted the way they did for a reason.
It's a beautiful film, and for those of you, who like me, have tried to be a pillar of strength for someone, this is definitely one you can relate to.
If you're looking for something bright and light, this isn't it. But I urge you to come back again when it suits your mood.
Was this review helpful to you?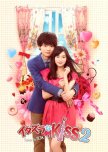 Instead of talking specifically about how endearing the lead couple is, or how the fun and silly plot elicits both squeals of exuberance and laughter, I want to talk about the value of this drama. I think the other reviews sufficiently cover the basic points.
Most of the time (not always), dramas spend an entire season just bringing a shy, hesitant, or resistant couple together. Once all those trials and conflicts have been resolved and the couple is ready for their happy ending, the dramas is over; sometimes we get a sneak peek of their future through a time leap. I always wondered why dramas couldn't go on to show the happy lives of couples we've invested so many emotions and late nights binge watching, in. Maybe it was because they thought it would be boring to watch a happy couple, vis-a-vis the exciting and turbulent "are we? or aren't we?" phase of a relationship. I don't know, that's just my speculation, you tell me.
With that in mind, this drama really gave me what I've always wanted and proved that there is a story to be told in happily ever after. While there is no longer that back and forth development, or the anxiety of "will they end up together?" since Irie-kun and Kotoko-chan are already married, there are still a lot of adventures and romance to be had. Silly scenarios, and some more realistic life challenges and disturbances in a marriage, keep the story moving and audiences engaged. Watching the characters develop and grow as individuals and as partners in a marriage was so enjoyable, and really you just never get tired of seeing this pairing together.
I hope we have more dramas like this, that really allow us to journey on with our favourite characters. Moreover, the interplay between Kotoko's loud rambunctious way of expressing her love and Irie's more quiet and discreet expression, makes for all the excitement you need.
Was this review helpful to you?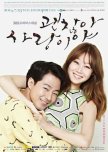 Wow. Amazing. Seriously. One of the decisions, I thank myself for making.
I felt so compelled to watch just from the first 5 minutes of the pilot episode, which is so rare.
The story is amazing. Multi-faceted, well paced, interesting, enlightening; the accolades and adjectives could go on and on. The drama never had to rely on ridiculous twists and turns to keep it interesting. By dissecting the characters, and keeping the storyline introspective, the drama successfully added depth and dimension without any crazy hat tricks that come out of nowhere. Probably because the plot didn't really need great upsets to get the story moving. It's so fluid and just a total pleasure to watch. Each episode always led to the next, and by the time you realise it you've marathon-ed the entire series.
I loved how the drama was able to move from heavy topics, to playful banter, hilarious comedy, and deeply romantic moments with ease! Each scene was thoughtful and had purpose.
The characters were diverse, beautiful, insightful -- everything you want them to be. I was not irritated by a single character. They all served their purpose in the plot. They had their own story. The actors did a great job!
Soundtrack. Download. Great for that car ride to school/work.
Most importantly, the message of the drama is so important and relevant. Being aware, open-minded, and acknowledging mental illness is something society needs to be exposed to more. Fight the stigma and find beauty in others.
Was this review helpful to you?