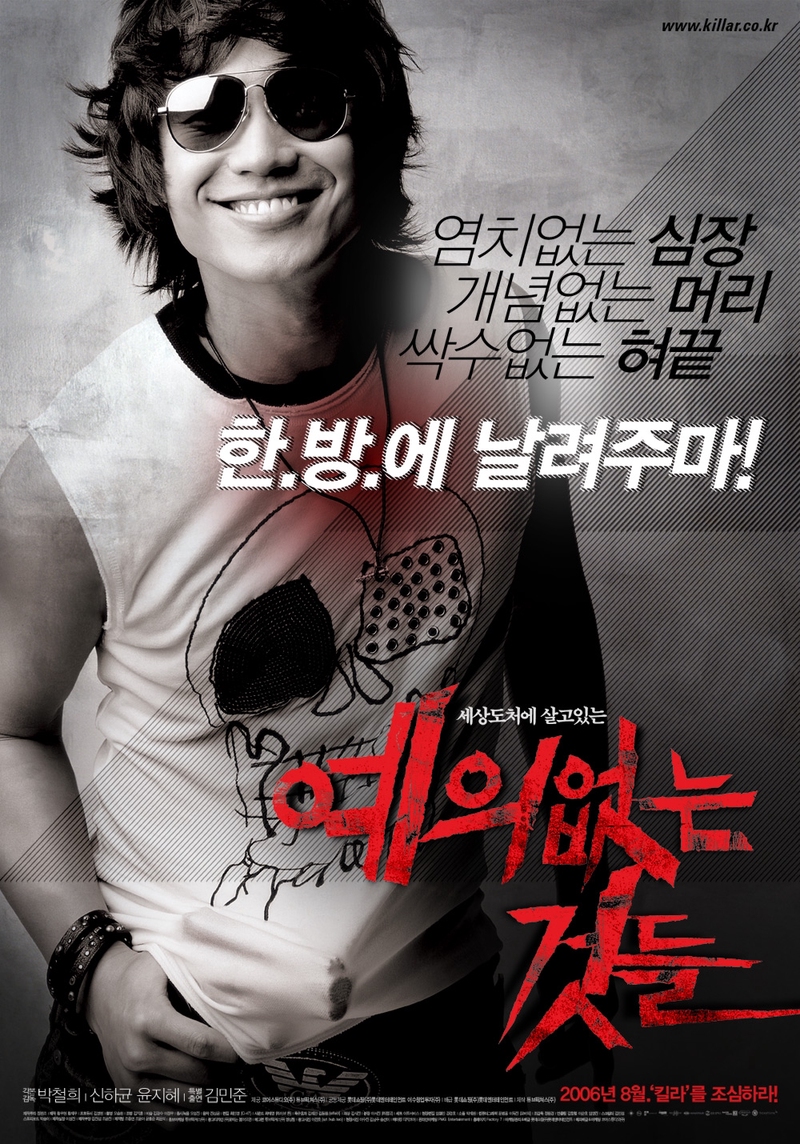 No Mercy For The Rude

(2006)

Killa is a hired assassin who is also mute by choice. As a child he grew up in an orphanage and spoke with a lisp. Since that time Killer has never spoken. He spends his free time alone, watching bullfights on TV and eating seafood.

Killa has decided to get surgery to correct his speech impediment. To pay for the operation Killa is taking on hits, but he will only kill those read morethat are rude and nasty. He then meets a bar girl who comes in and out of his life as she wishes. Killa also takes in a street kid and the three of them become an informal family.

Killa's life seems to be headed on the right track, but the last hit job turns his life upside down.
Native title:

예의없는 것들

Also Known as:

Yeuieomneun Geotdeul;
Overall

7.0

Story

7.0

Acting/Cast

9.0

Music

7.0

Rewatch Value

7.0
Little talked about and hard to find, No Mercy For The Rude is an unusual little Shin Ha Kyun vehicle. It doesn't manage to break any molds for any of its genres, but this film still manages to be entertaining and easy to watch. I'd even call it a decent gateway film for those of you seeking to ease friends and family into Korean film. Its charms are foreign enough to be
read more
interesting, while having an undeniable western flavor.

Much of the appeal can be attributed to Shin Ha Kyun himself; his "Killer" is a mute who only communicates physically with other characters and through internal monologue with the audience. It's amazing how much he's able to convey with just body language and facial expressions! In particular, there's a scene with the female lead where you could tell exactly what he was thinking...just by a few subtle physical cues. His narration is also incredibly charming and often hilarious. Another interesting character is played by Kim Min Joon: an ex-ballet dancer with a philosophical heart...and wicked knife skills. "Ballet" had the best action sequences in the film as well, since he incorporated his dancing into his battle style. It's too bad there weren't more of them; while Shin Ha Kyun did a great job on his own fight sequences, they weren't nearly as compelling.

On the story front, all is generally solid. It's unremarkable aside from the characters, quirks, and instances of strangeness... but these are enough to keep it all afloat. The comedy even works well and generates genuine laughs. A specific grace this film has is its ending, however; it is a satisfying, though bittersweet, conclusion that works great with the rest of the story.

Honestly if you can find it, give it a try. No Mercy For The Rude should keep you entertained for a few hours at least. Just be careful if you're weak with blood, because there's a decent amount!