The Beaksang Arts Awards is an annual ceremony to attract the public's attention to the best of South Korean film and television. I would say the winners list is not a big surprise considering that many amazing names weren't even nominated. But overall, it's logical and mostly deserved for those who took home some shiny trophies.
Song Kang Ho and Jeon Ji hyun were the king and queen of the night winning two precious Daesangs, but Kim Soo Hyun must've been the luckiest prince since he took home three trophies.
Film Awards:
Grand Prize (Daesang): Song Kang Ho (The Attorney)
There is no doubt that 2013 was Song Kang Ho ahjussi's year. He starred in three films in 2013 (The Face Reader, The Attorney, Snowpiercer) and all of them were box office hits. So being nominated for the Daesang for the three films is something normal. A veteran actor like Kang Ho who made it to international "Best films' actors" list definitely deserves the Daesang 100%
Best Film: The Attorney
I haven't seen this film yet but it does seem like an intriguing watch. I will move it to the top of my Watch List as soon as possible.
Best Director: Bong Joon Ho (Snowpiercer)
Best Leading Actor: Sol Kyung Gu (Hope)
Best Leading Actress: Shim Eun Kyung (Miss Granny)
No wonder the girl refused the main role for Nodame Cantabile, she's getting her feet immersed in the world of films. Dramas are not her thing anymore. Good choice girl, focus on your acting and films' career.
Now leaving the winners, acting, and films aside...Is she really wearing the same dress Park Se Young wore for last year's Beaksang Arts Awards? Did she borrow it or something?
Best Supporting Actor: Lee Jung Jae (Face Reader)
Aww, ahjussi's arm is hurt but he sure did come with class! Lee Jung Jae is one of the better films' stars in Korea these years, I am always looking forward to more of his work.
Best Supporting Actress: Jin Kyung (Cold Eyes)
I remember her role in that film. She was pretty cool and daring in it. Cold Eyes is a fast paced film - in case you're interested in a good Korean thriller.
Best Screenplay: Kim Ji Hye, Jo Joong Hoon (Hope)
Best New Director: Yang Woo Seok (The Attorney)
He sure did deserve that one with 'The Attorney'  being a Box Office hit. Moreover, The Attorney took over the Baeksang: - It won a Daesang, best film, and best new director.
Best New Actor: Kim Soo Hyun (Covertly)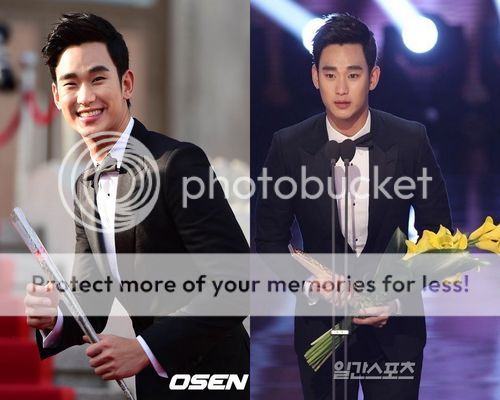 That's the first award of the evening, there's more to come! And man, the guy looks gorgeous!
Best New Actress: Kim Hyang Gi (Elegant Lie)
Most Popular (Male): Kim Soo Hyun (Covertly)
Ta Da! The second award of the evening!
Most Popular (Female): Kwon Yuri (No Breathing)
Television Awards:
Grand Prize (Daesang): Jun Ji Hyun (Man from the Stars)
I am telling you, the girl rocked so badly in that drama! I reached the point where I solely watched because of her since she made it all watchable and enjoyable. Also, she looks so pretty in that dress.
Best TV Drama: Good Doctor
*Shock* I never thought that Good Doctor would be selected as the best drama of the year. I am still shocked in a bad way.
Best Entertainment Program (variety show, sitcom): Grandpas Over Flowers
Best Educational/Cultural Show: I Want to Know That
Best Director: Ahn Pan Seok (Secret Love Affair)
The drama just ended and he gets an award for directing it? Lucky man.
Best Leading Actor: Jo Jae Hyun (Jeong Do Jeon)
Best Leading Actress: Lee Bo Young (I Hear Your Voice)
No Daesang this time, Jun Ji Hyun wins by miles.
Best Writing: Jung Sung Joo (Secret Love Affair)
Two trophies were won thanks to Secret Love Affair. I wonder who would have gotten these awards if the drama was still airing.
Best New Actor: Jung Woo (Answer Me 1994)
No surprise in him winning the "Best New Actor". When Reply 1994 was airing, he made South Korea go crazy over him.
Best New Actress: Baek Jin Hee (Empress Ki)
Most Popular (Male): Kim Soo Hyun (Man From the Stars)
He won an award in BOTH the film and television section! Lucky man!
Most Popular (Female): Park Shin Hye (Heirs)
Oh it's Park Shin Hye again *retreats in silence*
Best Variety Performer (Male): Shin Dong Yub (Witch Hunt)
Best Variety Performer (Female): Kim Young Hee (Gag Concert)
OST Award: Lyn ("My Destiny", Man from the Stars)
---
These were the winners of the annual Beaksang Arts Award. I am rather disappointed that neither Ha Jung Woo nor his 2013 films were mentioned at the awards. I felt like 'The Terror Live' definitely deserved an award. Some other dramas and their main leads didn't make it to the 50th Beaksang Arts awards either, even though they were quite good. However, it was good enough. It wasn't perfect, but it was still way better than the end of the year MBC, KBS and SBS award ceremonies combined.