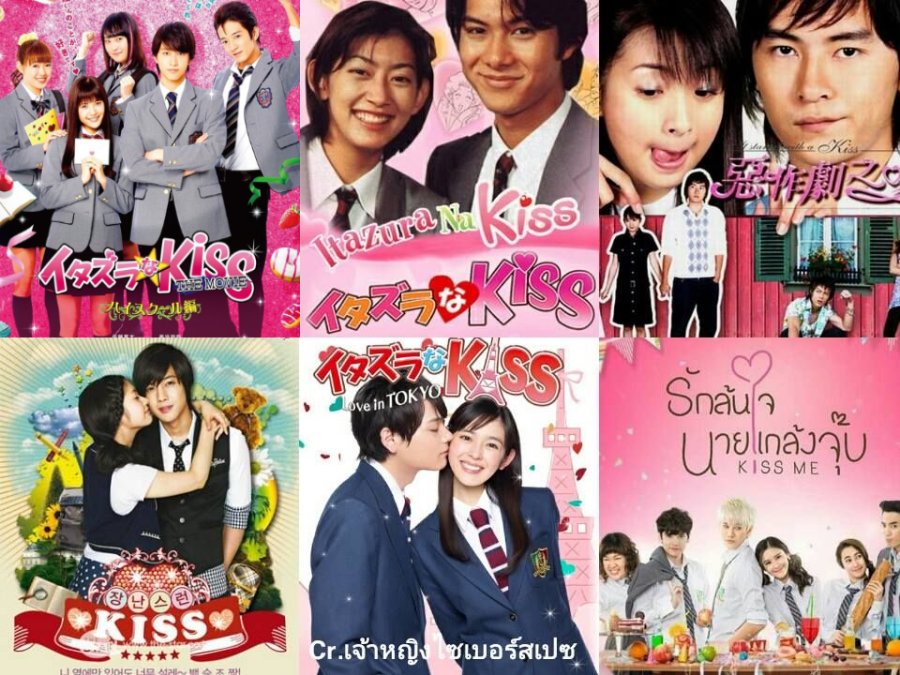 Itazura Na Kiss is a fantastic story, but the reality is that it is a bit outdated and doesn't reflect society nowadays, no matter how romantic and biased one is to one or all the identical adaptions of the story. Change the cast, the country, the music, and everything else has been pretty much... similar with several degrees of blandness. Despite this, Itazura Na Kiss is still Itazura Na Kiss and fans will always watch any new versions of the story.
You know Oreo? Owned by Nabisco & Cadbury, the famous sandwich cookie was introduced in the US market back in 1912. Over the years, the brand has introduced new flavours, some were market-specific, e.g. Green Tea Oreo (Japanese & Chinese markets), some were limited editions, e.g. Red Velvet Oreo (2015). Those that love Oreo will try whatever new Oreo they find, just because it's Oreo. The same goes for Itazura Na Kiss.
Edward Lewis, the lead male character from the movie Pretty Woman (portrayed by the illustrious Richard Gere) once said: "People's reaction to opera the first time they see it is very dramatic;  they either love it or they hate it. If they love it, they will always love it. If they don't, they may learn to appreciate it, but it will never become a part of their soul." The very same can be said about Kaoru Tada's shojo series with the exception of the word 'dramatic', which is better replaced with 'cute' or 'baffling', perhaps?
Nonewithstanding, Itazura Na Kiss is and shall always remain iconic. Let's take a look at the manga and the anime of one of the most talked-about shojo series of all time.



Itazura Na Kiss is a shojo manga created and illustrated by Kaoru Tada, who passed away before it was finished. The artist had, however, planned out the finale, which was later shown in the anime version of the series.
The manga is a love pursuit story about a silly girl with bad grades, Kotoko, who has always been madly in love with Naoki, the smartest and most handsome guy in the school, and works very hard to be loved in return. Itazura Na Kiss was published in 1990 by Shueisha and became increasingly popular in Japan very quickly, making it one of the best-known manga series of all time.



Itazura Na Kiss anime had 25 episodes and aired on TBS in 2008.
MDL User OldAnimeLady: I agree with everything Patricia says below.  I feel like this was so much better done than my first exposure to Irie and Kotoko, and it gave me hope to watch the rest to see how they measure up to this awesome story.
MDL User Patricia: The anime covered the entire manga and what was interesting was the fact that Kotoko wasn't portrayed as a stalker and a complete dimwit, rather than a simple girl who actively pursued the boy she loved and whom she was devoted to, Naoki. He, despite being a man with a brilliant IQ, struggled to juggle his duty as a son to follow his father's footsteps and his vocation to become a doctor as well as acknowledging his love for Kotoko. He is shown in a very human manner similar to Kinnosuke, at opposite ends of the scale intellectually, professionally, and love-wise. The episodes were very symbiotic and the drawings a simple beautiful aquarelle.
While Itazura Na Kiss as a story is slightly utopian in the way that it aims for the happy ending that romantics continue to idealize and crave for, the story promotes the 'obsession of a girl for a guy' instead of the 'love' factor and there's the difference. Why would a girl continue to pursue a guy that has blatantly humiliated her in public and treated her badly? Why? To show that dumb women can actually marry smart men or that men are naturally smarter than women? Maybe Itazura Na Kiss wanted to show that women are subordinates of men and subservient, if not at work, then at home. Ideas that don't go hand in hand with equality between genres. The suffragist movement in Japan can be traced back to 1868, although it only developed in the 1920's, nonetheless, the story dates from 1990.
Perhaps if Itazura Na Kiss had been more contemporary then who knows, Kotoko might be a fan of BTS and would have actually loved herself first! Perhaps if Kotoko had attended a BTS concert, she'd fall head over heels in love with Jimin instead of Naoki and perhaps she would have dropped the mic and found the best of herself and understood that idiocy is not in her DNA and she should love herself first. One can only hope!
Regardless, Itazura Na Kiss is a classic story with versions that may not appeal to everyone, and it has hardcore fans that justify the investment of remaking and adapting it over and over and over again. Let's take a look at the live action versions in an ascending chronological order.



MDL Rating: 6.3/10 from 2713 users.
MDL User OldAnimeLady: This show shows the characters' high school years over a span of 9 episodes. I take that back, they also cram college into the last episode and a half.  You really feel his indecisiveness and not knowing what he is going through. And not knowing it's sending him into total confusion. So while he is rude to her, it comes off as more of a barricade than being rude for rudeness' sake. The parents are comical, and Yuuki needs a swift kick in the pants, but those are the characters. I rated this 9/10.
MDL User Patricia:
 It's easy to look back at Itazura Na Kiss (1996) and number all its faults and imperfections which are many when compared to the modern versions of the story this side of the 21st century. The drama only depicted one part of the story as the manga was still under publication; the acting was too simple, although exaggerated at times, though that might have been an accomplished aim of the script, and visually, the story lacked appeal. Notwithstanding, when looking at the drama from a 1990's perspective, it was pretty interesting as it was Itazura Na Kiss' first live-action version, and one fans were really looking forward to. I rated this drama 6.5/10.

It Started With A Kiss MDL Rating: 8.2/10 from 11756 users.
They Kiss Again MDL Rating: 8.3/10 from 8201 users.
MDL User Patricia: One word: Iconic! That's it! But not quite. This was the story's introduction to many international viewers, the one that made hearts flutter, produced a global canopy of giggles everywhere and fortunately had a season 2. Perfect? Yep, it was!
Ariel Lin
,
Joe Chang
,
Jiro Wang
,
Aaron Yan
, do I have to say anything else?
Yuan Xiang Qin was silly and naive, but not totally dumb; Jiang Zhi Shu was aloof but not totally arrogant like a king perked up upon his castle with a view of the villagers. He was a middle version of Mr. Darcy in the 1995 BBC adaptation of Pride & Prejudice, and Mr. Darcy in Bridget Jones Diary, both of which were poetically performed by Colin Firth.
Jin Yuan Feng was cute, sweet, and hilarious! Jiro Wang's acting skills are no joke and his presence on screen is mesmerizing. Should Xiang Qin end up with Zhi Shu or with Yuan Feng? This was an inner debate throughout the show. In the end, there was this wish that the end should have been open so that Yuan Feng shippers could mentally create an alternate reality where Xiang Qin ended up with him as this was the only version where he truly, madly, deeply deserved to be with her. Joe Cheng was amazing, but Jiro Wang stole the show. For all of those reasons, my rating for both seasons is 8/10.

MDL Rating: 7.4/10 from 24042 users.
MDL User Patricia
: What was good about this drama? The visuals. What was bad? Everything else. Could Go Eun-nim please re-write it, do another version, and erase this one from the memories of all Itazura Na Kiss fans and overall fans of K-Dramas?
Kim Hyun Joong
was
 a big star back in 2010 following his success as Yoon Ji Hoo in 2009 drama
Boys Over Flowers
. Such a hot actor in another famous manga live-action remake was bound to generate a lot of buzz with matching ratings. It was expected. What wasn't expected was the opposite. While Boys Over Flowers was a hit, Playful Kiss was an utter... failure, domestically. The acting was dreadful from the beginning to the end. Kim Hyun Joong as Baek Seung Jo was bland and tedious and monotonous. He's supposed to play a guy with a state of the art intelligence and an IQ of 200 in Korea, not in Wonderland where he seemed to be living.
The adaptation to Korean reality was interesting, although unnecessary and idiotic. Grades are really important, that's understandable, but Baek Seung Jo marking Oh Ha Ni's love letter to him, really? Couldn't he have just accepted it and then thrown it away? Did he have to add insult to injury and humiliate her? Who on earth did he think he was? Detestable!
Jung So Min
's Oh Ha Ni was flat, and the second lead, what exactly was he doing most of the time? The soundtrack was good but nothing special. Overall, only a new Korean remake of Playful Kiss might save this drama and that's unfortunately not in the works. This was the worst version of Itazura Na Kiss for me, but I was generous and gave it a 5/10 when in reality, I wanted to give it a 2.5/10.

MDL Rating: 7.2/10 from 253 users.
MDL User Patricia: Say That You Love Me, a loose adaptation of Kaoru Tada's Itazura Na Kiss, appears to strive to distance itself from the original work rather than honouring it in a unique manner like Bridget Jones or Lost in Austen did with Pride and Prejudice, whose Mr. Darcy's brilliancy everyone seems to want to emulate one way or another in a male protagonist, which didn't happen. Here, a lot didn't happen! The story dragged and dragged, the performances were below average and the storyline way too far fetched and strange at times. My rating for Say That You Love Me is 4/10.

Season 1 MDL Rating: 8.1/10 from 10,268 users.
Okinawa MDL Rating: 8.2/10 from 4,232 users.
 Season 2 MDL Rating: 8.4/10 from 5,929 users.
MDL User OldAnimeLady: This was the first J-Drama I ever watched.  Before this, the only Asian shows I watched were martial arts movies. I don't watch typical American girlie shows.  Movies like Sisterhood of the Travelling Pants and the Hallmark channel put me to sleep so who knew this was going to push me into an obsession.

Now that I have watched the anime, I see that this was true to the original concept, only the role of Christine "Chris" changed from the anime to this adaptation. I have not read the manga so Chris' role may be true in the anime and not this. My rating for all three is 7/10.
MDL User Patricia: Following the debacle of Playful Kiss, Itazura Na Kiss - Love in Tokyo was a pleasant surprise although stereotypical and cliché.

Honoka Miki
p
layed Kotoko really well with the strength of a character constantly in Duracell Batteries Mode, yet sometimes it was too much. All that energy could have done with a few breaks in her marathon to get Naoki's attention.
Yuki Furukawa
's performance of Naoki was more engaging with his unchanging arctic poker face hiding a warm heart and eyes that spoke volumes.

The 10-year age gap, however, was always present. Honoka Miki was 16 years old when Itazura Na Kiss -Love in Tokyo was filmed back in 2013, and Yuki was 26 years old. This was reflected in the way the characters were performed, with Kotoko going hyper crazy in love as the actress was a teenager, and Naoki being a calm young adult, more mature as Yuki was in his mid-twenties. I gave Itazura Na Kiss - Love in Tokyo a 7/10 rating & Love in Tokyo 2 & Love in Okinawa a 6.5/10 each.

MDL Rating: 8.5/10 from 3109 users.
MDL User Patricia: Kiss Me, instead of sticking to the original and becoming known as just another remake of the story, gave it its own spin and turned it into a modern show without compromising the essential storyline.
Naoki aka Tenten is fantastic to watch. He's relatable as a person, not the arrogant genius every other version tried to make him. Yes, he's a genius, but he's human and the humanity of the character that
Mike D'Angelo
portrays is what separates Tenten from all the other versions. Tenten is by far the most complete character of all the versions. Kotoko aka Taliw... she's sweet and clueless at times and she's simple, but caring and genuinely in love with Tenten without going overboard or being annoying like other versions, which makes me like the character and empathize with her.
Aom Sushar
 performed Taliw  brilliantly.
Kiss Me is not a copy paste of the other versions, making it more authentic and interesting to watch. The soundtrack is also quite good. For all of those reasons, I gave Kiss Me a 9.5/10 rating.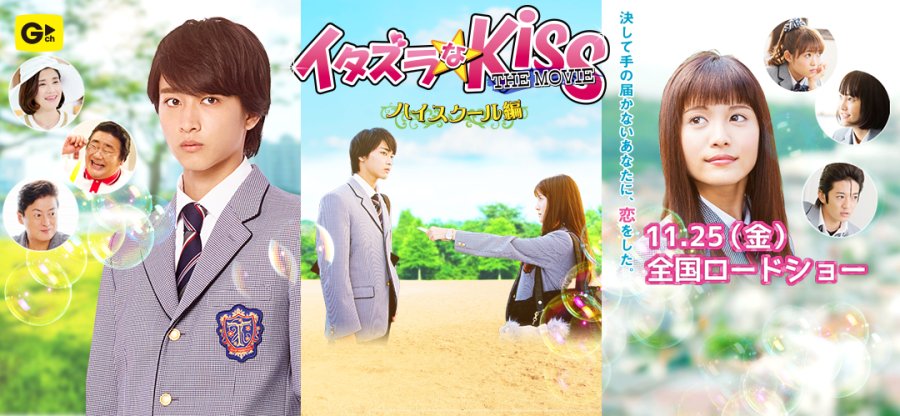 MK1 MDL Rating: 7.4/10 from 832 users.
MK2 MDL Rating: 7.6/10 from 353 users.
MK3 MDL Rating: 7.4/10 from 131 users.
MDL User OldAnimeLady: In Mischievous Kiss 1, I dislike one important event they changed from the anime/manga to make it seem due to her clumsiness versus her mind when it comes to Irie. Putting him above everyone, including herself. Other than that, the streamlining went smoothly and the story was told well. I rated it 7.5/10.
Mischievous Kiss 2 was a good middle movie, which I also rated 7.5/10. Mischievous Kiss 3 was the best, but I wonder if they are going to make more movies to finish the story (honeymoon and doctorate years). I rated this 9/10.
MDL User Patricia: The difference between Itazura Na Kiss drama adaptations/remakes and the movies is the time the writers have to tell the story, yet it doesn't necessarily mean that the dramas are better or the movies are worse. The big difference:
Shimon Okura
. As Kinnousuke Ikezawa he was phenomenal. He looks so much like his anime counterpart that it's surreal, and his mannerisms, all the perfection of the anime was in a live-version mode. A pure pleasure to watch.
Sato Kanta
 was a revelation. It was easy to see him as Naoki with the naturality he brought to the character on screen. Kotoko was also well-performed by
Reina Visa
. She was not overly exaggerated and that has contributed to the enjoyment of the trilogy, which despite not being perfect, was entertaining and full of warmth visually, that is, in terms of cinematography. My rating for MK1 was 7.5/10 and for MK2 and 3, 8.5/10 each.

MDL Rating: 7.7/10 from 779 users.
MDL User Patricia: It took a colossal effort not to compare Miss in Kiss to It Started With a Kiss, both made in Taiwan, albeit a decade apart. Considering the cult status of It Started With a Kiss within the Itazura Na Kiss fandom, a new version of the story would have to be brilliant to be better and it wasn't when compared to it, not even close, but it was ok when watched without comparing it to the older version.
The story really lacked originality, within the scope it can be given to a remake, and more often than not was a repetition of scenes from previous versions portrayed through pure imitation which didn't do Miss in Kiss any favours. Xiang Yue Qin was way too childish, way too much, and an obnoxiously clueless girl, except
Esther Wu
 couldn't pull an Alicia Silverstone even if she tried.
Jiang Zhi Shu might have had a high IQ, but his emotional intelligence was borderline zero, as was his ongoing aloofness. Maybe it was how the character was written, maybe it was how
Lee Dino
 chose to interpret it but the two didn't match. That's not good or bad, it just is. Some things just don't match. On the other hand,
Gong Yi Teng
 was spot-on in terms of casting and performance. He was lucky as it seemed that the writers wanted to enhance the appeal of the second male lead, Jin Zhi Zhu, and if that was their objective, congratulations, it totally worked. My rating for Miss in Kiss was 6.5/10.
---
Have you watched any of these versions?
If so, which do you like the most and why? Which do you like the least?
If you haven't watched any Itazura Na Kiss version, do you plan to? Share your thoughts below!