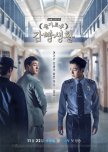 A- THE SCREENWRITER!
The screenwriter is very talented and should be recognized more. My favorite drama, reply 1988 was written also by the same screenwriter. Every time this person works on a drama, not only he creates characters that you would enjoy watching during the drama, but also characters that feels like family members to you. Literally i felt like saying my goodbyes to important people in my life when this drama ended, and when reply 1988 ended as well.
I might sound stupid for people who didn't feel the same watching this drama or reply 1988, or for those who haven't watched any. but honestly that's how i feel finishing those two dramas.
B. ACTING!
*Choi moo sung, this man is seriously one of a kind. just give him whatever character, and he would 100% master it. and this was also the case in prison playbook.
*This was actually the first drama i watched for the main lead, Park Hae Soo, but will not be the last, he seriously played his role perfectly!
*I don't really have something to say about jung kyung ho. Although he is one of my favorite korean actors and one of the reasons why i started watching prison playbook, but his role here was not as massive as i thought it would be. OF COURSE his acting is great as always!. but just for those who are considering this drama for the sole purpose of kyung ho being in it, DO WATCH because definitely you're going to be hooked and ignore the fact that you're watching just for kyung ho.
C. OST!
PERFECT
D. OVERALL
 Black comedy is not an easy genre. It is one of the best, and hardest to achieve. and doing this kind of dramas without pulling audiences into a big black hole of tragedy is the hardest. You will never feel tired or would want to take a break from watching this drama, because every episode is filled with the right amount of comedy and the right amount of drama. I'm very satisfied! cannot say anymore but IT DESERVES THE HIGH RATINGS, I CAN GUARANTEE THAT.
Was this review helpful to you?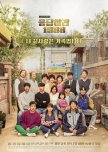 *CRYING*
Why did this thing end ? i miss them already.
Everything in this drama is perfect for me !
A great combination of romance , comedy ,family , friendship acted by an outstanding cast.
I am emotionally attached to each and every character in this drama.
OST(s) were all awesome!
No villains , No headache , Very heartwarming.
Best slice of life drama from the ones that i've watched.
SALUTE to all the people who worked on it.
I really wanted to write a good long review on this drama but can't think of words to describe this masterpiece seriously.
Worth the 20 episodes.
In my opinion this was the best out of the reply series.
Was this review helpful to you?