Details
Last Online: Aug 2, 2015
Location: United States
Total Edits: 16
Birthday: May 23
Roles:
Join Date: February 17, 2013

pinkatnight
United States
pinkatnight
United States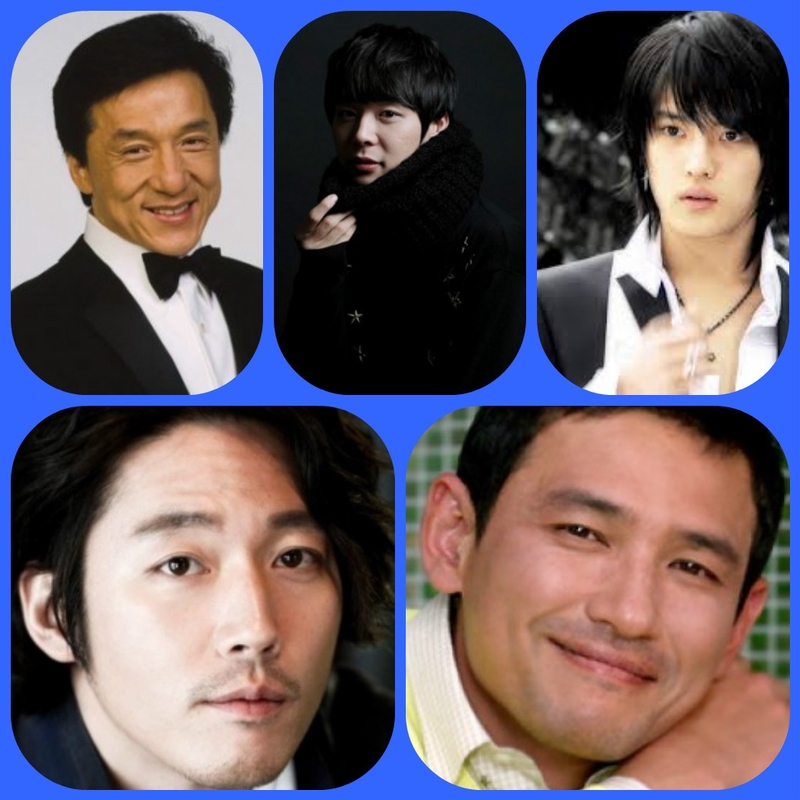 1.Chan Jackie  
  (Wan Ming/Die Hard/John Ma/Boomer/Twin Dragons)(Who Am I/Who Am I? )
  (Han's henchman/Enter the Dragon)(Fong Ka Ho/Rob B Hood)(General Huo An/Dragon Blade)
2. Park Yoochun
  (Dong Shik/Sea Fog)(Han Jung Woo/Missing You)(Park Yoochun/Dating On Earth)(Lee Kak/Yong Tae   Yong/Rooftop Prince)   (Lee Sun Joon/Sungkyunkwan Scandal)(The Masked Fencer Slave Yoo Chun/The   Masked fencer)    (Micky Yoochun/Gong Gil/The King's Man)(Three Days)
3. Kim Jae Joong  
  (Choi Hyun/Codename:Jackal)(Jae Joong/Dating On Earth)(Kim Kyung Tak/Time Slip Dr. Jin)   (Cha Moo   Won/Protect the Boss)(Hero JaeJoong/Dangerous Love)(himself/The Uninvited Guest)
4.Jang Hyuk  
  (Wang So-Prince of Goryeo/Shine or Go Crazy)(Ddol Bok/Kang Chae Yoon/A Tree With Deep Roots )     (Lee Gun/Fated to Love You)(Park Moon Su/Please Teach Me English)(Gwon Tae San/Dance Of The   Dragon) (Kim Kyeong-su/Volcano High)(Joon Gi/Thorn)(Kang Ji Goo/The Fl(Myung Woo/Windstruck) 
  (Eun-seol/Maybe)
5. Hwang Jeong Min    
  (Superman/A Man who was Superman)(Goo Dong Baek/That Fool)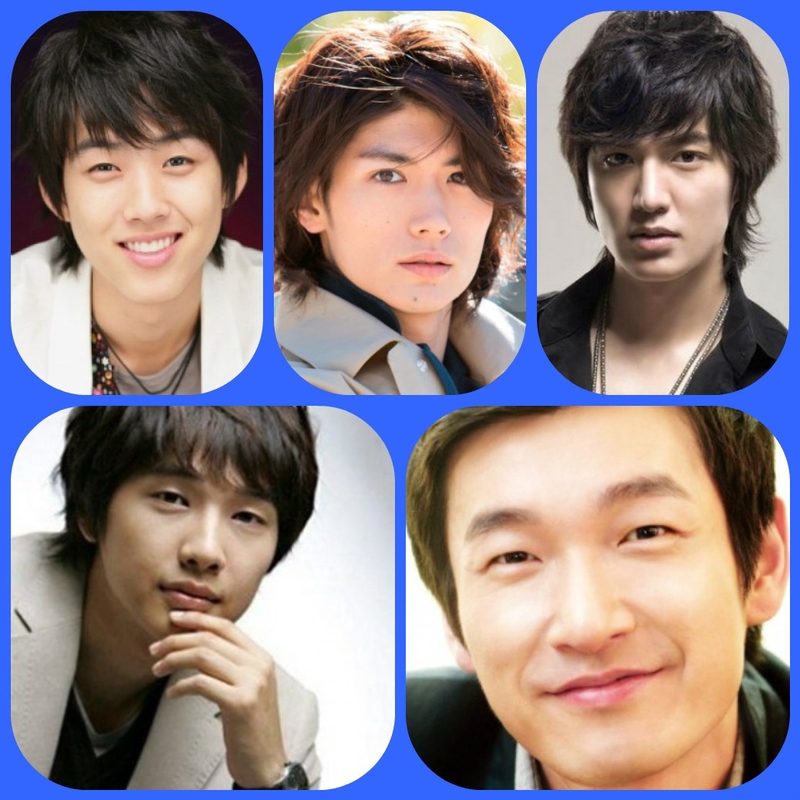 6. Baek Sung Hyun  (Baek Seong Hyeon)  
  (Han Sang Chul/That Fool)
7.Miura Haruma
   (Saeki Hiroto/Last Cinderella) 
8.Lee Min Ho  (87)    
   (Jeon Jin Ho/Personal Taste)(General Choi Young/Faith) 
9.Ji Hyun Woo   
   (Kim Boong Do/Queen In Hyun's Man)(Choi Suk Bong/The Birth of the Rich)    
10. Jo Seung Woo
   (Mu Myeong/The Sword With No Name)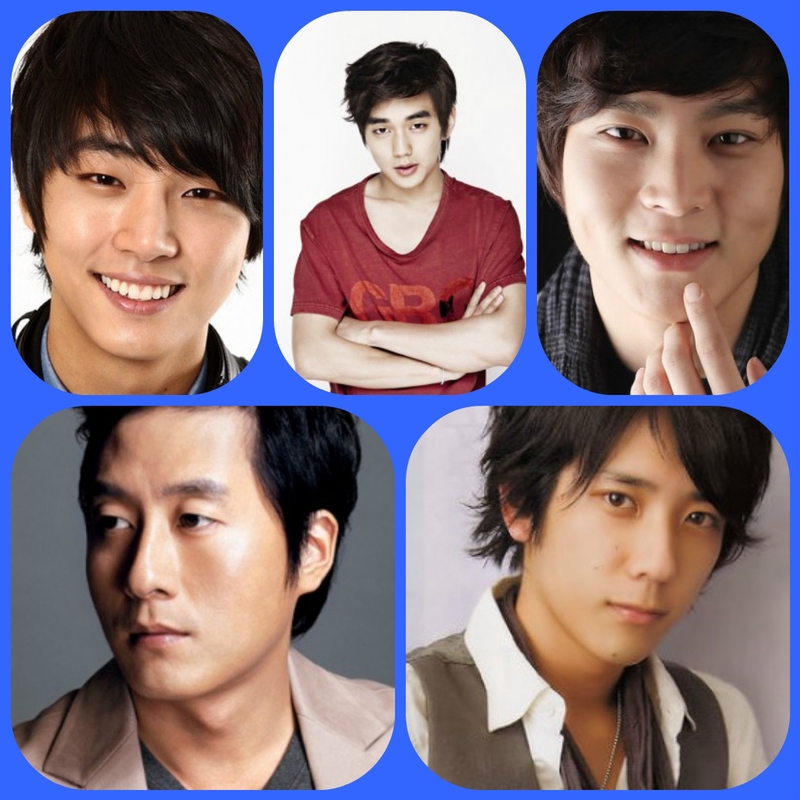 11.Yoon Shi Yoon
  (Kim Tak Goo/King of Baking, Kim Tak Goo)(Enrique Geum/Flower Boy Next Door)
12. Yoo Seung Ho 
  (Harry/Kang Hyung Joon/Missing You)(King of Heaven/Great Jade Emperor/Arang and the Magistrate)
13. Joo Won  
  (Han Gil Ro / Han Pil Hoon/7th Grade Civil Servant)(Goo Ma Jun/King of Baking, Kim Tak Goo)   
  (Park Shi On/Good Doctor)(Lee Ho Tae/Catch Me)
14. Kim Ju Hyuk
  (Bang Ja/The Servant)
15. Ninomiya Kazunari  
  (Unoshin Mizuno/Ooku)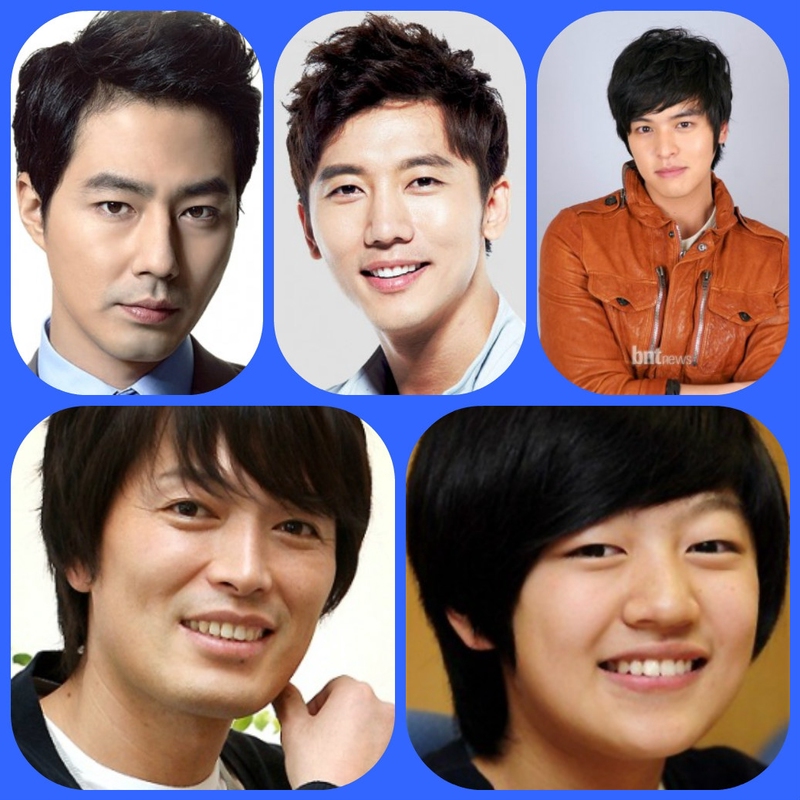 16.Jo In Sung 
  (Hong Rim/A Frozen Flower )(Jang Jae Yeol/It's Okay, That's Love)
17.Ki Tae Young  
  (Kwon Tae Joon/I Will Teach You Love) 
18.Lee Jang Woo 
  (Park Tae Kang/I Do, I Do)(Choi Da Bi Deu/Pretty Boy)
19.Jung Jae Young
  (Jung Do Man/Going by the Book))
20.Chae Sang Woo   
  (Ddol Bok / Kang Chae Yoon (child)/A Tree With Deep Roots)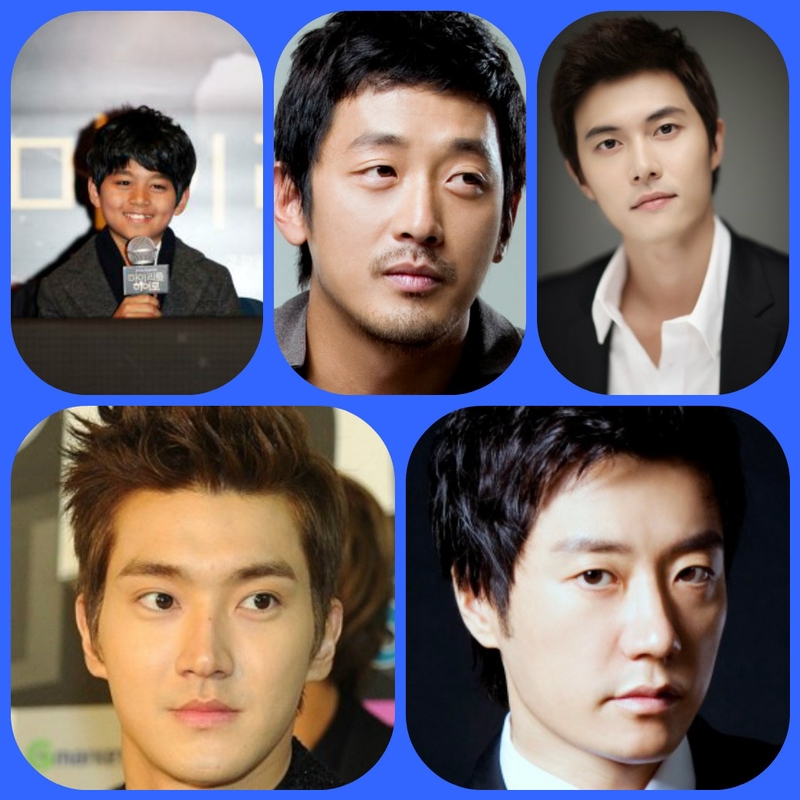 21.Ji Dae-han-I   
  (Yeong-gwang/My Little Hero)
22.Ha Jeong Woo
  (Jihah Kim/Never Forever)
23.Jae Hee  
  (Tae Suk/3-Iron) 
24.Choi Shi Won 
  (Sung Min Woo/Oh! My Lady)
25. Kim Myung Min  
  (Anthony Kim/The King of Dramas)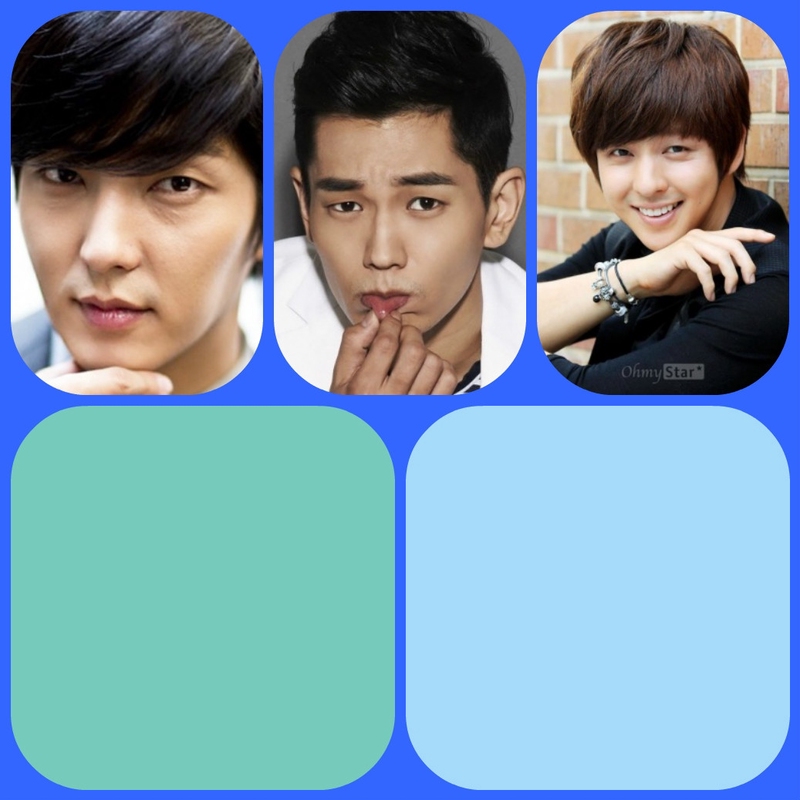 26.Lee Jun Ki  
  (Eun Oh/Arang and the Magistrate)(Jang Tae San/Two Weeks)(Gong Gil/The King and the Clown)
27. Ohn Joo Wan  
  (Kyung Woo Jin/Obsessed)(Il Yung/My Mighty Princess)
28.Kim Ki Beom
  (a ghost?/Jumunjin)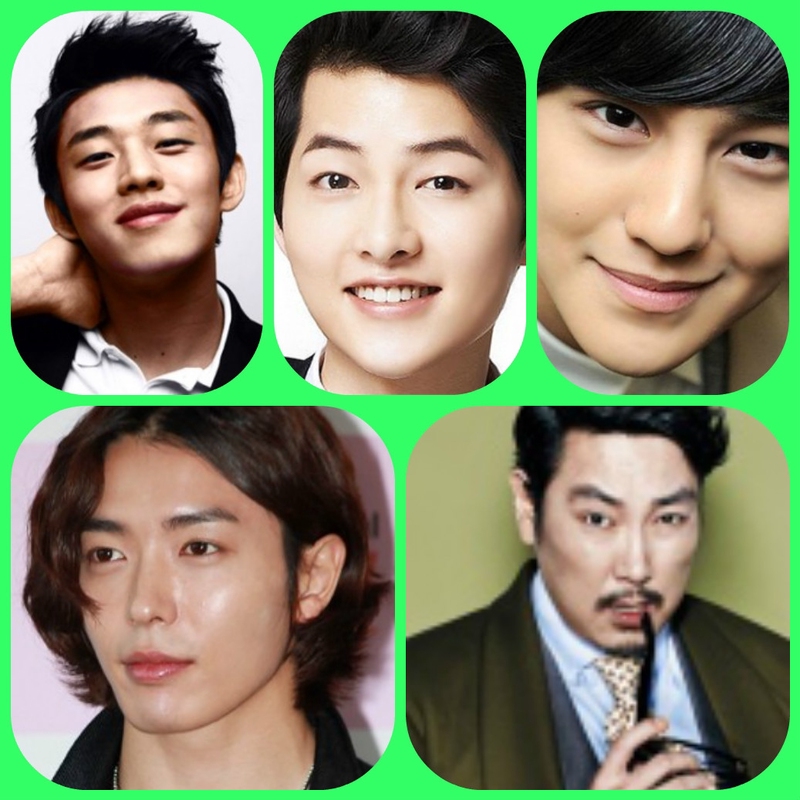 29.Yoo Ah In  
  (Moon Jae Shin/Sungkyunkwan Scandal)(Do Won Deuk/Punch (2011) (Yang Ki Beom/Antique Bakery)
30.Song Joong Ki      
  (Goo Yong Ha/Sungkyunkwan Scandal)(Chul Soo/A Werewolf Boy)   
31.Kim Bum    
  (Kim Joon/The Gifted Hands)
32.Kim Jae Wook    
  (Min Seon Woo/Antique Bakery)(No Sun Ki/Coffee Prince)(Lee Hyun Joon/Who Are You)
33.Jo Jin Woong   
  (Bae Yun Gu/bodyguard/Don't Ask Me About the Past)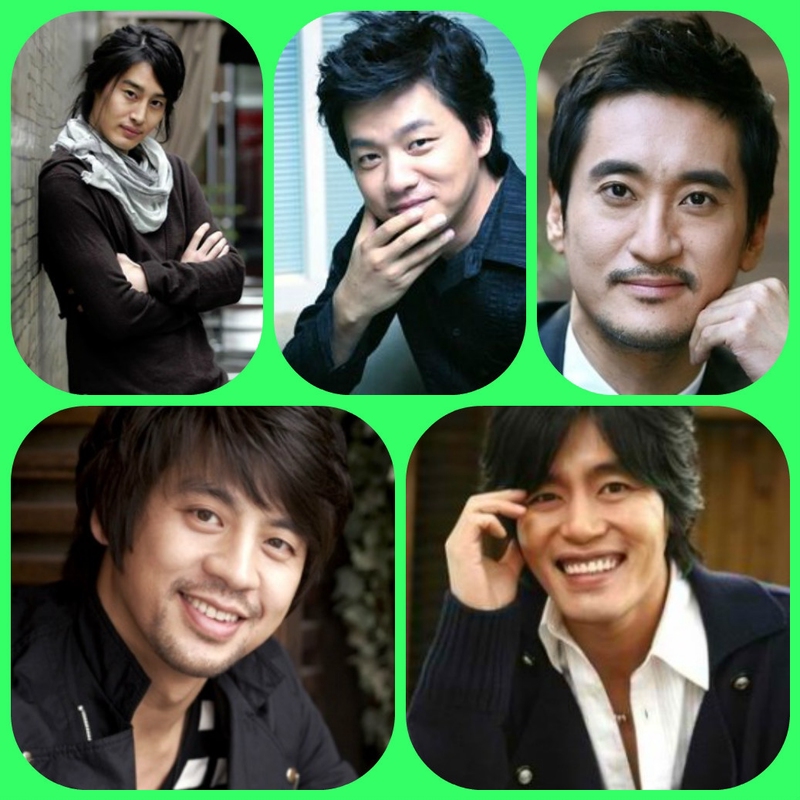 34.Lee Philip 
  (Jang Bin/ 2nd Doctor/Faith)(Cheoro/ Blue Dragon/The Legend)(Director Im Jong Soo/Secret Garden)
35.Kim Seung Soo   (Kim Seung Su)   
  (Officer Park/Park Young Duk/Don't Ask Me About The Past )   
36.Shin Hyun Joon     
  (Karate Kim Kwan-Jang/Three Kims)
37.Kwon Oh Jung     
  (Kung Fu Kim Kwan-Jang/Three Kims)
38.Choi Sung Guk      
  (Kendo Kim Kwan-Jang/Three Kims)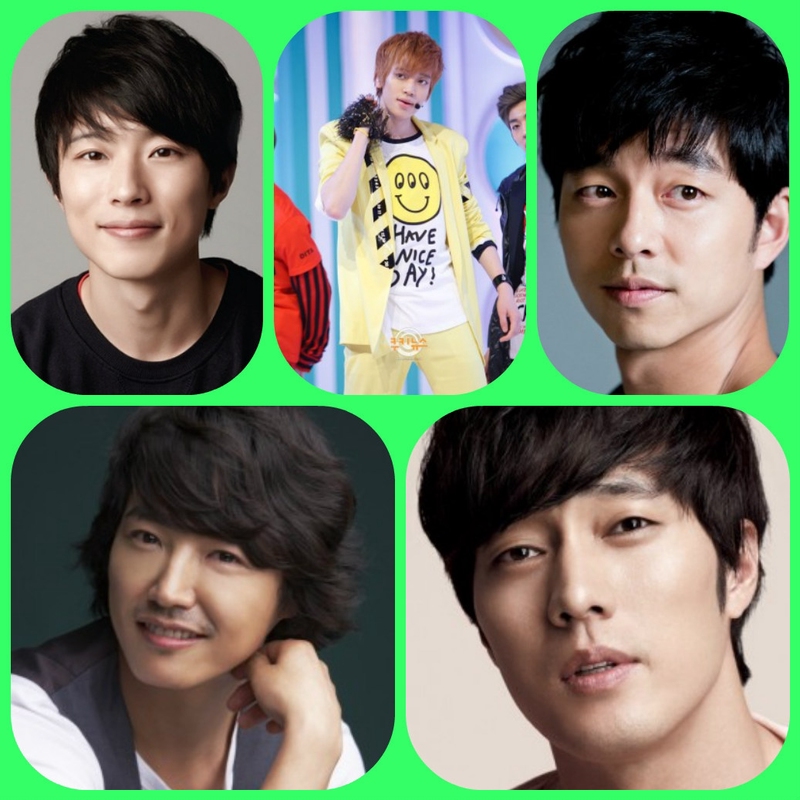 39.Im Ji Kyu
  (Do Hyun/Do You Know Taekwondo?)
40.Ahn Niel     
  (Choi Myeong Seong/Do You Know Taekwondo?)
41.Gong Yoo     
  (Choi Han Gyul/Coffee Prince) 
42.Yoon Sang Hyun      
  (Seo Dong Chan/Take Care of the Young Lady)(OSKA/Choi Woo Young/Secret Garden)
43.So Ji Sub     
  (Cheol Min/Always)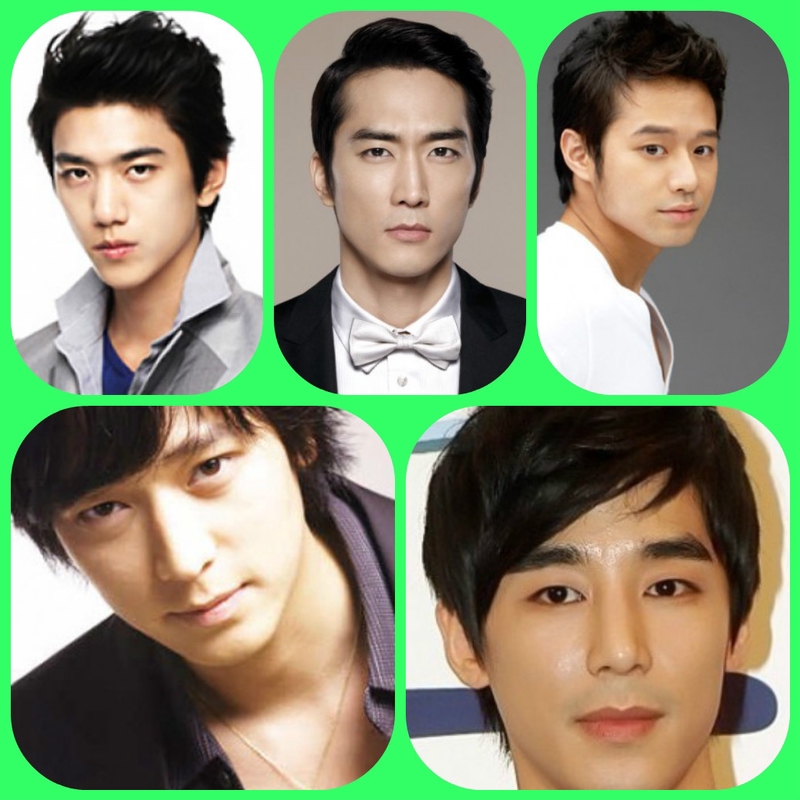 44.Sung Joon 
  (Bodyguard/ Gon Yi/Gu Family Book) 
45.Song Seung Hun    
  (Dr. Jin/Time Slip Dr. Jin)(Ji Eun Seong/He Was Cool)(Kim Jun Ho/Ghost: In Your Arms Again) 
46.Chun Jung Myung      
  (Park Cheol Soo/What's Up Fox?)  
47.Kang Dong Won     
  (Sad Eyes/Duelist)
48.Jin Yi Han     
  (Hong Young Hwi/Time Slip Dr. Jin-officer who is in love with Hong Young-rae,the sister of his friend   Young-hwi.)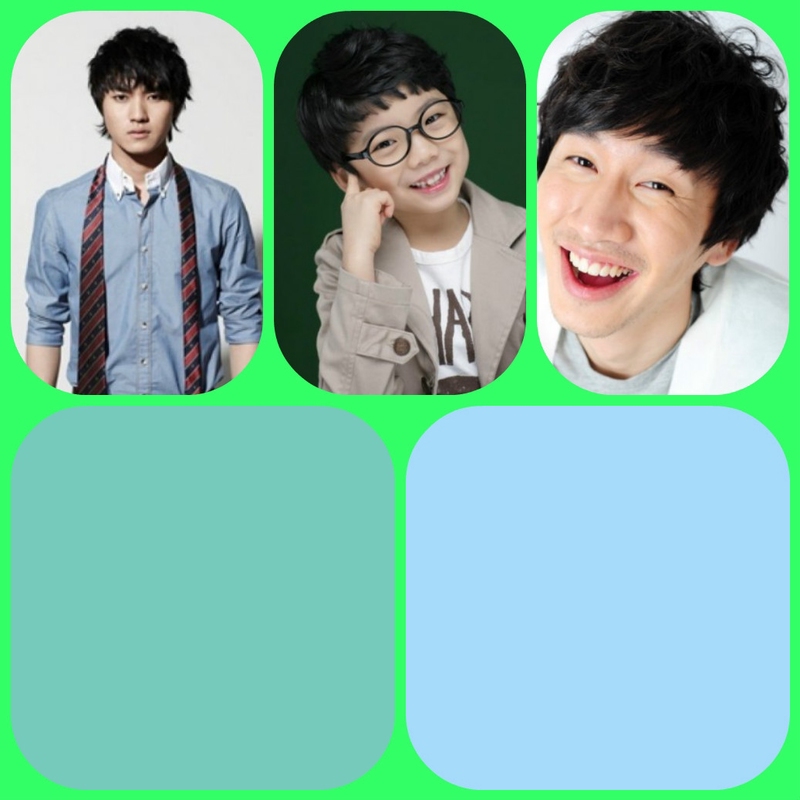 49.Lee Min Ho  93 
  (Bok Soo/Sungkyunkwan Scandal)
50.Kim Dan Yool    
  (Bok Dong I/Sungkyunkwan Scandal)
 51.Lee Kwang Soo     
  (Jung Il/Thunder Man/My Little Hero)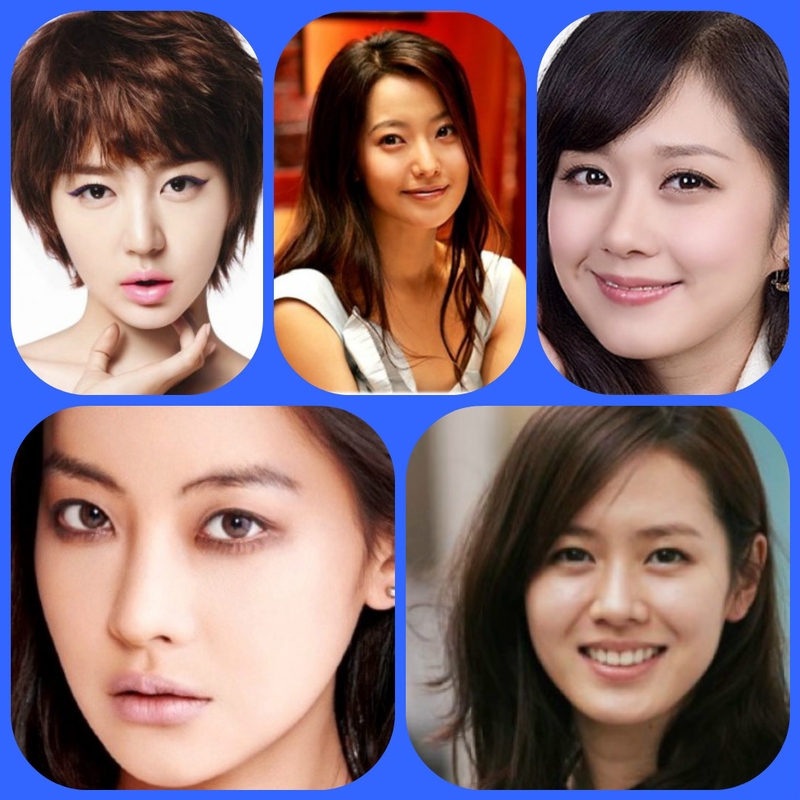 1.Yoon Eun Hye
  (Lee Soo Yeon/Missing You)(Kang Hye Na/Take Care of the Young Lady)(Go Eun Chan/Coffee Prince)
2.Kim Hee Sun    
  (Doctor Yoo Eun Soo/Faith)
3.Jang Na Ra   
  (Kim Mi Young/Fated to Love You)
4.Oh Yeon Seo  
  (Shin Yool (Princess of Balhae)/Shine or Go Crazy)
5.Son Ye Jin   
  (Park Kae In/Personal Taste)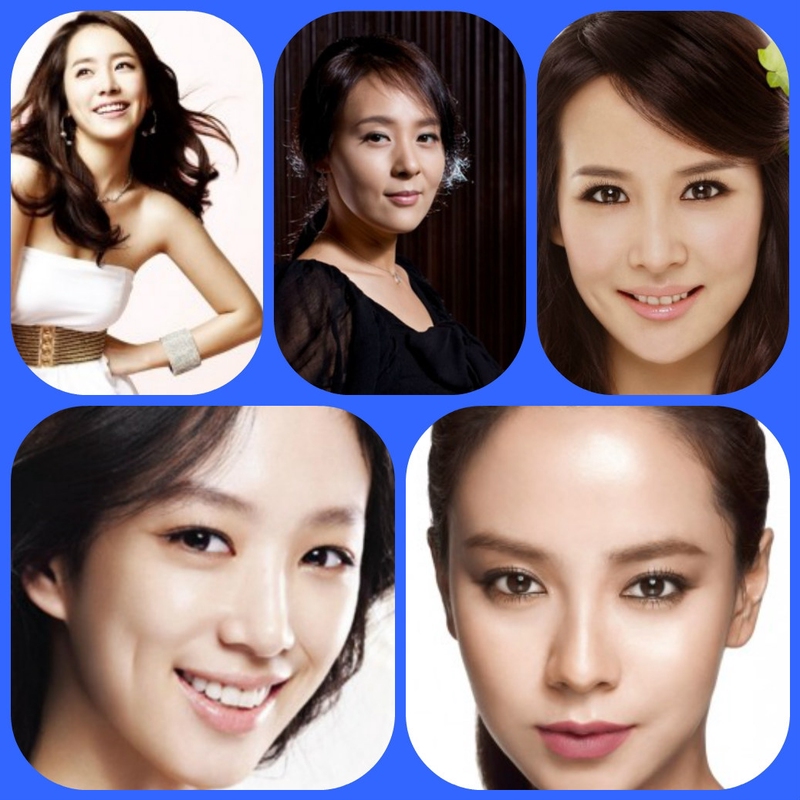 6.Han Ji Min
  (Park Ha/Boo Yong/Rooftop Prince)
7.Jeon Mi Seon   
  (Kim Mi-Soon/King of Baking, Kim Tak Goo) 
8.Jo Yeo Jung   
  (Chun Hyang/The Servant)
9.Jung Ryeo Won  
  (Writer Lee Go Eun/The King of Dramas) 
10.Song Ji Hyo   
  (Queen/A Frozen Flower )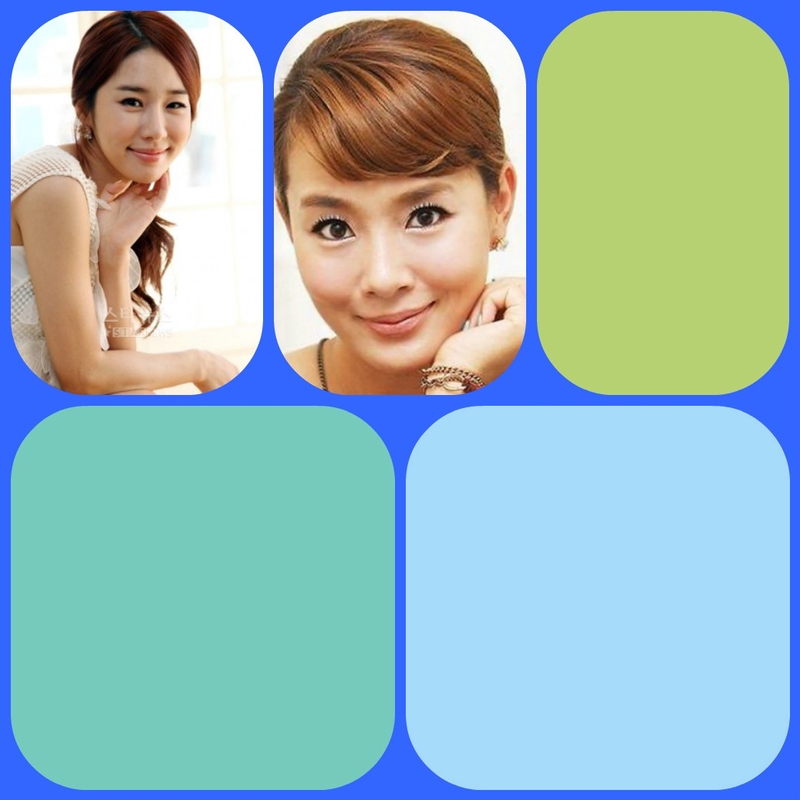 11.Yoo In Na   
  (Choi Hee Jin/Queen In Hyun's Man) 
12.Kim Won Hee      
  (Kwak Sun Young/Don't Ask Me About The Past)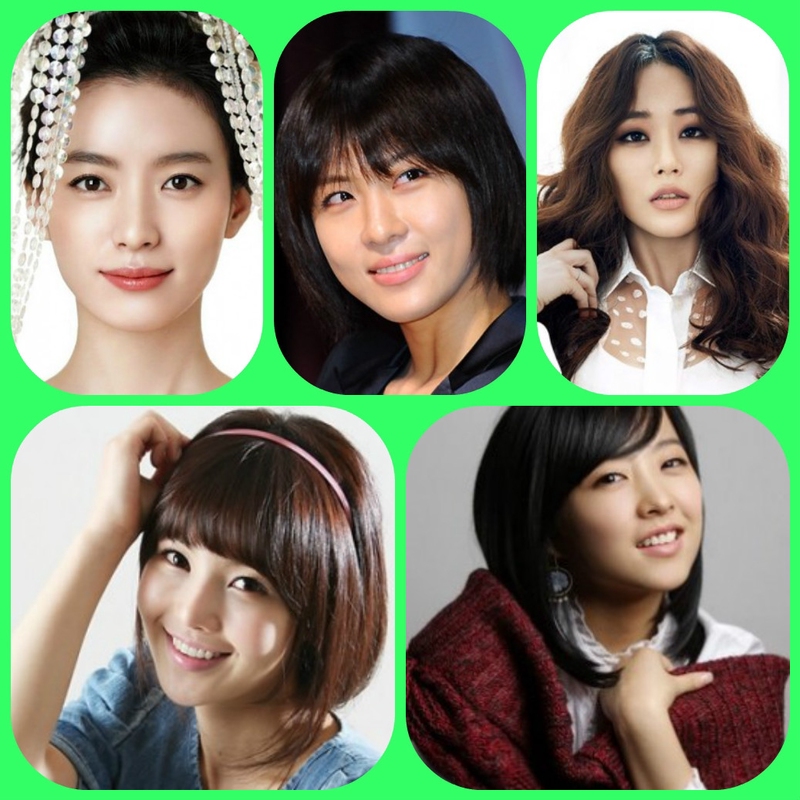 18.Han Hyo Joo  
    (Jeong Hwa/Always)
19.Ha Ji Won     
  (Stuntwoman/Gil Ra Im/Secret Garden)
20.Kim Hyo Jin  1976      
  (Jung Il Jin -Se Jin's older sister/Wonderful Life)
21.Nam Gyu Ri  
  (Shin Ji Hyun/49 Days) 
22.Park Bo Young     
  (Hyun Jin/The ESP Couple)
Find the drama page on My Drama List hopefully me or someone else has posted in comments the link where we watched it. Hope you enjoy watching.
My score for a drama/movie  depends on how well it's done, how much I enjoyed it & how it made me feel. Only dramas/movies I have finished will get a score. I can give a high score simply because I loved the relationship between some characters, even if the drama is so so. I take off points the more it disturbs me unless they can make it up in some other way. Actually the more I laugh, the better I feel and the better I feel the better I score.
So my rating scale is:
Rewatching: Currently watching with a score.
Can't score yet: Completed with no rating, it was raw/ no eng subs, so it waits. Or it wasn't completely subbed, too many gaps to score now. Maybe they say eng sub, but it's so badly done it's not even eng.
Subs make no sense at all & you can't understand except maybe by how they act which can lead to misunderstandings.
Feel like skipping scenes: It's a drop or hold.
"On Hold"  means I tried to watch but couldn't find or couldn't find eng subs to, So this is my waiting list to try again later. Or I just got bored with it so it waits for another time. If I put these back on on my 'Plan to Watch' list I can easily forget to finish them or forget which ones to keep looking for the eng subs to. So this works for me.
'Plan to Watch'  Not cluttered with those I couldn't find or couldn't find eng subs to. Or those I just got bored with. So I can easily find something new to watch if I want. Funny though I usually go by the Most Popular,Top Rated or Newest Lists to find something new, hardly look at my list.
9-10: Perfect or Nearly Perfect.  I'd rewatch & recommend. Something about the drama/movie drew me in  making it uniquely special to me in someway. And will always hold a special place for me--flaws and all.
7-8: Decent watch. Bordering on great.  I'd rewatch & recommend.
5-6: Not awful, just so-so.  Not a rewatch.  A one time watch.  I don't recommend. Nothing about the drama really stood out,trouble remembering who was in the drama and what the plot was about. Good as a time killer, only if you're really bored. Often I've revisited dramas/movies months later and have thoroughly enjoyed it on the second try. At times the story might have lagged or there was something about it that didn't entirely click with me. Maybe I don't particularly like the leads/support, minor plot holes, too much time separated or perhaps a lackluster/ rushed/ unhappy ending.
2-4: Not my cup of tea.  I don't recommend, not a rewatch or watch. Don't waste your time on this. Not compelling enough to keep me engaged making for a slow painful watch. 
1: Wall of shame. Never should have been made at this time. I don't recommend, not a rewatch or watch. Don't waste your time on this. Has bad timing,bad taste. For example, The Tower is nothing more than reenacting America's 911, the twin towers. The emotions just became unbearable, so be warned.
Favorite Groups/Music:  DBSK, EXO, B1A4, My Name, B.A.P & Crayon Pop. I love Sea Shanties, Abraham Hicks & Vocaloid.
Favorite Shows:  Teen Wolf,  MNET America, Sullivan & Son, The Walking Dead, Supernatural & The Flash (Airing). Don't really watch much tv.
Watching Teen Wolf Online Free Full Episodes( Airing) -  Season 4  Ep 7 Can't stop watching. 
 http://www.cucirca.eu/watch-teen-wolf-online-free-...
Watching The Flash Streaming Online (Airing)   Ep 12 , On Hold.                         http://www.cucirca.eu/watch-the-flash-streaming-on....
Favorite Dramas/Movies: Historical, Fantasy, Romance, Comedy, Martial Arts, Action & Makjang. Anime just starting to watch-                                                                                                                
Watching  Fairy Tail  Ep 9 / 175, Loving it, On Hold.                                                            http://www.animefreak.tv/watch/fairy-tail-online
Favorite MMORPG:  Shaiya
Favorite Cell Phone App/ Game:  The Maze Runner  Can't stop playing. I'm on Level 57.   My runner is Winston,a healer. Wish I could get Minho with game money. Then Thomas with game money. 
Watched Movie/ No Drama Page:
A Man on the Wind .... Score 2/viki.  
Role Play (2015).....Score 3/youtube
Statistics
56d 21h 47m
ALL TIME
1,368 episodes, 140 shows
14d 3h 49m
ALL TIME
184 movies
List Updates