If you're still experiencing technical difficulties, please report it
here
.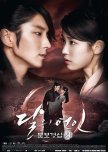 One of the best historical dramas I have ever seen and Lee Joon Gi's best role yet!
I felt the story could have been better written but I still enjoyed the series despite its flaws. What really won me over was the cast which is the biggest reasons to why I watched the show! Everyone did an amazing job but the true star here was Lee Joon Gi. He was phenomenal and had became my favorite Korean actor all time. He brought 4th prince to life! Whenever Wang So smile, it made me so happy. Whenever Wang So would cry, I would cry. Whenever Wang So was being flirty, I would melt. Seriously. Lee Ji Eun (IU) also did a great job. She's not on Lee Joon Gi's level but these two definitely have chemistry. The most amazing chemistry I have ever seen. Whenever those two were together, it always felt like the temperature was rising! Mostly Wang So's story and the love story is what drew me in the most. Also can't forget the bromance! Lee Joon Gi and Nam Joo Hyuk were the best! Kang Ha Neul also won me over. Such a great job as the 8th prince and his smile.... can't stop thinking about it! Overall the entire cast was amazing and beautiful that I have become such a huge fan, not just for this show but for them. Even the locations were beautiful.
The music... What can I say? One of the best soundtracks of 2016! My top favorite of them all. Lee Hi, Davichi, EXO, Punch, Taeyeon and so many others! I have this show's soundtrack on my ipod and always have it on repeat!
I've lost count to how many times I've watched this show. Especially my favorite episodes. I was obsessed with this show before it even premiered!
Despite Scarlet Heart Ryeo not being a success in its home country, it is such a huge hit worldwide. You won't regret watching.
Was this review helpful to you?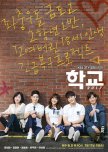 So good. School 2017 exceeded my expectations. Seriously, I wasn't expecting a lot from it but as watched the series, I couldn't wait for the next episode! In my opinion this is a lot better than School 2015 when it comes to the story.
The story includes the typical bullies, rich students who can get away with anything, poor students who are having a hard time, people lying about who they really are, a horrible school with these ridiculous rules and the bigger issue: TRUST. However, you see certain people who are sick of the system and want to make a difference. It was great to see how people would get through certain situations and they would have each other to get through them. They did a good job at the twists as well. There are some things that you will see and didn't expect. I feel they did a great job at balancing the light and darkness throughout this show. It gets better and better with each episode. Also thought they did great at not dragging things out for too long.
Our main leads, Eun Ho and Tae Woon have amazing chemistry! They're so cute and can't wait for their next moment! They will always put a smile on your face(:
The cast did an amazing job especially Kim Se Jung with this being her first leading role.
I would rewatch this show a hundred times, I love it so much!
Defintely goes in my Top 10 Korean Dramas of 2017! As well as including Eun Ho and Tae Woon in my Top 10 Korean Drama Couples!
Was this review helpful to you?