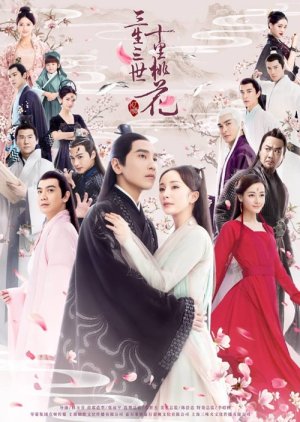 Eternal Love Recent Discussions
Reactions
1.Xio Xing (snake girl?) decides that she will make good on BQ's promise to help her one day. It will involve her son who has been sent to the human world.
2.Xnake girl makes the request, as expected. BQ will go to the mortal realm to be his teacher. As luck would have it he is the crown prince and son of (guess who) DH
3.YH goes as back up
4.Su Jin learns of this plan and hopes to use the sea princess to mess things up.
5.Li Jing continues to struggle with his life as his wife seems to have lost touch with reality, insisting that their son is so well behaved because he does not cry.
6.Xuan Nu wants to use a god to resurrect her kid she decides to use BQ's face and steal MY's body and kidnip A-Li
Was this review helpful to you?
(I thought I did a review for this episode. here it is again)
Was this review helpful to you?
Shit shit shit! Will Mo Yuan wake up while Ye Hua is still alive (and in love with her) ?! Omg thats not good 0.0
2. Shao Xin arrived at Qingqiu asking Bai Qian to help save her son, Yuan Zhen. In the mortal world, Yuan Zhen will face a trial when he's 18 and that trial will affect him his life. Because the king owe Qingqiu a favor, having Bai Qian save her son will not anger the king. Bai Qian agreed to help.
3. Bai Qian told Shao Xin that their relationship ends after helping her. Flash back of the time when Bai Qian gave the fan to a scared Shao Xin so that she can protect herself.
4. In order to help Shao Xin, Bai Qian need the fate book from Ximing. Ye Hua agreed to help her with the condition that she must seal her power away. He doesn't want her power to fire back on her after she helped him. He's worried that if she gets injured, she won't be able to withstand the trial of becoming queen.
5. Ye Hua asked Ximing for the fate book. Ximing told him that in the mortal world, Yuan Zhen is the crown prince. He also suggested that Bai Qian remain by his side until the trial so that it doesn't interfere with his life.
6.Ye Hua brought the book back to Bai Qian and told her that Yuan Zhen will helped save a lady at the age of 18. He and his dad will both fell in love with this lady. The dad, also the king, claimed the lady. One day, Yuan Zhen got drunk and had an affair with the lady. The lady gave birth to a baby boy but Yuan Zhen wasn't sure if it was his or not. Years later, he kills the baby boy when they both started fighting for the throne. When the lady heard that, she suicided and told Yuan Zhen the truth. That truth haunted him his whole life.
7. Bai Qian came to the mortal world and disguised as a nun and became Yuan Zhen's shifu.
8. Li Jing came to Kunlunxu looking for Xiyin. News got back to Ye Hua along with a picture of Xiyin. Ye Hua saw the picture and know right away that it was Bai Qian
9. Li Jing came back to his kingdom to ask Xuan Nu who is Xiyin. He told her that Xiying is from the fox tribe. When she heard that, she knew right away who he was talking about. After Li Jing left, Xuan Nu changed herself into Bai Qian and came to Qingqiu.
10. Xuan Nu as Bai Qian went to steal Mo Yuan's body to revive her dead baby. When Mi Gu finally noticed that she is not Bai Qian, the started fighting. She hypnotized him into thinking that she is Bai Qian. She took both Mo Yuan's body and Ali with her.
Was this review helpful to you?
1. Bai Qian decided to hire an intern to learn Ye Hua's cooking skill so when he's not there, they don't have to eat fruits only. But Ye Hua did not approved anyone.