The old dramas have been replaced with new ones this season. And let me tell you, this season's dramas are all lit! Most, if not all, of these dramas are worth watching. Without further ado, let me show you the list of dramas that are airing this season.
---
MONDAY-TUESDAY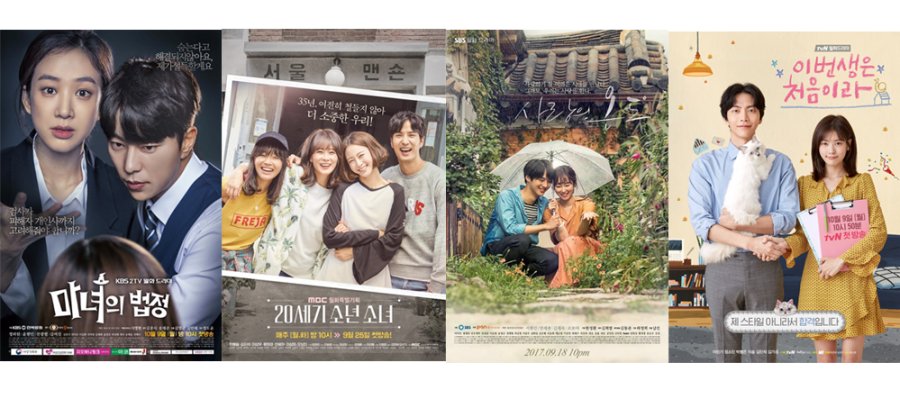 KBS: Witch's Court 
A materialistic female prosecutor who does not hesitate to use personal attacks, fabricate evidence, and incite perjury in order to win her case is assigned to lead the special task force for sexual assault crimes. 
Starring: Jung Ryeo Won & Yoon Hyun Min
Episodes: 16
MBC: 20th Century Boy and Girl
The story follows three women in their mid-thirties as they navigate their love lives, friendships, and their familial ties. 
Starring: Han Ye Seul, Kim Ji Suk & Lee Sang Woo
Episodes: 32
SBS: Temperature of Love
The story of two people who first meet online and soon develop a relationship when they meet in person but then get separated after choosing different paths for their careers. 
Starring: Seo Hyun Jin, Yang Se Jong, Kim Jae Wook & Jo Bo Ah
Episodes: 40
tvN: Because This is My First Life
House-poor Nam Se-hee  and homeless Yoon Ji-ho, both unmarried in their thirties, start living together as housemates. 
Starring: Jung So Min & Lee Min Ki
Episodes: 16
---
WEDNESDAY-THURSDAY

KBS: Mad Dog
Choi Kang-Woo is a former detective, but he now works as a veteran insurance investigator. He leads a team that attempts to reveal insurance fraud cases. 
Starring: Yoo Ji Tae, Woo Do Hwan, Ryu Hwa Young, Jo Jae Yun & Kim Hye Seong
Episodes: 16
MBC: Hospital Ship
Story about young doctors that provide medical care to the locals who live in rural villages via hospital ship that sails around the little islands. 
Starring: Ha Ji Won, Kang Min Hyuk, Lee Seo Won, Kim In Sik & Kwon Mina
Episodes: 40
SBS: While You Were Sleeping (2017)
A woman named Hong Joo who can see unfortunate events in her dreams meets a prosecutor named Jae Chan who develops the same premonitions as her and does everything he can to prevent her dreams from coming true. 
Starring: Bae Suzy, Lee Jong Suk, Lee Sang Yeob & Jung Hae In
Episodes: 32
tvN: Avengers Social Club
Features three women from different walks of life coming together for revenge: a fish store ajumma who envisioned a better life for herself, a housewife who grew up an orphan, and a chaebol magnate's daughter who was raised like a delicate flower. They're an unlikely trio who would never otherwise meet, but they join forces to carry out their individual revenges. Although they start out as co-conspirators, along the way they become close to one another. 
Starring: Lee Yo Won, Ra Mi Ran, Myung Se Bin & Jun
Episodes: 12
---
FRIDAY-SATURDAY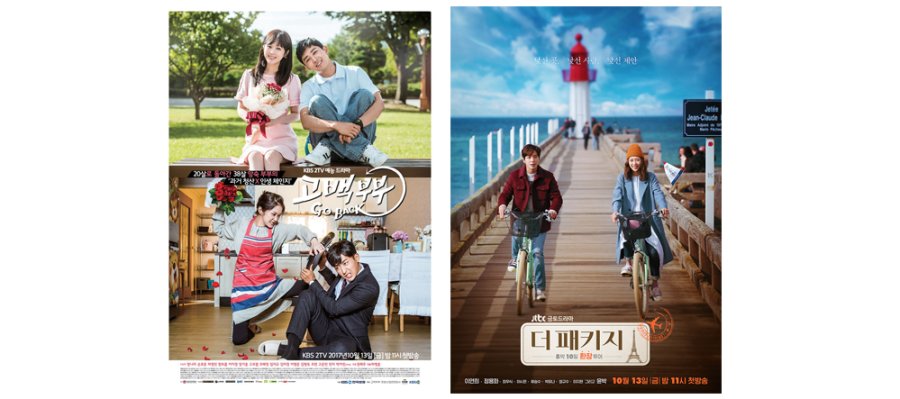 KBS: Go Back Couple
Choi Ban Do and Ma Jin Joo are both 38-years-old and a married couple. Choi Ban-Do has been burdened with being the breadwinner and Ma Jin-Joo is a housewife with low self-esteem. Even though they loved each other when they married, they now hate each other. They both regret marrying at such a young age. The couple travel through time and find themselves as 20-year-old university students, when they met for the first time. 
Starring: Jang Na Ra & Son Ho Jun
Episodes: 16
JTBC: The Package
Yoon So-So  works as a travel guide in France. She leads a group of tourists on a package tour. The travelers all have their own stories. San Ma-Roo joined the tour after being dumped by his girlfriend. Kim Gyung-Jae  has been dating for the past 10 years. A mysterious man seems to follow Yoon So-So. Jung Yeon-Sung joined the package tour with a partner, but he will not reveal what kind of relationship they are in. Han So-Ran  is a web designer and agonizes over staying single or marriage. Oh Gab-Soo is extremely stubborn. Han Book-Ja  spent most of her life taking care of her husband. Na Hyun  is a woman whom other people cannot guess her age. 
They all do not want to become involved in each other's personal lives, but, while they travel together, they become closer and develop relationships. 
Starring: Lee Yeon Hee, Jung Yong Hwa, Choi Woo Shik, Yoon Park & Ryu Seung Soo
Episodes: 12
---
SATURDAY-SUNDAY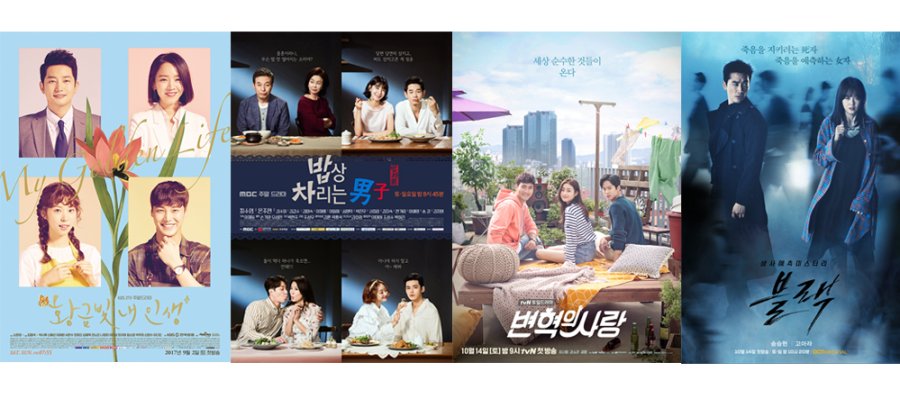 KBS: My Golden Life
Revolves around a woman who has a chance to rise in status and a man who finds happiness in her.
A mother's misguided love has caused her daughters to get swapped in status, and so the heroine Seo Ji-an enters the chaebol household to have a better life without knowing she is actually not their long-lost daughter, but her "former twin" sister instead. What will happen to her once the secret get revealed, and what will happen to her relationship with the son of chaebol family Choi Do-kyung, whom she has gotten closer to as siblings? 
Starring: Park Si Hoo, Shin Hye Sun, Lee Tae Hwan & Seo Eun Soo
Episodes: 50
Lee Roo-Ri  tries to get a job at big company, but she gives up. She doesn't have a good relationship with her strict father. Lee Roo-Ri decides to travel to a foreign country to get away. There, she meets Jung Tae-Yang  who goes by the YOLO motto. He wanders around the world and places priority on his happiness, but he also carries an emotional wound.
After she meets Jung Tae-Yang, Lee Roo-Ri experiences a turning point in her life. 
Starring: Choi Sooyoung,On Joo Wan, Seo Hyo Rim & Park Jin Woo
Episodes: 50
tvN: Revolutionary Love
Byun Hyuk  is a son from a wealthy family who runs a large company. He lives a happy life without any specific goals. He is confident around women and he is also naive, with a warm heart. Byun Hyuk begins to live in an studio in a poor area. He hides his background.
Baek Joon  lives in the same area. She works part-time jobs to make ends meet. Baek Joon graduated from a good university, but she was unable to land a job at a company and begin taking part-time jobs. She is positive and full of justice, but her life changes when Byun Hyuk appears. 
Starring: Choi Si Won, Kang So Ra & Gong Myung
Episodes: 16
OCN: Black
The story of a grim reaper who gets erased from the memories of the world for breaking the rules of heaven and falling in love with a mortal woman after inhabiting a human body. 
Starring: Song Seung Heon & Go Ara
Episodes: 16
---
Which ones are you watching this season? Which ones are your favorite? For me, I'd have to go with While You Were Sleeping. It's surprisingly good! But the other dramas are also lit, especially Mad Dog and Because This is My First Life!