Name: Endo Yuya
Native name: 遠藤雄弥
Nationality: Japanese
Gender: Male
Born: March 20, 1987
Age: 32
Yuya Endo (遠藤 雄弥 Endō Yūya, born March 20, 1987) is a Japanese actor and singer. He is known most notably for his role as Ryoma Echizen in the Prince of Tennis musical series, Tenimyu. He is also part of a young men's stage acting troupe, D-BOYS, which perform in various skit-like performances, and is currently the group's leader.
Endo's first major onscreen debut was for the 2000 film, Juvenile. He also was apart of the Watanabe net drama, Hice Cool (2005), appearing alongside fellow D-Boy members, Kotaro Yanagi, Yuu Shirota, and Osamu Adachi.
On November 16, 2005, Endo released an Idol DVD called Ao no Kiseki.
Endo also appeared, as a member of The Tigers in the TV drama, The Hit Parade, which aired May 26, 2006 on Fuji TV and co-starred fellow D-BOYS members Masato Wada, Yuu Shirota, Masaki Kaji, Hirofumi Araki, Hiroki Suzuki and Kōji Seto.
In September, 2006, he, along with fellow D-BOYS member, Yuu Shirota, appeared in the music video for RAG FAIR's "Kimi no Tame ni Boku ga Tate ni Naro", playing a DJ in love with his co-host. As a member of the D-BOYS, Endo also keeps a blog, which he updates occasionally.
Being a part of the D-Boys provides Endo with a lot of opportunities. Among them was to perform with the group of boys and expand his experience as a performer.
The D-BOYS so far have released two Photobooks. The first photobook released on April 27, 2005 was self-titled D-Boys, while the second, released on March 15, 2006 was called Start, both which contain many photos of Endo. The D-boys have also starred in their own drama documentary variety series called, DD-Boys in which Endo has appeared in every episodes as himself because the skits revolve around Endo playing himself with fellow D-BOYS member, Kotaro Yanagi also playing himself, as they try to live in the D-house while the other D-Boys drop by. The show was 23 episodes long and ran from April 10 to September 25, 2006.
In June 2007, the D-BOYS starred in their very own musical together called, D-BOYS STAGE, which ran from June 3 to June 10 at the Space Zero theater in Tokyo. Endo appeared in the musical as a regular performer for the run of the musical. Right now, he is the current group leader of D-BOYS.
Yuya's hobbies include collecting sneakers. He's also a fan of professional wrestling.
[wikipedia]
Drama
Title
Rating
10 no Himitsu

Japanese Drama,

2020

, 10 eps

6.3

Namonaki Fukushuusha ZEGEN

Japanese Drama,

2019

, 8 eps

Naoi Hiroyuki

(Support Role)

0.0

Voice: 110 Emergency Control Room

Japanese Drama,

2019

, 10 eps

Adachi Daisuke

(Support Role)

7.7

Tokusou 9 Season 2

Japanese Drama,

2019

, 11 eps

Suenaga Ryoichi (Ep.9)

(Guest Role)

0.0

Cold Case: Shinjitsu no Tobira 2

Japanese Drama,

2018

, 10 eps

Hashimoto Kenji [Young] (Ep.6)

(Guest Role)

8.5

Majimuri Gakuen

Japanese Drama,

2018

, 10 eps

Matsumoto Yoji (Ep. 9-10)

(Guest Role)

6.5

Sousa Kaigi wa Living de!

Japanese Drama,

2018

, 8 eps

Takashiro Atsushi

(Support Role)

8.6

Totto-chan!

Japanese Drama,

2017

, 60 eps

Kanesaka Shirou [former teacher]

(Support Role)

0.0

100-manen no Onna-tachi

Japanese Drama,

2017

, 12 eps

8.3

IQ246: Kareinaru Jikenbo

Japanese Drama,

2016

, 10 eps

Yashiro Kotaro (Ep.7)

(Guest Role)

7.6

HiGH&LOW SEASON 2

Japanese Drama,

2016

, 10 eps

8.3

Doctor Car

Japanese Drama,

2016

, 12 eps

Gondou Hayato

(Support Role)

6.8

HiGH&LOW

Japanese Drama,

2015

, 10 eps

8.4

Mondai no Aru Restaurant

Japanese Drama,

2015

, 10 eps

Mochida (Ep.10)

(Guest Role)

8.4

Owakon TV

Japanese Drama,

2014

, 8 eps

Tsukamoto Jun

(Support Role)

5.7

Higanjima

Japanese Drama,

2013

, 10 eps

5.6

Sugarless

Japanese Drama,

2012

, 12 eps

Kanemitsu Kazuya

(Support Role)

7.6

Unmei no Hito

Japanese Drama,

2012

, 10 eps

Kaneda Mitsuru

(Support Role)

8.2

Jiu

Japanese Drama,

2011

, 9 eps

Shiraishi Mamoru [SAT]

(Support Role)

7.1

Perfect Report

Japanese Drama,

2010

, 10 eps

7.1

Zettai Reido

Japanese Drama,

2010

, 11 eps

Hiura Tadahiro (Ep 4)

(Guest Role)

7.7

Massugu na Otoko

Japanese Drama,

2010

, 10 eps

Kusaka Hideki

(Support Role)

7.0

Shiroi Haru

Japanese Drama,

2009

, 11 eps

Kojima Yuki

(Support Role)

8.1

Voice

Japanese Drama,

2009

, 11 eps

7.6

Punching Angel Ruri

Japanese Drama,

2008

, 7 eps

6.2

Hokaben

Japanese Drama,

2008

, 10 eps

6.6

Isshun no Kaze ni Nare

Japanese Drama,

2008

, 4 eps

Negishi Yasuyuki

(Support Role)

6.0

Atsu Hime

Japanese Drama,

2008

, 50 eps

Arimura Jizaemon

(Support Role)

8.3

First Kiss

Japanese Drama,

2007

, 11 eps

6.8

Nodame Cantabile

Japanese Drama,

2006

, 11 eps

Okochi Mamoru (Conducting)

(Support Role)

8.4

Rocket Boys

Japanese Drama,

2006

, 12 eps

6.5

1 Litre no Namida

Japanese Drama,

2005

, 11 eps

Takeda Makoto

(Support Role)

9.0

Minimoni's Bremen town Musicians

Japanese Drama,

2004

, 12 eps

Inuzuka Kenji

(Support Role)

7.1

Churasan

Japanese Drama,

2001

, 156 eps

Uemura Kazuya [Brother]

(Guest Role)

7.6

Yasha

Japanese Drama,

2000

, 11 eps

7.8
Movie
Title
Rating
The House Where The Mermaid Sleeps

7.5

HiGH&LOW The Movie 3: FINAL MISSION

8.7

HiGH&LOW The Movie 2: END OF SKY

8.7

HiGH&LOW The Movie

8.4

Road To HiGH&LOW

8.0

TRASH

0.0

Zenkai no Uta

Izawa Ryou

(Support Role)

0.0

Genshi

The friend

(Support Role)

0.0

Hot Road

Nagayama (member of rival motorcycle gang of "Nights")

(Support Role)

7.9

Aragure II Roppongi v.s. Shibuya

Eiji Nonaka

(Support Role)

0.0

The Eternal Zero

8.5

Aragure

Eiji Nonaka

(Support Role)

6.6

The Chasing World 3

6.7

Gachiban: Super Max

Satake Kyohei

(Support Role)

8.0

Boys on the Run

6.0

Ain't No Tomorrows

7.0

Shakariki!

7.3

L'amant

7.0

L'amant

4.5

Juvenile

7.0
Special
Title
Rating
Saijo no Meii 2017

Japanese Special,

2017

, 1 eps

Osamu Oyamada

(Support Role)

7.9

Keiji Inukai Hayato

Japanese Special,

2016

, 1 eps

Arashima Shuuto

(Support Role)

7.5

Issen Chou En no Minoshirokin

Japanese Special,

2015

, 1 eps

Detective Odagiri [SIT member]

(Support Role)

8.1

Blackboard - Jidai to Tatakatta Kyoshi tachi

Japanese Special,

2012

, 3 eps

Kimihara Yuuji (Ep.2)

(Support Role)

8.2

Kikoku

Japanese Special,

2010

, 1 eps

7.0

Nodame Cantabile Special

Japanese Special,

2008

, 2 eps

Okochi Mamoru

(Support Role)

8.4

The Hit Parade

Japanese Special,

2006

, 2 eps

Kenji Sawada

(Support Role)

0.0
Articles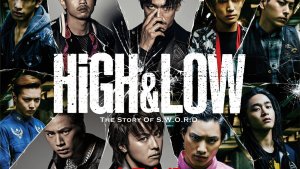 Drama Recaps

- Jun 18, 2018
Old Anime Lady's overview of the High & Low Franchise