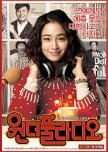 First of all, do not be frightened by the *low* score.. I am trying to stay objective about everything I watch nowadays, no random 10's...
So, I adored the story line.. It had real character building (even though it's a movie) and all the small stories that were featured were heartbreakingly moving in a beautiful way. This is a bit of a cry movie, but in a sweet way (and you actually feel happy about crying).
The acting was good, nothing to be amazed about. She did a great job, he did it a bit less (but that was due to the very tiny character building on the male lead side) but the lovely thing in this movie were all the suporting role, they made the movie sweet and fun to watch.
However, for Running Man fans... get ready to grin your face off... Lee Kwang Soo has a super fun suporting role (and there are cameo's of his RM colleagues)
Well, because of the important role of music in the movie (she's a radio DJ and ex-idol and all) you would expect an outstanding Original Soundtrack... That was not really the case, but if you watch the movie you'll get why I gave a 10 for music.
All in all, the movie gives a good vibe and message about how people sacrifice themselves to help others and the importance of loved-ones
Definitely a rewatch
p.s. can be watched in any mood. Really, any mood.
Was this review helpful to you?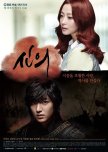 Faith
11 people found this review helpful
Warning! This drama contains shots of very handsome men fighting and Lee Min Ho being all romantic, be prepared to emerge yourself into this one.
Let me start off by explaining to you how perfectly the music worked with the whole powerful Goryeo Royalty and the funny and always-present-to-protect Woodalchi (the *personal bodyguards* of the king). The music fit with the characters, and when it was necessary it would be just dramatic enough to fit the scene (if it was a love-scene or a *I have a plan to destroy the nation*- scene. I especially loved the heartbreaking ballad "Carry On", you'll hear why.
The main draw to this drama for me was Lee Min Ho, for I did not know any other actor, but I fell in love with the supporting roles. My heart broke more when something would/could happen to them than when the mains were in danger (also mostly because the main roles almost never die until the last ep. *not saying that will or will not happen here!* but the supports were very well developed and integrated in the story. Of course Lee Min Ho was great, it was a totally different side of his, really great acting, strong and powerful but also emotionally confused. The female lead had a great character build throughout the drama and the chemistry between them was credible which made me actually wait for scenes with only the two of them. Last, the bad guy(s), you just really hate them, but when another shows his face you actually feel bad for the first bad guy who was *shoved* away. But well, there is nothing more fun that hating someone for a small hour at a time.
Finally the story, there were political conspiracies as far as the eye could reach, so kinda a lot. Well, it depends on personal preferences, but together with the rest of the story it evens out a lot. The whole *going-back-in-time-and-adapting* was well worked out for Eun-Soo (the female lead) who seemed a bit of a natural in *the Goryeo ways*, but we don't care as long as what happens during the story is exciting, and it is. Conspiracies, fighting, more conspiracies, more fighting, kidnapping and extortion, it never ends. However, the script itself... Thank you writers, good job. Well written, almost no loose ends and it is very rarely boring (for like 5 minutes max)... This all makes the drama rewatchable (I think you'd understand more of it when rewatched) and one of the better ones this year.
Was this review helpful to you?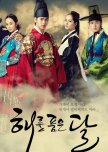 This drama is worth a rewatch. Deffinetly. Everything was just right. The story was original, the acting was amazing and I especially loved the OST.
The love in the story was amazing. I wish I could have such a love. Eventhough it had it's sad moments, the beginning of the drama, with them as young teenagers who fall in love. Sigh. Just so sweet. Makes you feel all warm inside.
I initially wanted to watch the drama because of *Dream High's Kim Sam Soon* Kim Soo Hyun, but eventually I started to admire the acting of Jung Il Woo. He was so good! Believable and sincere. I have to say that Han Gan In was the least impressive, but she wasn't bad either.
The story was refreshing, but then, I hadn't watched a lot of period drama's beforehand so I did not know what to expect. I just loved the whole 'first love even after death' concept and I also cried a lot during the sad parts. There wasn't really any major clichés in the story, which was good. However, the whole brother-relationship between the King and the Prince could have been much better.
The Music was FANTASTIC! It was so incredibly beautiful. It set the whole mood to the story and you could actually tear up from it. 10 out of 10 !
The whole Drama did not dissapoint. I have never watched a drama in one go until now. I just sat there with my laptop for 20 hours and kept watching. Really an amazing drama. (do nog let my scores frighten you, because too high a scores can give a false image)
Watch it. Just watch it.
Was this review helpful to you?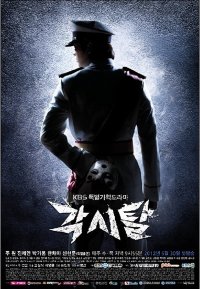 I have to say, this is my favorite drama up-till now.
I actually do not watch action drama's, only romance, but this one. Genius. Pure genius.
The story is so addictive. It is really well written, every character gets it's own time to shine and they are very well developed. The love-part has not yet been developed very well, so for people who want the romance, patience. I am not going to spoil anything here because you should watch it yourself. You get emotionally sucked into the plot and even-though you might hate a character (or love one) they develop so well that your opinion changes very fast. The fact that it is set in '30 Korea when Japan was invading makes it so different from other drama's, which is very refreshing.
I have to scream it. JOO WON IS AMAZING. He is such a great actor. I mean, this is the best acting I have ever seen. It is so incredibly good. And not just him, (eventhough he is like, magnificent) but everyone is great. It is really well cast.
I immediatly fell in love with the OST Goodbye day. It is such a beautiful song, and I started screaming when I found out it is by Ulala Session. It matches the whole feel of the drama perfectly and is a song you would listen when not watch the drama. The rest of the music also fits in perfectly.
I have to say, this is something you have to like. If you don't like the first ep, then don't continue because it will stay the same. It is complete different from what I have watched so far and this is my taste, but my taste isn't everyone's. So think it through, because it is very addictive (watched 10 eps in one go). Because it's only at 10 eps I can not say anything very particular about the rewatch value because could take a different turn in the later eps, but what I have seen so far, I know I will definitively watch it again.
Overall I love it, it is my favorite. It is so different, and there were like 2 scenes where Joo Won was singing this old-fashioned fancy song in a club and he broke out into dance. That was just awesome. Just awesome. It's because of his great acting I continued watching. I highly recommend this drama.
Was this review helpful to you?