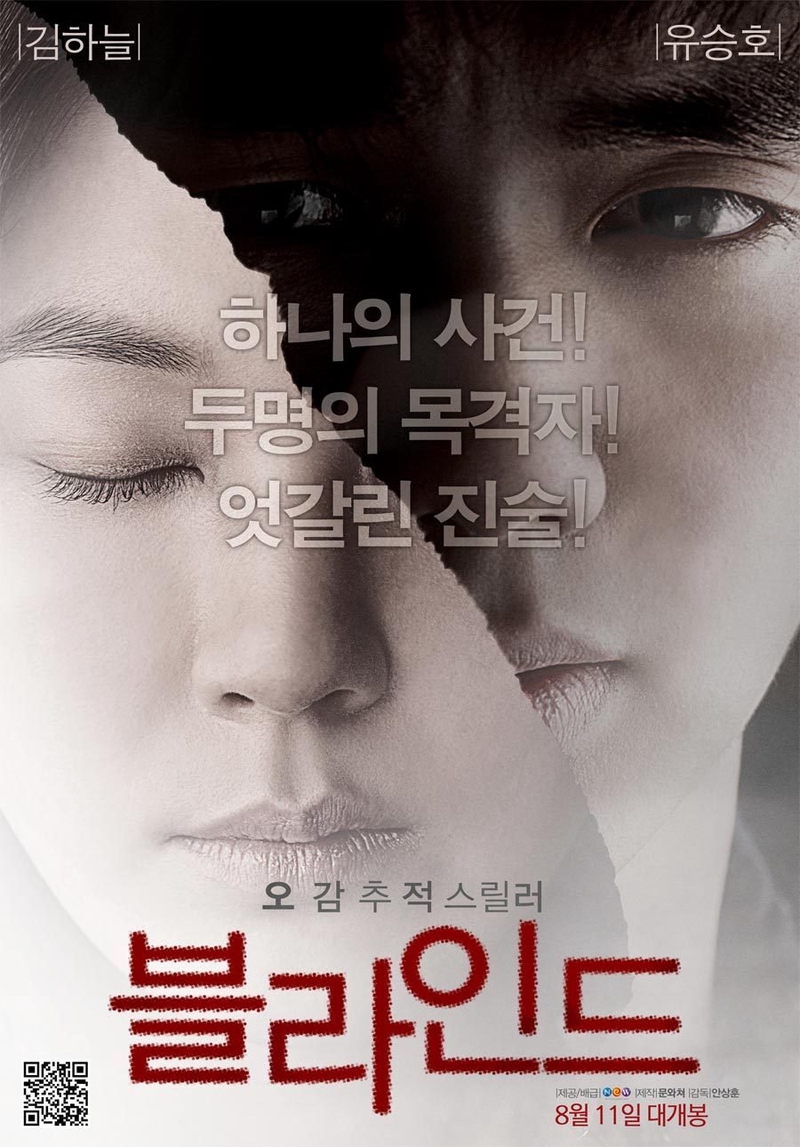 Blind (2011)
A missing person case involving a female university student and the victim in a hit and run case appears to be the same person. Detectives look for a witness. A witness, Min Soo Ah appears, but Min Soo Ah is also blind. She used to be a promising student at the police academy. With her acute senses, Min Soo Ah is able to reveal important clues on the hit and run case. read moreAnother witness, Kwon Ki Sub then appears. Ki Sub, who witnessed the case with his own eyes, gives contradictory statements to Min Soo Ah. The investigation then goes through many twists and turns, while Min Soo Ah finds herself up against the killer.
Native title:

블라인드

Also Known as:

Beulraindeu
Overall

7.0

Story

7.0

Acting/Cast

9.0

Music

6.0

Rewatch Value

7.0
A good movie. This phrase basically sums up the hole review.
Lately I have become interested in Yoo Seung Hoo and that was why I picked this movie. Did not expect too much, but it turned out pretty good.
Blind is a thriller, it's not scary but the thrill makes you watch it to the end. The story is catchy, and does not dissapoint you.The characters are well thought and the actors
read more
fulfill their job pretty good as well. I also liked the harmony between two main characters/actors. Another plus is probably the setting and the light.The dark aura of the movie somehow takes you into the plot but does not make you feel depressed. Shame that the music was not good enough to support the acting and the story. If the music would be better, I guess the movie would be more succesfull.
If you would like to watch it again? I guess not.
So why am I recommending it? Well If you are bored of cheesy love stories or blood covered thrillers, this your movie, to pass time.
Basically it is a good movie.

PS: I definitely admired the solutions the Koreans have found for disabled people...Two thumbs up...
Overall

10

Story

9.0

Acting/Cast

10

Music

8.0

Rewatch Value

9.0
I have to say that this movie is absolutely a MASTERPIECE. The story was very heart touching and i have to admit that i cried several times.
Kim Ha Neul is one of my favorite actresses, and did a great job playing the blind Min Soo Ah in this movie. of course our nations little brother, Yoo Seung Ho was amazing as one of the main characters. The casting and acting was
read more
just perfect, just to mention it quickly.

my thoughts on this movie is that i have to WATCH IT AGAIN! not only because it is great, but also because of the emotions that went through me watching this movie.
DEFINITELY WATCH THIS MOVIE!