You must be looking for something.

Let me introduce myself. I'm pretty sure you don't wanna read how I'm a drama addict because we all are here in MDL.

* * *

The name dapinaymrs (the pinay mrs) was an idea that I picked up from The Pinay Solo Backpacker, a Filipina who  traveled the local islands by herself. (I recently found out she is now accompanied by with new-found journey buddies and travel to other countries.) MDL was among the first sites that I used this name for.
* * *
How do I rate dramas?
I usually rate the whole drama after I watch it and I rate from the top down. I mean, everything's a ten and then I start deducting points based on two main categories: the story and the acting.
If you tell me a good story--well laid out and something that I could lose myself into, it's a 10. Usually I like resolved endings than open-ended ones--those can be frustrating especially when the writers makes you want it so bad but then they leave you in the air.
And second, there must be a good build up. A good story has development--I think Japanese dramas best portray this point. When they introduce a character, they usually do it casually and flash the new face on focus for a bit, make the new character and the protagonist talk or meet, briefly at first and then they focus at him or her at the next episode. 
On acting -- Actors really play a crucial role in a drama because they give life to it--but they cannot do if their faces are half-dead or they just bear the same kind of expression for ALL feelings. :\
Also, there has to be character development. The supporting cast is there for a reason. And if a drama incorporates its characters for the enhancement of its story, no matter how small or big their roles maybe, it's a 10 for me.
* * *
What Mrs. D has written so far:
The Bridal Mask Hangover
with San
* * *
I am currently following Kwak Jae Yong's works and have watched these amazing films:
Cyborg She
My Sassy Girl
The Classic
Windstuck
* * *
I'm a mom of two VIPs, I'm a Cassie VIP and now a fan of Exo, especially this guy. 



Yeorobun, meet my son-in-law, D.O aka Do Kyung Soo. :) 
Isn't he adorable?
* * *
[I am adding this section to my profile]
Currently Infatuated with:
Sato Takeru

cr: 
Loco Luke's Luscious Lads
* * * * * * * * * * * * * * * * * * * * * * * * * * * * * * * * * * * * * * * * * * * * * * * * * * * * * * * * * *  * * * * *
That's it. I have Kamen Rider Den-O hangover. I just watched Rurouni Kenshin recently but Momotaros in Ryotaro form is still messing with my head!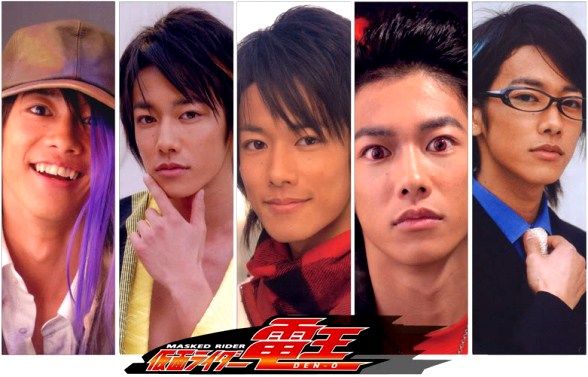 From left to right: Ryuutaros, Kintaros, Nogami Ryotaro, Momotaros, Urataros
cr: gaiaonline.com
And to think he was just 19 when he starred in this series!
Momotaros' signature move and line: Ore...sanjou!
HENSHIN~!
Whew, such brute charisma. Total opposites with Ryotaro but they're the bestest allies!
cr: Eva Lee on Tumblr
* * *
I have to complete this page with tadah~~Kimura Henshin, I mean  HIMURA KENSHIN!
What can I say, the sword fights were really raw and although I think the director could've used slow-mo in the sequences, they really looked legit! Kenshin's eyes looking at Kaoru~~very magnetic! 
* * *
Thanks to aidachan's Stalker's Guide, I finally got to sit down and finish watching  Q10. Sato Takeru did a fine job portraying Heita Fukai and I thought he acted much better here than in Mei-chan (or probably because Mei-chan didn't have much of a plot).
Ga~~n~~!
 I noticed that Q10 is a narrative just like Tatta Hitotsu No Koi and Nobuta Wo Produce where all three are retold from the 
male lead's point of view 
(and similarities in the characters as well--particularly Kamenashi Kazuya to Takeru, and Horikita Maki and Ayase Haruka to Acchan). 
the 'embarrassed face' ended up in kindergarten kiss
Takeru-kun  kinda reminds me of Yamamoto Yusuke. Really not the type of guy that would strike you as handsome but that perspective changes when you see how he acts. Although in Q10, my favorite character is Fukai's bedridden bestie Kubo-kun, and a lot of times, I looked forward to his scenes with Yamamoto than Kageyama and Kawaii's. 
This odd pair made an unexpectedly good combination. Totally ship them!
And surprise, when did you become a swan, Kaku Kento? Last I remembered, you sported a weird hairdo in Tumbling. Now you're just--
Kaku Kento as Kageyama with the Domyouji hair
* * *
If you're recommending a movie, give me hints about the story.
If you're recommending an actor, give me your Stalker's Guide.
* * *
Details
Last Online: 38 minutes ago
Gender: Female
Location: Pearl of the Orient
Birthday: December 12
Join Date: September 12, 2011
Drama Statistics
Times (Days)

43.58

Watching

4

Completed

63

Plan to Watch

62

On Hold

7

Dropped

2

Total Entries

138
Movie Statistics
Times (Days)

4.47

Watching

0

Completed

64

Plan to Watch

34

On Hold

1

Dropped

0

Total Entries

99
Comments (380)
Error
Error
Favorite Dramas
Favorite Movies
Favorite Actors
Friends