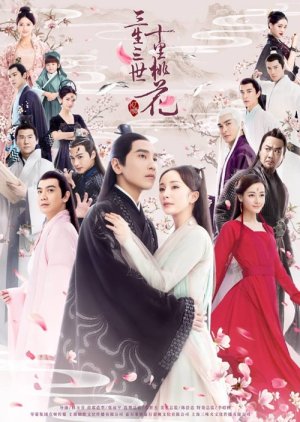 Eternal Love Recent Discussions
Reactions
2.BQ arrives at the eastern sea, and naturally, she does not tell anyone her identity because that would make sense.
3.Li Jing arrives at the Eastern Sea and is treated rudely by 18th, who happens to live there, but the king intervenes on his behalf.
4.BQ encounters A-Li (they call him rice ball but in the novel it is little dough/the dough). She gives A Li the fan to play with (the cloud fan) and it causes the seaweed to come off the lights. It is so bright her invisible blindfold appears just as YH (who is looking for his son) walks by. He thinks it's Su Su.
5.YH steps out of the scene and snake lady shows up (I always forget her name) and begs for forgiveness. BQ offers to grant her a wish, which will effectively end their relationship when granted, and explains why she cannot forgive her in spite of her not being able to control who she fell in love with.
6.YH returns and since he knows her identity (eavesdropping) he can't wait to remind her of their engagement. BQ, in contrast, finds reasons to put barriers up by citing things such as their age as an issue. She seems to have no knowledge of YH despite A-Li's insistence that she is his mother. Then the sea king arrives, and she lies to him and says she is a servant of BQ sent to give a gift (she is doing this to escape having to appear publicly with YH).
7.YH's inner monologue reflects on his confusion, his belief that BQ and Su Su are the same, and wondering if she really forgot, if she is pretending to forget
8.The princess performs her dance to seduce YH (fails) and then later she tries to speak to YH and treats BQ rudely, who in turn reveals her identity. Just prior to this scene, an angry A-Li explains the entire Su Su story in a nut shell and accuses her of not really loving his father. To get the child to stop crying she says that YH is her only love, her honey (this is more fitting with A-Li's character in the novel). BQ later then tries to push the sea princess on YH, but A-Li conveniently shares the sweet love words that BQ told him--and YH is clearly happy with this.
9.An uncomfortable BQ escapes.
-I like this episode because it continues the love story and it also illustrates that BQ, who always seems so cool and unreachable, can be ruffled by somebody else. She is clearly aware of YH and he unsettles her and instead of confronting the issue head on, like she normally would, she takes every opportunity to avoid him and escape.
-I am not a fan of the more contrived things. I understand that the subplot of the sea princess is supposed to be used as an opportunity to bring them together but there are SO MANY women in the series with this kind of petty personality. Naturally when someone like FJ or BQ comes along you are going to like them because the alternatives are so annoying. The same goes for the men. Most of the male deities in the show look like grandpas or are spineless. So it makes us like DH or YH even more. While this show tries to have more depth than other romances it is still something that annoys me.
Was this review helpful to you?
1.YH takes some time to visit the 10 mile peach blossoms. Here he catches a drunk BQ who falls out of a tree. It is a well filmed scene. But Su Su disappears, and YH is convinced he only saw what he wanted to see and that it didn't happen.
Was this review helpful to you?
Oh my gosh, I loved this episode so much! Finally some happy moments T^TT I hope it'll continue with the next episodes (at least some) And I also ABSOLUTELY LOVE this lil cute rice ball. Srly he usn't only cute but so untellligent for his age. <3 I