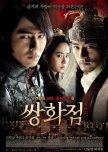 What a Great Movie! Frozen Flower was a masterful piece of storytelling and allowing them to grow subtly into jealousy, obsession and rage. The three lead characters are fascinating, all struggling with identity, sexuality and duty, and although a villain of sorts does emerge, the film is deeply humanistic and sympathetic. The balances emotional intrigue with court machinations, working in plenty of conspiracies and plotting involving enemies both inside and outside the palace, and the narrative is rewarding complex. Although there is a certain inevitability as to the conclusion, the film is tense and gripping throughout, with a number of twists along the way.
The film features a number of graphic sex scenes, both heterosexual and homosexual, and a great deal of nudity. As such it is a very adult film in every sense of the word, and is really only for open minded viewers, though these scenes are never gratuitous, playing a vital role in the story.The sex scenes are beautifully shot and artistic, with the three leads all giving committed and brave performances, especially Jo In Sung, who is excellent as the increasingly tormented Hong Rim in a very difficult role.
Although the film is long, coming in at nearly two and a half hours, it is well paced and could easily have been longer. The film is also a bloody, visceral affair, with scenes of battles, violent swordplay and shocking torture, which further adds to the tension and helps to keep things entertaining.
However, it is the characters and their emotional journeys that really drive the film and make Frozen Flower so memorable. Deserving to be known for more than just its sexual content, it sees Yoo Ha continuing his impeccable run of form and delivering one the most challenging and engaging films of recent years.
Was this review helpful to you?
First, I watched this drama because of Nishikido Ryo and he did great in this drama and the way he act or when he has moments with the son Pitaro was so natural for me. I really like the kids, I mean Hinata and Pitaro they great and adorable. But the story somehow was quite boring in some episodes.
The comedy was okay not that bad. The chemistry between the two lead actors was cute but not that remarkable after I finished the drama. I must say the kids love team was more interesting than main love team in this drama. Overall I enjoyed it !!!>_
Was this review helpful to you?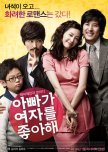 JUST TO SHARE:
"Lady Daddy" is a film which certainly wins points for what is an unusual and brave concept, being a romantic comedy of sorts which revolves around the fact that its female protagonist used to be a man. Directed by Lee Kwang Jae, the transgender epic, also referred to by the easily misinterpreted title "Dad Likes Women", the film stars popular Korean actress Lee Na Young (recently in Kim Ki Duk's "Dream") in the lead role, with actor Kim Ji Suk ("Take Off") as her confused love interest.
The plot kicks off in conventional enough fashion, with Lee playing Ji Hyun, a successful photographer whose life seems pretty perfect, not least since she has caught the eye of a handsome, if perhaps a little dim man called Jun Seoh (Kim Ji Suk), who works on special effects for films. However, Ji Hyun is hiding a rather big secret, and her past returns to haunt her in the form of a young boy who one day turns up at her door looking for his father – who just happens to be her, with the boy having been conceived during the pre-op days of her youth. Slowly warming to the lad, she starts to play the role of both aunt and father, dressing up in man's clothes and painting on a moustache, a deception which causes havoc in her personal life.
Although the viewer is obviously aware of the coming twist, director Lee wisely takes time to build up to it, establishing the characters and their relationships, and setting out their feelings for each other, all the better to test their bonds and comment on the male/female divide once the cat is out of the bag. More importantly, through this the film also gets the viewer to care for protagonist Ji Hyun up front, and to see her as a human being, rather than simply as a man who has become a woman, fleshing out her character with flashbacks which actually serve a purpose for once.
Indeed, much of the film revolves around her trying to relate to her son, and to accept responsibility for him and work out how to fit him into her life, an issue irrelevant to her gender. Although she never comes up against too much intolerance, and as such the film is not as challenging or provocative as it might have been, it does a solid job of portraying the difficulties faced by transgender individuals, both practical and emotional. As a result, the film works well as a character drama and as a personal journey, though thankfully one without too much preaching or melodrama. Lee Na Young is very good in a fairly complex role, and though the film's romance never rings particularly true, she is a likeable heroine, enough so to keep the viewer interested in her trials and tribulations, self inflicted or otherwise.
Relationships, romance and the exploration of masculinity aside, the film is also pretty funny, and it takes a marked step into some fairly broad comedic territory around the halfway mark once Ji Hyun starts dressing as a man – basically just by wearing a short wig and a moustache, a disguise unlikely to fool anyone, least of all the kid. Unsurprisingly, this makes for lots of mistaken identity gags and misunderstandings, most of which are quite amusing, with Lee never laying it on so thick as to undermine the film's premise, or to play it for cheap, distasteful laughs. Things do go a little too far with a needless subplot in which the boy's parents assume he has been kidnapped after being spotted with a man, though this does at least add a little momentum to the plot during the latter stages. Clocking in at nearly two hours, the film is a touch on the long side, though it generally manages to engage, if nothing else to see what will happen when the painfully slow, though earnest Jun Seoh finally realises the truth.
As such, despite its potentially provocative premise, "Lady Daddy" is a surprisingly conventional character piece, and an entertaining, above average example of the form at that. Dealing with interesting themes, it certainly has more depth than the usual Korean romantic comedies, and for once actually does have something to say beyond the usual 'be yourself' platitudes.
Was this review helpful to you?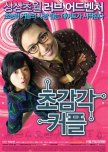 "ESP Couple" really is quite bizarre, with a meandering plot that basically jumps from set piece to set piece as Hyun Jin drags Su Min between daft situations, such as trying to use his powers to get them a free lunch or to attempting to read the minds of strangers to find out if they have ever been rock climbing. However, Kim holds things together thanks to an intriguing undercurrent of mystery as to exactly who Hyun Jin really is and what her motivations for driving Su Min might be. Although most experienced viewers will have likely guessed the big twist long before the final act thanks to a series of increasingly obvious hints, it works well and manages to tie all the loose ends together quite nicely.
In terms of both romance and comedy, the film is surprisingly, though pleasingly low-key. Although the relationship between Hyun Jin and Su Min builds in predictable fashion and is hampered by its inevitability, it never feels forced, and Kim stops short of allowing unbelievable full love to blossom. As such, it is all the more convincing for it, thanks in part to charming performances from both Park Bo Young and Jin Goo, and the film is genuinely quite touching towards the end in a manner which makes the final twist far easier to swallow. Similarly, the film is amusing throughout, though in deadpan fashion, with little in the way of over the top slapstick or tiresome pratfalls. Kim derives most of the humour from the strange situations which the characters end up in, and as such ensures that the laughs never detract from the plot.
Visually the film is quite impressive, with Kim representing Su Min's psychic powers through strange flickering images, blurring and shaky camera work, all of which is effective without being over the top. As might be expected from an editor turned director, he keeps the film tight and well paced, and clocking in at only an hour and twenty minutes it never outstays its welcome. He does employ a variety of different techniques and styles that help to keep the film interesting, though in controlled fashion and without ever lapsing into the kind of forced stylishness that so many first time directors are prone to. Also in the film's favour is the fact that Kim shies away from too many mock cute touches, saving it all for one long, silent animated explanatory sequence near the end, which actually works very well.That journey, for the most part, relies largely on the chemistry between Jin Goo and Park Bo-yeong. It reminds me somewhat of 'My Sassy Girl', another tale of the reluctant guy being chased by a cute but mysterious girl. There, the chemistry is not only strong, but it is also one that broke new grounds. Since then, many others have tried to replicate that but here's a film that gets close to replicating that. The complete opposite nature of the two helps, but I have to admit, it is Park Bo-yeong's ability to look totally, utterly, butterly cute that influences this review. Jin Goo, on the other hand, doesn't have a difficult time playing the straight guy here. He's the one who's reluctant to use his powers, even in dire and desperate situations. Witness the hilarious restaurant sequence, when Hyun-jin pushes Su-min to get them a free lunch. Asking random strangers as to whether they've done any rock-climbing also doesn't rank very highly on the normal-o-meter. But it is the quirkiness that is charming in its own way.
As such, "ESP Couple" is short and sweet, and although it does end a little abruptly, is one of the few films of its type to leave the viewer wanting more. Sufficiently different to stand out from the crowd, it delivers charmingly entertaining viewing that successfully mixes a variety of genres to wacky, though surprisingly coherent effective. Having shown himself to be an eccentric talent, it will be interesting to see what director Kim Hyung Joo turns his hand to next, though it is certainly hoped that he will continue down such a creative and oddball road.
Was this review helpful to you?
One Day
4 people found this review helpful
I really like this film it makes me think and think until the end.
And also I felt sad for both of them :((
I just found this review and copy it. Just to share!
-
-
-
One Day is continuing my lucky streak of picking quality Taiwanese films (Honey PuPu, Blowfish, Starry, Starry Night and Make Up), making me wonder why so many people are still ignoring (or missing) the obvious (artistic) growth of the Taiwanese cinema industry these past couple of years. One Day is everything a good romantic film should be, with some spicy fantastical overtones thrown in for good measure.
If you've been paying attention to my reviews the name Chi-jan Hou's might ring a little bell. Chi-jan Hou was responsible for the Juliet's Choice segment in Juliets, which I must admit did raise expectations considerably. Though I still prefer his short segment in Juliets Hou definitely delivers with One Day, marking him as one of the current talents of Taiwanese cinema and hopefully one to look out for in the future.
One Day takes a while to settle in. Hou liberally switches between different time lines and jumps rather drastically between scenes, leaving his audience in the dark for the larger part of the first half hour. No need to panic though, as the film goes on all the mysteries will be cleared up. By the time the end credits roll across the screen you'll have a coherent storyline that, even though not quite realistic, is easy enough to understand. The mysterious elements Hou introduces do work in favor of the romance though, granting the film fairytale-like qualities (though with a darker rim than usual).
One Day follows the life of Singing, a young girl working on a local ferry service, earning her some extra money. On one of her trips she bumps into Tsung, a young army boy who seems to know Singing from somewhere. That same night the ferry breaks down and all the passengers on the ferry are suddenly missing, nowhere to be found. Only Tsung, Singing and a recluse Indian man remain on the ship, unaware of their remarkable fate.
Stylistically you should know what to expect by now. Visually speaking One Day is a truly beautiful film, filled to the brim with exceptional camera work and delicate, well-orchestrated shots. A perfect, well-balanced mix of Japanese minimalism and Chinese grandeur. A lovely visual tone of voice that makes romances like these all the more agreeable and keeps them from turning into sentimental monstrosities.
The same goes for the soundtrack. Sure you know what a piano-tune soundtrack sounds like by now, but as long as it's quietly doing its thing in the background, slyly setting out the boundaries for a warm, enveloping atmosphere, there's nothing inherently wrong with it. You might not even notice the soundtrack while watching One Day, but you can be sure it's working its magic in the background.
The romance of One Day is firmly positioned on the shoulders of Bryan Chang and Nikki Hsieh. The supporting cast is decent enough, but their roles are so minimal that they are hardly worth mentioning. Chang and Hsieh make for a great on-screen couple and really pull the focus of the film towards them. Not to spoil too much, but the chemistry between the both of them is essential to the film's finale. Between the both of them, Hsieh (Make Up, Honey PuPu) is clearly the biggest talent though and is practically assured of a great future in acting.
Little by little the mysteries clear up and slowly the inevitable ending reveals itself. It's a worthy finale, excellently executed and highly effective. Seasoned film fans won't be too surprised by it, but as is often the case, execution trumps originality. Even though Hou pretty much unveils all the mysterious threads of One Day, there's still a certain cloak of mystery hanging over the film when the film ends. It keeps the reigning atmosphere of the film alive while still providing a neatly tied up ending.
One Day is above all a stylish romance, with some supernatural touches thrown in for good measure. It's a beautiful film, wonderfully executed and growing more engrossing with each passing minute. The film knows little to no weak point, and if you feel lost during the first half hour just reassure yourself that everything will be made clear by the end. Probably not the best entry film for people interested in the current wave of modern Taiwanese cinema, but a great recommendation for existing fans.
Was this review helpful to you?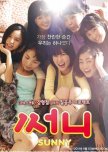 Sunny
3 people found this review helpful
I always wanted to watch this film but because of have a lot of plan to watch in the list. Then my friend suggested to watch this friendship movie. I felt happy and smiling while watching this, my reasons are; 1.) I remembered those times again when I was still a high school student.
2.) Bonding with your friends and doing some weird and stupid stuffs with them.
3.) I remembered my first love when I was in high school. Like NaMi I felt happy meeting him for the first time and the sad part was he's not into you and same as NaMi I felt really broken hearted at that time to know that guy who you really like, like your beautiful friend.
4.) Having a loyal and trusted friend was a great feeling.
5.) Doing what you really like in life and that's make you happy.
6.) For better or for worse, true friends was in your side no matter what happen.
7.) Friends offer a hand to you so that you can stand up again and be a better person in life.
8.) Whatever happened in the past is in past, and look forward for the present and future.
9.) You're the PROTAGONIST in your life and not anybody else.
10.) SUNNY was a good example of true friendship.
I really love the soundtracks of this film. They have Cindy Lauper and Richard Sanderson and Bobby Hebb. It gives the feeling of 80s vibe. And also the settings was great. The flash backs moment was funny and it gives the nostalgic vibe. Overall it's worth watching and I'm going to watch it again if I have time.
Was this review helpful to you?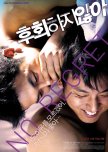 No Regret
18 people found this review helpful
I watched this movie because of recommendation. It has a good story somehow and the acting of the actors was really good. If you have any plan to watch this film then you can't stand for long a hardcore love scene of man to man. Just stop watching it because it talks about a love story between a rich man and prostitute man.
Su-min is an orphan who, having turned 18, is required to leave his orphanage. Unable to pay for university, he heads for Seoul where he works various jobs to pay for computer classes. One of those jobs is driving drunks home from bars. After losing his factory job, Su-min ends up taking a job at a host bar. Initially the boss of this host bar is reluctant to take him on, as he knows from experience that openly gay hosts will often leave when they become romantically involved with one of their clients. Having given up on love, Su-min believes that this won't happen to him, until one day a man from his past enters the host bar. That man, Jae-min, is a former driving client, who has fallen in love with Su-min. Su-min refuses his advances, and accepts him as a client only once, and threatens to kill him if he hires him again. Jae-min is undeterred, and after several weeks go by, Su-min gives in. They are very happy in their relationship until Jae-min's mother discovers them together. She orders Jae-min to marry the woman he's been dating halfheartedly. Su-min is angry. With another man from the host bar, they kidnap Jae-min one night and take him to a shallow grave in the forest. Su-min watches passively as his colleague throws dirt on Jae-min, but eventually moves to stop the plan. His colleague already depressed over a two-timing girlfriend, whacks Su-min with the shovel and leaves the two there in the grave. Jae-min later awakens and takes Su-min to the car and they crash a tree while going back. As dawn breaks in, the two of them start to awake at the same time cops show up at the scene but inside, without paying attention to the cops, Su-min and Jae-min silently reconcile.
I just copy the summary in Wikipedia
;) and I read some write ups about this film was Internationally Compete in Berlin and other countries. Thumbs up for two great actors in this movie, Lee Yeong-hoon and Kim Nam-gil :))
Was this review helpful to you?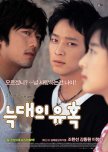 After I watched the Our Happy Time or Maundy Thursday where Kang Dong Won was the lead actor. He mesmerized me with his great acting skill.
So after that I checked all his movie then all of it had a good reviews.
-
-
-
-
Especially the Temptation of Wolves, I'm so curious about this movie and then I watched it. I must say from the start it was predictable love story of teenagers but as the story continued. I admitted that was wrong :( Its about love story between Han-kyung, the country side girl. The two most popular guys in their schools Hae-won (Kang-Shin High School ) and Tae-sung (Sung-Kwon High). They both fell in love in one girl. But the twist of the story Han-Kyung and Tae-Sung are both related to each other (brother and sister). And Han-Kyung and Hae-Won became a couple. Hae-won jealous about Han-kyung sister-brother relationship to Tae-sung.
Actually, I hoped Kang Dong Won ( Tae-Sung) and Han-kyung in the story became a couple because they had a strong love chemistry to each other. ( My Idiot Idea Only hahahahha :D Its far from reality! )
But the sad part was in the end of the film that everyone should prepared for a box of tissue if you want to watch this great movie beacuse I really cried like I was part of the scenario.
This movie won a lot of awards. Thumbs up!
Was this review helpful to you?