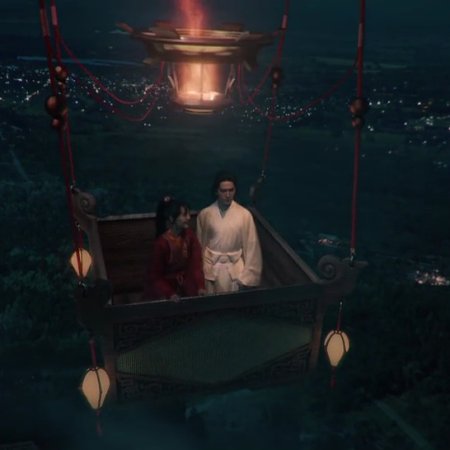 Love O2O Episode 2
The Wedding Day
---
---
Wei Wei is stunned but accepts his proposal after she learns that they can work together for the new PK couple tournament. The wedding is set for in 3 day because it has good luck and gives Nai He time to prepare everything for the special day Nai He - Xiao Nai in real life - announces to his roommates/gaming team mates Qui Yong Hou/Monkey, Yu Ban Shan/Silly, and Hao Mei/Mozarta that he is getting 'married'. They collectively rush online to introduce themselves to Wei Wei and are impressed with her fighting skills when they go on an adventure. On the wedding day, Wei Wei and her roommates Er Xi, Xiao Ling, and Si Si go to the Computer Science's Basketball's Team games to support her department and in hope she will get to see Xiao Nai. Unfortunately he isn't there but they still decide to cheer the team because Xiao Ling's boyfriend is on the team. Xiao Nai couldn't make it because he and his roommates are making a business presentation for their game to large companies in attendance and gain some interest, like from Zhen Yi Tech who invited them to a later meeting. Both Wei Wei and Nai He just make it in time for their wedding, they exchange gifts and end of have a more extravagant wedding march which many comment but a few of Yao Yao's girlfriend try to cause trouble by making rude comments. They are easily put in their place and Wei Wei and Nai He go on their honeymoon. Though Nai He and Wei Wei are having enjoying themselves, problems in the game and in reailty. A web posting pictures of Wei Wei coming out of BMW causes rumours to spread, when in reality she was being dropped of by the mother of a boy she tutors. When she finds out the culprit, Cao Guang, foreign language department's genius was the cause of the post, Wei Wei confronts him and invites him to one of her tutoring session to prove the truth. While Nai He has kidnapped a guy who was slandering Wei Wei during their wedding march. He invites Wei Wei to slowly torture him, but Yao Yao's friends - Xiao Yu clan - pass by and badger Nai He and Wei Wei.
Love O2O Recent Discussions
Reactions
?I am starting to take notice of you but you look more like a corporate heir than a campus genius!?
?Still uninvested in their real life though. Good thing the game design and functions are getting interesting.
Was this review helpful to you?
Yangyang ?????, Oops! I mean, Xiao Nai!
Was this review helpful to you?
The story goes so smooth and the curiosity for the next episode is never withering. The main lead keeps us hooked with his captivating looks and he way he looks at Bei Wei Wei is more Charming
I love the overlap and connections of their gaming life and the real world!! Ah, and the gaming visuals are still so lovely.
I also really love Wei Wei's friend and their whole relationship.
A random thought. As I watch more C-dramas I'm seeing that female leads can actually have female friends! I'm wondering why this is such a hard thing to find in K-dramas?
Anywho, great episode. I think things are developing nicely. Though it's totally annoying that because someone gets out of a fancy care their have to be selling themselves? Sometimes different view points like that blow my mind.
Oh, and Xiao Nai bro's are totally awesome!
Anywho, still a really fun show and I'm looking forward to the next episode! I love the whole gaming vibe and nerdy feeling. I love the old super Nintendo style sound that hits the OST and flavors the show here and there.
Was this review helpful to you?
Is it really necessary to pick an auspicious day to get married in a game?