Have you ever wondered who are the voices behind your favourite anime series or movie? How would you feel if you found out that the Seiyuu behind your favourite anime character is also your favourite Japanese actor or actress?
---
We're listing down 10 Japanese actors and actresses who are Seiyuus too, in one way or another.
---
Let's start!
I. Kamishiraishi Mone (上白石萌音) is known for her roles in Chihayafuru co-starring Hirose Suzu , Mackenyu, and Rikuo with Yamazaki Kento and Takeuchi Ryoma. She will also be the lead in the remake of L-DK that's coming out in 2019. 
Aside from her usual acting stint, she also does voice acting. Her most notable work is "Miyamizu Mitsuha", the female lead in Kimi No Nawa (Your Name). She also played "Keno", a supporting role for the movie Ookami Kodomo no Ame to Yuki (Wolf Children). 
Aside from this, Mone also has a great singing voice. She has already performed one of the soundtracks of Your Name, live, with its original singer RADWIMPS.
II. Kamiki Ryunosuke (神木隆之介) this young actor is best known for his role as Sojiro Seta in Rurouni Kenshin: Kyoto Inferno and his lead role Rei Kiriyama in March Comes In Like A Lion 1 and 2. 
Aside from acting in front of the camera, he also has lots of Seiyuu jobs under his belt. He played the role of Markl, the young magician apprentice in Howl's Moving Castle, the male lead in Kimi No Nawa, Taki Tachibana, and Shou the sickly kid in Karigurashi no Arrietty (The Secret World of Arrietty). He also voiced Boh in Spirited Away thought he doesn't speak much aside from a few baby "words". Lol.
He also won the Best Actor award in the 11th Seiyuu Awards.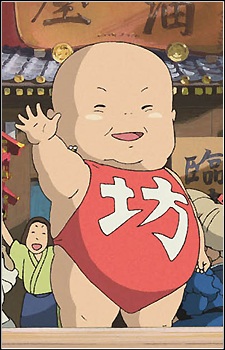 III. Kimura Takuya (木村拓哉) is not just your usual idol. Aside from being known as a part of the former idol group SMAP, he also has a lot of movies and drama series under his belt. He's mostly known for his works HERO, Long Vacation and Pride. He can also be considered one of the best actors of his generation.
Regarding voice acting, he had previously worked on three projects. The first one was with the movie Howl's Moving Castle, where he played the enigmatic Howl, the second one was with Redline where he played the lead role JP. The third one might not be known to many, but he also voiced Crayon Shin-chan in collaboration with one of his drama series called I'm Home. He voiced all the family members for an episode or two. 
IV. Miyazaki, Aoi (宮崎あおい) the wife of Okada Junichi, who's also a Seiyuu, is known for her roles in The Last Recipe with Ninomiya Kazunari of Arashi and Going My Home with Abe Hiroshi. 
She's done voice acting for the movie Wolf Children alongside Mone, as one of the main characters Hana. She also played the role of Kikuchi Yume from the anime series Mahoutsukai ni Taisetsu na Koto (Someday's Dreamers).
V to X
Here is an anime production that most characters were acted out by an actor or an actress, we can call it star-studded. The anime is entitled, Bakemono no Ko, and below are some of the actors and actresses:
Hirose Suzu - it seemed that this is the first seiyuu job for her. Her most notable role is Chihaya of Chihayafuru  in the movie trilogy and series.
Sometani Shota -  He has played a lot of different roles in movies (he has a few dramas under his belt) and some of them were supporting roles in March Comes In Like a Lion, As the Gods Will and Bakuman.
Kuroki Haru - She has a few dramas under her belt. Some of them are Juhan Shuttai, The Bride of Rip Van Winkle and Tenno no Ryoriban.
Oizumi Yo - He has a lot of dramas and movies under his belt being a 45-year-old actor. Some of the roles he has portrayed are Mare's father, Tsumura Tooru, in Mare, Masami Kondo in After the Rain with Komatsu Nana, the main guy Suzuki Hideo in the Japanese zombie movie I Am a Hero and supporting roles in Tokyo Ghoul, Fullmetal Alchemist and Tokyo Tower.
Lily Franky - Aside from being close to Takeuchi Ryoma (of course, I had to mention my niban. Lol), he is an actor, essayist, and a best-selling writer. He's the lead in the movie Shoplifters, A Beautiful Star and Nobi. He also played a few supporting roles in some movies like Bakuman, As the God's Will and Pieta in the Toilet.
Aso Kumiko - She has dramas under her belt but she has LOTS more movies. Most of her roles were supporting, but some that she played as a lead are Love & Peace, Girl and Instant Numa.
---


So how's the list so far? Do you have any favourite actors and/or actresses that have taken a job as a Seiyuu? Share your thoughts!
---
Sources: Seiyuu Awards, myanimelist.net, All images can be searched via Google search
---
Previous Articles: A Stalker's Guide to Alden Richards, A Stalker's Guide: Maine Mendoza, 10 Japanese Movies and Doramas I wished had another season, Five Japanese Actors and Actresses with Filipino Heritage, Currently Watching: BG ~Personal Bodyguard~, A Stalker's Guide to Takuya Kimura (2018), Takuya Kimura's Hair Style Evolution, Why You Cannot Not Love Kimura Takuya