Name: Hong Seok Cheon
Native name: 홍석천
Also Known as: Hong Suk Chun;
Nationality: South Korean
Gender: Male
Born: February 3, 1971
Age: 48
Hong Seok Cheon is a South Korean actor, restaurateur and politician for the Democratic Labor Party. He was a male model and actor before causing considerable controversy in his home country when he came out as gay in 2000. Hong is the most prominent openly gay celebrity in Korea.
Hong Seok Cheon appeared on South Korean television, including children's programmes and variety shows. After revealing his homosexuality, the network fired him from his prime-time variety show, and he went on to be selected by Time Magazine as the 2004 Asian Hero.
In 2005, he appeared with his parents on the Korean talk show Lee Hong Ryol, Park Ju Mi's Yoyumanman to discuss his life since coming out
Drama
Title
Rating
My Absolute Boyfriend

Korean Drama,

2019

, 40 eps

Geum Eun Dong [Wang Joon's Boss]

(Support Role)

7.3

My Healing Love

Korean Drama,

2018

, 80 eps

[Moneylender]

(Guest Role)

7.8

Room No. 9

Korean Drama,

2018

, 16 eps

7.8

Player

Korean Drama,

2018

, 14 eps

[Driving school instructor] (Ep.1)

(Guest Role)

8.4

Lovely Horribly

Korean Drama,

2018

, 32 eps

7.2

Suspicious Partner

Korean Drama,

2017

, 40 eps

[Monk - Past] (Ep. 3)

(Guest Role)

8.4

Saimdang, Light's Diary

Korean Drama,

2017

, 28 eps

7.9

Sweet Stranger and Me

Korean Drama,

2016

, 16 eps

Hairstylist Yong Chul [Guy who trains with Yeo Joo at the gym]

(Guest Role)

7.4

Ms. Temper & Nam Jung Gi

Korean Drama,

2016

, 16 eps

[Lovely's advertisement manager] (Ep. 11-12)

(Guest Role)

7.7

Please Come Back, Mister

Korean Drama,

2016

, 16 eps

Julian Hong [Designer in charge of the fashion show] (Ep. 6-7)

(Guest Role)

8.1

Riders: Catch Tomorrow

Korean Drama,

2015

, 12 eps

6.8

Because It's The First Time

Korean Drama,

2015

, 8 eps

[Coffee Shop Manager] (Ep. 1)

(Guest Role)

7.7

Late Night Restaurant

Korean Drama,

2015

, 20 eps

[Bar owner] (Ep. 20)

(Guest Role)

7.9

The Time We Were Not in Love

Korean Drama,

2015

, 16 eps

[Passenger in the airplane] (Ep. 1)

(Guest Role)

7.5

The Man in the Mask

Korean Drama,

2015

, 16 eps

Pi Seong Ho

(Support Role)

6.8

Triangle

Korean Drama,

2014

, 26 eps

7.7

Reply 1994

Korean Drama,

2013

, 21 eps

[ROTC cadet] (Ep. 2)

(Guest Role)

8.2

Vampire Prosecutor 2

Korean Drama,

2012

, 11 eps

Gabriel Jang (Ep.6)

(Guest Role)

8.5

Foolish Mom

Korean Drama,

2012

, 20 eps

[Hairdresser]

(Guest Role)

7.5

Go! Mrs. Go!

Korean Drama,

2011

, 36 eps

7.7

Hooray for Love

Korean Drama,

2011

, 57 eps

6.9

Jung Yak Yong

Korean Drama,

2009

, 8 eps

7.5

Assorted Gems

Korean Drama,

2009

, 50 eps

Director Hong

(Support Role)

7.1

Swallow the Sun

Korean Drama,

2009

, 25 eps

7.6

That Fool

Korean Drama,

2009

, 16 eps

[Movie director]

(Guest Role)

7.6

Life Special Investigation Team

Korean Drama,

2008

, 12 eps

Mr. Hong [bar owner]

(Support Role)

7.7

Golden Bride

Korean Drama,

2007

, 64 eps

7.3

Sad Love Story

Korean Drama,

2005

, 20 eps

8.0

Jump

Korean Drama,

1999

, 164 eps

Professor Hong

(Support Role)

0.0

Three Guys and Three girls

Korean Drama,

1996

, 0 eps

7.5

LA Arirang

Korean Drama,

1995

, 265 eps

7.5
Movie
Title
Rating
Love Clinic

[Psychiatrist]

(Support Role)

7.3

Mongolian Princess

[Film Actor]

(Guest Role)

0.0

Love Forecast

[restaurant owner]

(Unknown)

7.4

Runway Cop

[Fashion show director]

(Support Role)

7.7

Puzzle

6.6

The Art of Seduction

7.0

Fighter in the Wind

7.7

Tie a Yellow Ribbon

8.8

Man With Flowers

Lee Joo Il

(Support Role)

0.0

No.3

[Man Committing Adultery]

(Support Role)

6.3
TV Show
Title
Rating
Love Catcher 2

Korean TV Show,

2019

, 8 eps

8.4

The Night of Hate Comments

Korean TV Show,

2019

, 16 eps

7.4

I'm Home Mom

Korean TV Show,

2018

, 7 eps

0.0

Love Catcher

Korean TV Show,

2018

, 8 eps

8.4

Unexpected Q

Korean TV Show,

2018

, 25 eps

8.2

4 Wheeled Restaurant

Korean TV Show,

2018

, 8 eps

8.4

Master in the House

Korean TV Show,

2017

, 110 eps

Special appearance (Ep. 25)

(Guest)

9.1

Life Bar

Korean TV Show,

2016

, 118 eps

8.2

Idol Chef King

Korean TV Show,

2016

, 2 eps

Panelist [Chef]

(Regular Member)

8.0

Video Star: Season 1

Korean TV Show,

2016

, 90 eps

0.0

Law of the Jungle in New Caledonia

Korean TV Show,

2016

, 9 eps

8.8

Vocal War: God's Voice

Korean TV Show,

2016

, 17 eps

(Ep. Pilot, 1-2, 9-10)

(Guest)

9.0

Knowing Bros

Korean TV Show,

2015

, 250 eps

9.1

Go Fridge

Chinese TV Show,

2015

, 10 eps

[Chef] (Ep. 9-10)

(Guest)

8.4

Hidden Singer: Season 4

Korean TV Show,

2015

, 16 eps

[Panelist] (Ep. 1)

(Guest)

5.9

Three Meals a Day: Jeongseon Village 2

Korean TV Show,

2015

, 18 eps

9.0

A Style For You

Korean TV Show,

2015

, 12 eps

7.9

My Neighbor, Charles

Korean TV Show,

2015

, 189 eps

Panelist (Ep. 14~)

(Regular Member)

8.5

Please Take Care of My Refrigerator

Korean TV Show,

2014

, 300 eps

[Chef] (Ep. 1-91)

(Regular Member)

8.4

Roommate: Season 2

Korean TV Show,

2014

, 26 eps

8.4

Abnormal Summit: Season 1

Korean TV Show,

2014

, 102 eps

8.7

Star Gazing

Korean TV Show,

2014

, 12 eps

9.0

The Return of Superman

Korean TV Show,

2013

, 350 eps

9.1

Cool Kiz on the Block

Korean TV Show,

2013

, 174 eps

8.6

I Live Alone

Korean TV Show,

2013

, 350 eps

8.9

Hidden Singer: Season 1

Korean TV Show,

2012

, 17 eps

[Panelist] (Ep. 11)

(Guest)

7.4

Season 1: Hello Counselor

Korean TV Show,

2010

, 431 eps

8.4

Running Man

Korean TV Show,

2010

, 500 eps

9.3

Strong Heart

Korean TV Show,

2009

, 166 eps

8.5

Coming Out

Korean TV Show,

2008

, 12 eps

0.0

Happy Together: Season 3

Korean TV Show,

2007

, 557 eps

8.4
Articles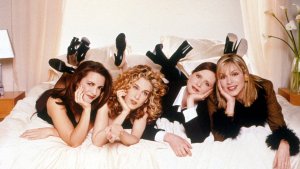 Editorials

- Mar 10, 2019
Have you ever imagined if a series or movie was remade in your favourite Asian country? Well, I sure have! So, join me on this dream cloud of imagination and let your mind wonder~~~