Name: Shu Qi
Native name: 舒淇
Given name: Lín Lìhuì
Also Known as: Hsu Chi;Shu Kei;林立慧;Lin Li Hui
Nationality: Taiwanese
Gender: Female
Born: April 16, 1976
Age: 43
She starred in Derek Yee's 1996 film, Viva Erotica, which was about the erotic film industry in Hong Kong, opposite the late Leslie Cheung and Karen Mok. At the Hong Kong Film Awards, she received the Best Supporting Actress award for the film. Since then, she has appeared in mainstream Hong Kong films such as Gorgeous (1998) opposite Jackie Chan, Stanley Kwan's The Island Tales (1999) and Hou Hsiao-Hsien's critically acclaimed Millennium Mambo (2000).
In 2002, she appeared in the French blockbuster film The Transporter and the Asian action film So Close. In 2004, she played the main role in the Hong Kong horror film The Eye 2.
In 2005, she won the Best Actress Award at the 2005 Golden Horse Awards for her three roles in Hou Hsiao-Hsien's Three Times.
From 2006-2009, she was selected by Kenzo to be part of the third advertising campaign for its successful fragrance, Flower by Kenzo . She also worked as a spokesperson for Shiatzy Chen.
In 2008, she was member of the jury of the Berlinale, the Berlin International Film Festival. In 2009, she was member of the jury at the Cannes Film Festival.
(Wikipedia)
Articles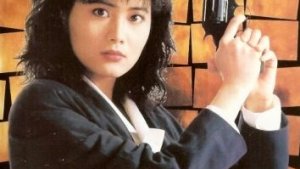 Editorials

- Mar 28, 2019
Ebisuno92's retrospective look at Hong Kong's "Girls with Guns" phenomenon. The article outlines the genre's history, its most prominent actresses, and the most interesting movies.